Abstract
Introduction and hypothesis
Obstructed defecation symptoms (ODS) are common in women; however, the key underlying anatomic factors remain poorly understood. We investigated rectal mobility and support defects in women with and without ODS using pelvic floor ultrasound and MR defecography.
Methods
This prospective case-control study categorized subjects based on questions 7, 8 and 14 on the PFDI-20, which asks about obstructed defecation symptoms. All subjects underwent an interview, examination and pelvic floor ultrasound, and a subset of 16 subjects underwent MR defecography. The cul de sac-to-anorectal junction distance at rest and during maximum strain was measured on ultrasound and MRI images. The 'compression ratio' was calculated by dividing the change in rectovaginal septum length by its rest length to quantify rectal folding and hypermobility during dynamic imaging and to correlate with ODS.
Results
Sixty-two women were recruited, 32 cases and 30 controls. There were no statistically significant differences in age, parity, BMI or stage of rectocele between groups. A threshold analysis indicated the risk of ODS was 32 times greater (OR 32.5, 95% CI 4.8–217.1, p = 0.0003) among women with a high compression ratio (≥ 14) compared with those with a low compression ratio (< 14) after controlling for age, BMI, parity, stool type and BM frequency.
Conclusions
Female ODS are associated with distinct alterations in rectal mobility and support that can be clearly observed on dynamic ultrasound. The defects in rectal support were quantifiable using a compression ratio metric, and these defects strongly predicted the likelihood of symptoms; interestingly, the presence or degree of rectocele defects played no role. These findings may provide new insight into the anatomic factors underlying female ODS.
This is a preview of subscription content, log in to check access.
Access options
Buy single article
Instant access to the full article PDF.
US$ 39.95
Price includes VAT for USA
Subscribe to journal
Immediate online access to all issues from 2019. Subscription will auto renew annually.
US$ 199
This is the net price. Taxes to be calculated in checkout.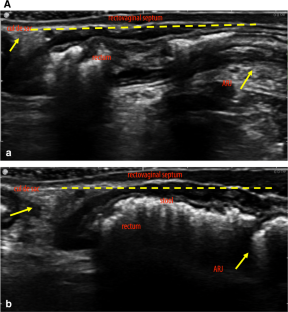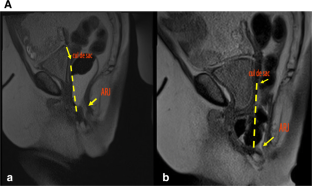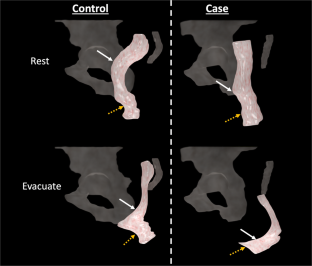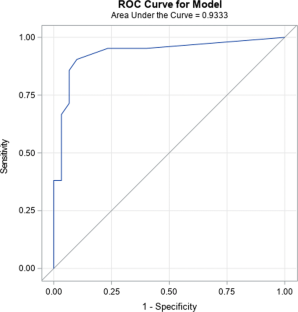 References
1.

Bannister J, Gibbons C, Read N. Preservation of faecal continence during rises in intra-abdominal pressure: is there a role for the flap valve? Gut. 1987;28(10):1242–5.

2.

Khaikin M, Wexner SD. Treatment strategies in obstructed defecation and fecal incontinence. World J Gastroenterol: WJG. 2006;12(20):3168.

3.

Pemberton JD, Stalker LK. Surgical treatment of complete rectal prolapse. Ann Surg. 1939;109(5):799.

4.

Graham R. The operative repair of massive rectal prolapse. Dis Colon Rectum. 1985;28(5):374–9.

5.

Church J, Raudkivi P, Hill G. The surgical anatomy of the rectum—a review with particular relevance to the hazards of rectal mobilisation. Int J Color Dis. 1987;2(3):158–66.

6.

Nano M, Dal Corso H, Lanfranco G, Ferronato M, Hornung J. Contribution to the surgical anatomy of the ligaments of the rectum. Dis Colon Rectum. 2000;43(11):1592–7.

7.

Kahn MA, Stanton SL. Posterior colporrhaphy: its effects on bowel and sexual function. BJOG Int J Obstet Gynaecol. 1997;104(1):82–6.

8.

Karlbom U, Graf W, Nilsson S, Påhlman L. Does surgical repair of a rectocele improve rectal emptying? Dis Colon Rectum. 1996;39(11):1296–302.

9.

Bove A, Bellini M, Battaglia E, Bocchini R, Gambaccini D, Bove V, et al. Consensus statement AIGO/SICCR diagnosis and treatment of chronic constipation and obstructed defecation (part II: treatment). World J Gastroenterol: WJG. 2012;18(36):4994.

10.

Bove A, Pucciani F, Bellini M, Battaglia E, Bocchini R, Altomare DF, et al. Consensus statement AIGO/SICCR: diagnosis and treatment of chronic constipation and obstructed defecation (part I: diagnosis). World J Gastroenterol: WJG. 2012;18(14):1555.

11.

Murad-Regadas SM, Regadas Filho FSP, Regadas FSP, Rodrigues LV, de JR Pereira J, Fernandes GOS, et al. Use of dynamic 3-dimensional transvaginal and transrectal ultrasonography to assess posterior pelvic floor dysfunction related to obstructed defecation. Dis Colon Rectum. 2014;57(2):228–36.

12.

Murad-Regadas SM, Regadas FSP, Rodrigues LV, Silva FR, Soares FA, Escalante RD. A novel three-dimensional dynamic anorectal ultrasonography technique (echodefecography) to assess obstructed defecation, a comparison with defecography. Surg Endosc. 2008;22(4):974–9.

13.

Fletcher J, Busse R, Riederer S, Hough D, Gluecker T, Harper C, et al. Magnetic resonance imaging of anatomic and dynamic defects of the pelvic floor in defecatory disorders. Am J Gastroenterol. 2003;98(2):399–411.

14.

Bogusiewcz, Gas KF. Comparison of accuracy of functional measurements of the urethra in transperineal vs. endovaginal ultrasound in incontinent women. Pelviperineology. 2008;27:145–7.

15.

Rostaminia G, White D, Hegde A, Quiroz LH, Davila GW, Shobeiri SA. Levator ani deficiency and pelvic organ prolapse severity. Obstet Gynecol. 2013;121(5):1017–24. https://doi.org/10.1097/AOG.0b013e31828ce97d.

16.

Rostaminia G, Manonai J, Leclaire E, Omoumi F, Marchiorlatti M, Quiroz LH, et al. Interrater reliability of assessing levator ani deficiency with 360 degrees 3D endovaginal ultrasound. Int Urogynecol J. 2014;25(6):761–6. https://doi.org/10.1007/s00192-013-2286-5.

17.

Rostaminia G, Javadian P, Awad C, Shobeiri SA. Ultrasound indicators of rectal support defect in women with obstructive defecatory symptoms. FPMRS. 2018. https://doi.org/10.1097/SPV.0000000000000511.

18.

Rostaminia G, White DE, Quiroz LH, Shobeiri SA. Levator plate descent correlates with levator ani muscle deficiency. Neurourol Urodyn. 2013. https://doi.org/10.1002/nau.22509.

19.

Pucciani F, Rottoli M, Bologna A, Buri M, Cianchi F, Pagliai P, et al. Anterior rectocele and anorectal dysfunction. Int J Color Dis. 1996;11(1):1–9.

20.

Graham RR. Operative repair of massive rectal prolapse. Ann Surg. 1942;115(6):1007.

21.

Muschowitz A. The pathogenesis, anatomy and cure of prolapse of the rectum. Surg Gynecol Obstet. 1912;15:7.

22.

Piloni V, Bergamasco M, Melara G, Garavello P. The clinical value of magnetic resonance defecography in males with obstructed defecation syndrome. Tech Coloproctol. 2018;22(3):179–90.

23.

Piloni V, Tosi P, Vernelli M. MR-defecography in obstructed defecation syndrome (ODS): technique, diagnostic criteria and grading. Tech Coloproctol. 2013;17(5):501–10. https://doi.org/10.1007/s10151-013-0993-z.

24.

Sung VW, Rardin CR, Raker CA, LaSala CA, Myers DL. Changes in bowel symptoms 1 year after rectocele repair. Am J Obstet Gynecol. 2012;207(5):423. e421–5.

25.

Mustain WC. Functional disorders: rectocele. Clin Colon Rectal Surg. 2017;30(01):063–75.
Acknowledgements
Seg3D was supported by the National Institute of General Medical Sciences of the National Institutes of Health under grant no. P41 GM103545-18.
Ethics declarations
Conflicts of interest
None.
Additional information
Publisher's note
Springer Nature remains neutral with regard to jurisdictional claims in published maps and institutional affiliations.
About this article
Cite this article
Rostaminia, G., Abramowitch, S., Chang, C. et al. Descent and hypermobility of the rectum in women with obstructed defecation symptoms. Int Urogynecol J 31, 337–349 (2020). https://doi.org/10.1007/s00192-019-03934-9
Received:

Accepted:

Published:

Issue Date:
Keywords
Obstructed defecation

Pelvic floor ultrasound

Rectocele

Hypermobile rectum

MR defecography