Development of quality outcome indicators to improve the quality of urinary and faecal continence care
Abstract
Introduction and hypothesis
Despite the range of treatment options available, relatively few people with incontinence find a total cure. The importance of daily management with toileting and containment cannot be underestimated. To our knowledge, there are no outcome measures to benchmark good care. The aim of this study was to create a set of key performance indicators (KPIs) to measure outcomes for toileting and containment.
Methods
An expert panel (EP) defined a set of KPIs using evidence from a scoping review, stakeholder engagement, and expert consensus. Peer reviewed articles, high-quality grey literature and international and national standards were reviewed to identify existing measures for management. These findings were augmented by an exercise involving patients, caregivers, nurses, clinicians, payers, policy makers and care providers to prioritise the findings and identify additional areas of interest.
Results
The final set of 14 KPIs includes quality indicators of process and outcome for those managed with a toileting and containment strategy and is relevant for both care-independent and -dependent persons. Rates of assessment, days waiting for specialist assessment, rates of return to work and those rating their quality of life as good or acceptable are captured. An indicator of well-being for caregivers and the economic costs of poor care are also defined.
Conclusions
The set of KPIs to measure outcomes from toileting and containment strategies describes the components of each to encourage integration into existing quality frameworks. Each KPI has been refined and detailed to encourage this. If implemented, resulting benchmarking data will facilitate care quality improvement and inform value-based care procurement and provision of toileting and containment strategies.
Keywords
Urinary incontinence 
Fecal incontinence 
Outcome measures 
Performance indicators 
Toileting and containment 
Introduction
Urinary incontinence (UI) is a common, distressing condition for many, particularly in later life. Current estimates suggest that UI affects the lives of an estimated 400 million people worldwide [1], and is more common in women than men [1, 2]. The prevalence of fecal incontinence (FI) among community dwelling adults in the USA was recently estimated at 8.39%, with FI more common in women with UI [3]. The prevalence of both UI [1] and FI [3] increases with age.
Urinary incontinence has a profound impact on a person's quality of life and social functioning in addition to being associated with adverse health outcomes such as depression, falls and urinary tract infection [4].
There are many examples of national and international guidelines that offer recommendations for the care of people with both urinary and fecal incontinence [5, 6]. Most guidelines note that conservative therapies that promote self-management with toileting strategies may result in an acceptable outcome from care. There have been few attempts to systematically measure the quality of care provision for incontinence. A national clinical effectiveness project in England and Wales reported the variability of care and that quality care provision was in the hands of committed individuals, rather than a programmatic provision of services [7]. Aside from product guidelines on absorbent aids [8], there is a marked lack of auditable quality standards for toileting strategies and containment products [9]. With increased attention to value-based healthcare, a suite of outcome measures for overactive bladder has been developed for incorporation into administrative data sets [10]. This project was undertaken to complement continence-related key performance indicators (KPIs) by identifying and defining a set of indicators applicable to people with bladder and bowel problems who manage their care with a combination of toileting and containment with the intent of attaining contained, social continence [11].
Materials and methods
A multi-disciplinary international expert panel (EP) was convened to define a set of outcome, process and structure KPIs to measure toileting and containment strategies for all adults to manage their UI and/or FI (Fig. 
1
). The EP consisted of a geriatrician, a nurse, a payer, a social scientist, and a patient and caregiving representative from the European and North American regions. Using a consensus-driven method, the panel aimed to define a suite of KPIs that took into account the different needs of people with incontinence and different stakeholders in care delivery by following the applicability matrix shown in Table
1
.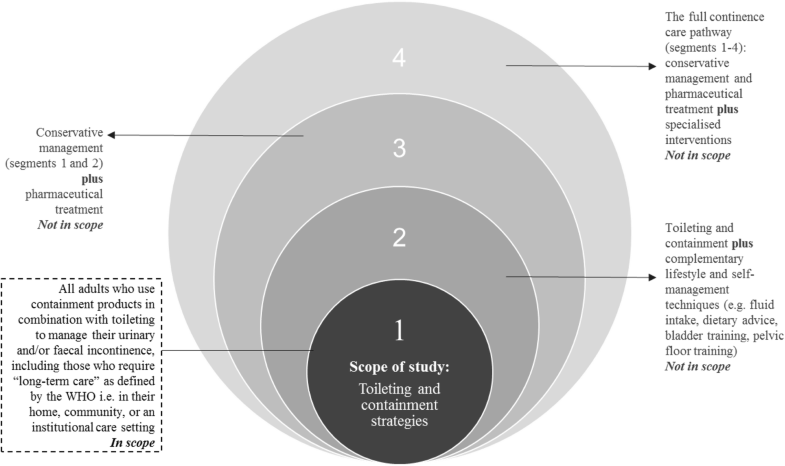 Table 1
Applicability matrix of the key performance indicators (KPIs)
| Target population | KPI type | Care setting | Domain |
| --- | --- | --- | --- |
| Care-independent persons with incontinence | Outcome | Institutionala | Clinical |
| Care-dependent persons with incontinence who can express themselves | Process | Communitya | Quality of life |
| Care-dependent persons with incontinence who cannot express themselves | Structure | Homea | Economic |
The project comprised three phases: evidence-gathering, evidence synthesis, and KPI generation and validation. The panel felt that there was no requirement to differentiate KPI based upon the nature of the incontinence, given the relative frequency of combined bladder and bowel dysfunction in the populations likely to be managed by toileting and containment.
Discussion
This study describes the development of a set of KPIs designed to measure outcomes for the management of urinary and faecal incontinence based upon toileting and containment strategies. Following a scoping review and broad stakeholder engagement, a long list of potential KPIs was refined into a set of 14 core KPIs. Each KPI was carefully detailed through expert consensus. Each KPI requires integration into existing national, local and provider-based quality frameworks for effective utilisation. Recognising the importance of high-quality continence care across the clinical, QoL and economic domains, each aspect was considered in conjunction with the KPI applicability matrix (Table 1). The resulting KPIs are intended to be broadly applicable to all adults with bladder or bowel incontinence and be suitable for incorporation into national or local quality frameworks. Development of the KPI underwent a rigorous process, informed by available evidence and reinforced by patient and caregiver input in an attempt to measure what truly matters to patients [16]. The resulting set of 14 KPIs cover Donabedian's domains of structure, process and outcome [17] and, by their nature vary in terms of ease of incorporation and measurement. The wider set of 35 KPI (Supplementary Table C) are intended to supplement the core set, according to the needs of the commissioning provider or payer. As with any measures, these will only be effective if tested in the field and used. Implementation of performance measures in the area of continence care has, to date been patchy, with some surgical registries reporting on surgical outcome [18], but, to the best of our knowledge, there has been no systematic attempt to measure the quality of care other than that from 2006 to 2010 in England and Wales [9, 19]. It is hoped that these KPIs will prove of utility and value in quality assurance and, by the use of audit and feedback, promote quality improvement.
It is challenging to create a suite of KPIs that are internationally applicable to user types, care settings and multiple stakeholders with an interest in continence management. The study addressed this difficulty with its mixed methods approach, using the results of a scoping review of academic and grey literature, prioritising the results with the EP by consensus and augmenting findings with a stakeholder engagement exercise. Not all KPIs are directly relevant or applicable to all of the three defined user types, care settings and all stakeholders, and will require the user's discretion in tailoring to specific needs. To improve continence care delivery by measuring toileting and containment strategy the KPI require the adaptation of existing local and national frameworks to facilitate KPI implementation tailored to the needs of a variety of care settings and stakeholders, including payers, providers, professionals, and patients and their caregivers.
There are limitations to this study. First, in the scoping review, non-English references were excluded. Therefore, it is possible that insights and findings that could have informed the development of the KPIs were missed. Second, although KPIs were informed by published evidence, this was often lacking, and expert consensus had to serve as a replacement where this was the case. Of the 12 identified stakeholder groups of KPI users, only 5 were represented on the EP, although the subsequent stakeholder engagement exercise included a broad swathe of participants involved at all levels of continence care. Finally, there is a scarcity of literature on continence care in developing countries. The balance of evidence largely came from North America and Europe and this may in itself have led to unavoidable bias.
Conclusions
This study, using robust methods, has defined 14 core KPIs for integration into quality frameworks to facilitate delivery of high-quality continence care. Implementation via existing national, local and provider-based quality frameworks is encouraged to embed the core KPI into continence care provision. Core KPIs should, where possible, be monitored, reported and incentivised to measure and improve high-quality continence care. If implemented, the resulting benchmarking data will facilitate improvement of care delivery and has the potential to inform value-based procurement and provision of continence services.
Notes
Acknowledgements
We are grateful to all of the patients, patient representatives, clinicians, policy makers and payers who gave up their time to contribute to this research.
Funding
Funding was provided by Essity Hygiene and Health AB, who had no input into the data analysis, results or writing.
Compliance with ethical standards
Conflicts of interest
Dr Wagg has received funding from Astellas Pharma, Pfizer Corp, Essity Hygiene and Health AB for research, speaker honoraria and consultancy unrelated to this project. The remaining authors declare that they have no conflicts of interest.
Copyright information
© The Author(s) 2018
Open Access This article is distributed under the terms of the Creative Commons Attribution 4.0 International License (http://creativecommons.org/licenses/by/4.0/), which permits unrestricted use, distribution, and reproduction in any medium, provided you give appropriate credit to the original author(s) and the source, provide a link to the Creative Commons license, and indicate if changes were made.