Abstract
Introduction and hypothesis
We review our experience with long-term outcome after Skene's gland cyst excision.
Materials and methods
After receiving institutional review board approval, we reviewed a surgical database of all procedures performed by two surgeons at one institution for Skene's gland cyst excision. Parameters evaluated include presenting symptoms, preoperative evaluation, excision site, perioperative complications, and clinical outcomes. The technique of surgical excision is presented in the accompanying video, and includes cystoscopy, dissection of cyst wall from the floor of the urethra, complete removal of the cyst wall, and primary vaginal-wall closure.
Results
From 2001 to 2013, ten women underwent Skene's gland cyst excision. Mean follow-up was 3.5 years (range 3–96 months). Presenting symptoms were dyspareunia (4), urinary tract infections (4), vaginal mass (1), and voiding dysfunction (1). Five patients had more than one presenting symptom. To exclude urethral diverticulum, magnetic resonance imaging (MRI) was done in all patients and a voiding cystourethrogram in five. No perioperative complications were reported. A distal meatoplasty was done in two women. No recurrence occurred. Eight of ten women who were sexually active remained sexually active postoperatively.
Conclusions
Excision of Skene's gland cyst is a safe procedure with acceptable long-term functional outcomes.
This is a preview of subscription content, log in to check access.
Access options
Buy single article
Instant unlimited access to the full article PDF.
US$ 39.95
Price includes VAT for USA
Subscribe to journal
Immediate online access to all issues from 2019. Subscription will auto renew annually.
US$ 199
This is the net price. Taxes to be calculated in checkout.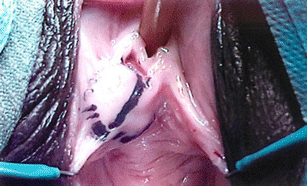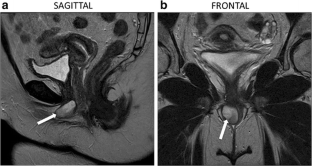 References
1.

Wilkinson EJ (1987) Pathology of the vulva and vagina. Churchill Livingstone Inc, New York

2.

Miller EV (1984) Skene's duct cyst. J Urol 131:966

3.

Dmochowski RR, Ganabathi K, Zimmern PE, Leach G (1994) Benign female periurethral masses. J Urol 152:6

4.

Kimbrough HM, Vaughan EE (1977) Skene's duct cyst in a newborn: case report and review of the literature. J Urol 117:387

5.

Nickles SW, Burgis JT, Menon S, Bacon JL (2009) Prepubertal Skene's abscess. J Pediatr Adolesc Gynecol 22:e21–e22

6.

Das SP (1981) Paraurethral cysts in women. J Urol 126:41

7.

Sharifiaghdas F, Daneshpajooh A, Mirzaei M (2014) Paraurethral cyst in adult women: experience with 85 cases. Urol J 11(5):1896–1899

8.

Shah SR, Biggs GY, Rosenblum N, Nitti VW (2012) Surgical management of Skene's gland abscess/infection: a contemporary series. Int Urogynecol J 23:159–164

9.

Köse O, Aydemir H, Metin O, Budak S, Sonbahar A, Adsan Ö (2013) Experiences with the management of paraurethral cysts in adult women. Cent Eur J Urol 66:477–480

10.

Eilber KS, Raz S (2003) Benign cystic lesions of the vagina: a literature review. J Urol 170:717–722
Ethics declarations
Conflicts of interest
None.
Consent
Written informed consent was obtained from the patient for publication of this video article and any accompanying images.
Electronic supplementary material
Below is the link to the electronic supplementary material.
About this article
Cite this article
Foster, J., Lemack, G. & Zimmern, P. Skene's gland cyst excision. Int Urogynecol J 27, 817–820 (2016) doi:10.1007/s00192-015-2872-9
Received:

Accepted:

Published:

Issue Date:
Keywords
Skene's gland cyst

Excision

Outcome