Abstract
Introduction and hypothesis
Mayer–Rokitansky–Küster–Hauser syndrome (MRKH) is a rare genital aplasia syndrome. Patients with MRKH regularly dilate their neovagina with vaginal dilatators.
Methods
A 23-year-old MRKH syndrome patient came to our department complaining of a lost vaginal dilator, which she had inserted 2 days previously. She had no bleeding or abdominal pain, but did have occasional urine loss. She had a history of abdominal exploration for an acute abdomen and the creation of a neovagina at the age of 16. An abdominal CT scan located the dislocated dilator intravesically. After diagnostic laparoscopy, the dilator was removed through the vesico-neovaginal perforation. The vagina was closed and covered by a pedicled peritoneal flap, followed by closure of the urinary bladder. An omental J-flap was then fixed between the vagina and bladder.
Results
The operative time was 185 min, with no significant blood loss, injuries or need for conversion/revision. The indwelling catheter was removed 7 days later after cystography, followed by normal micturition and an adequate bladder capacity. Vaginal dilation and sexual activity was resumed 1 month postoperatively. Follow-up was uneventful.
Conclusions
Laparoscopic vaginal dilator removal with immediate repair of the perforation of the neovagina and the urinary bladder directly after an acute trauma in a patient with MRKH syndrome may be a management option. It is a feasible, safe and viable operation in the hands of experienced laparoscopists.
This is a preview of subscription content, log in to check access.
Access options
Buy single article
Instant unlimited access to the full article PDF.
US$ 39.95
Price includes VAT for USA
Subscribe to journal
Immediate online access to all issues from 2019. Subscription will auto renew annually.
US$ 199
This is the net price. Taxes to be calculated in checkout.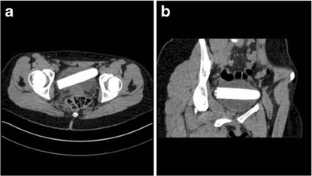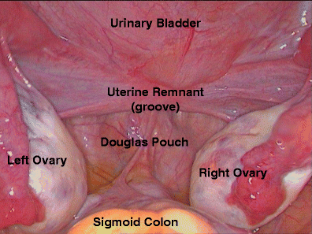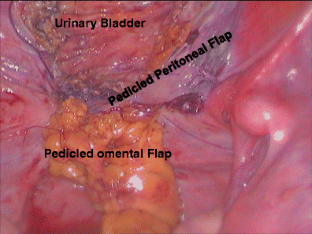 References
1.

Pavanello Rde C, Eigier A, Otto PA (1988) Relationship between Mayer–Rokitansky–Küster (MRK) anomaly and hereditary renal adysplasia (HRA). Am J Med Genet 29:845–849

2.

Simpson JL (1999) Genetics of the female reproductive ducts. Am J Med Genet 89:224–239

3.

Morcel K, Camborieux L, Guerrier D (2007) Mayer–Rokitansky–Küster–Hauser (MRKH) syndrome. Orphanet J Rare Dis 2:13

4.

McQuillan SK, Grover SR (2014) Dilation and surgical management in vaginal agenesis: a systematic review. Int Urogynecol J 25:299–311

5.

Angioli R, Penalver M, Muzii L, Mendez L, Mirhashemi R, Bellati F, Crocè C, Panici PB (2003) Guidelines of how to manage vesicovaginal fistula. Crit Rev Oncol Hematol 48:295–304

6.

Sotelo R, Moros V, Clavijo R, Poulakis V (2012) Robotic repair of vesicovaginal fistula (VVF). BJU Int 109:1416–1434

7.

Miklos JR, Soboluwski C, Lucente V (1999) Laparoscopic management of recurrent vesicovaginal fistula. Int Urogynaecol J 10:116–117

8.

Michala L, Cutner A, Creighton SM (2007) Surgical approaches to treating vaginal agenesis. Br J Obstet Gynecol 114:1455–1459

9.

Miyahara Y, Yoshida S, Shirakawa T et al (2013) Less invasive new vaginoplasty using laparoscopy, atelocollagen sponge, and hand-made mould. Kobe J Med Sci 58:138–144

10.

Carr LK, Webster GD (1996) Abdominal repair of vesicovaginal fistula. Urology 48:10–11

11.

Fedele L, Bianchi S, Frontino G, Fontana E, Restelli E, Bruni V (2008) The laparoscopic Vecchietti's modified technique in Rokitansky syndrome: anatomic, functional, and sexual long-term results. Am J Obstet Gynecol 198(377):1–6

12.

Romics I, Kelemen Z, Fazakas Z (2002) The diagnosis and management of vesicovaginal fistulae. BJU Int 89:764–766

13.

Sotelo R, Mariano MB, Garcia-Segui A et al (2005) Laparoscopic repair of vesicovaginal fistula. J Urol 173:1615–1618

14.

Hemal AK, Kolla SB, Wadhwa P (2008) Robotic reconstruction for recurrent supratrigonal vesicovaginal fistulas. J Urol 180:981–985

15.

Grody MHT, Nyirjesy P, Chatwani A (1999) Intravesical foreign body and vesicovaginal fistula: a rare complication of a neglected pessary. Int Urogynecol J 10:407–408

16.

Penrose KJ, Ma Yin J, Tsokos N (2013) Delayed vesicovaginal fistula after ring pessary usage. Int Urogynecol J 25:291–293

17.

Arias BE, Ridgeway B, Barber MD (2008) Complications of neglected vaginal pessaries: case presentation and literature review. Int Urogynecol J Pelvic Floor Dysfunct 19:1173–1178

18.

Staskin D, Malloy T, Carpiniello V et al (1985) Urological complications secondary to a contraceptive diaphragm. J Urol 134:142–143

19.

Yong PJ, Garrey MM, Geoffrion R (2011) Transvaginal repair and graft interposition for rectovaginal fistula due to a neglected pessary: case report and review of the literature. Female Pelvic Med Reconstr Surg 17:195–197
Consent
Written informed consent was obtained from the patient for publication of this video article and any accompanying images.
Conflicts of interest
We disclose any commercial association that might pose a conflict in connection with the submitted article.
Electronic supplementary material
Below is the link to the electronic supplementary material.
About this article
Cite this article
Khoder, W.Y., Stief, C.G., Burgmann, M. et al. Laparoscopic reconstruction of an iatrogenic perforation of the neovagina and urinary bladder by a neovaginal dilator in a patient with Mayer–Rokitansky–Küster–Hauser syndrome. Int Urogynecol J 26, 1083–1087 (2015). https://doi.org/10.1007/s00192-014-2609-1
Received:

Accepted:

Published:

Issue Date:
Keywords
Laparoscopic reconstructive surgery

Mayer–Rokitansky–Küster–Hauser syndrome

Vesico-vaginal fistula

Traumatic urinary bladder injuries