Abstract
Introduction and hypothesis
This study investigated the value of transvaginal contrast-enhanced sonourethrography for the diagnosis of female urethral diverticulum (UD) by comparing results of contrast-enhanced ultrasound images and surgical findings.
Methods
A total of 14 female UD patients underwent preoperative transvaginal contrast-enhanced sonourethrography between July 2010 and June 2012. History and physical examination were initially assessed by the same urologist. Transvaginal contrast-enhanced ultrasound imaging was performed and interpreted by the same ultrasonographer. Definite diagnosis was made by tracking the flow of the microbubbles into the cyst. Additionally, sagittal, cross-sectional, and dynamic images were obtained, and color Doppler ultrasound was applied in all cases. Data on the size, location, configuration, and opening of the UD was documented, and then compared with the surgical findings.
Results
The most common symptoms presenting in the UD patients included urinary incontinence (71.5 %), recurrent urinary tract infection (57.1 %), frequency (50 %), urgency (35.7 %), dysuria (35.7 %), and dyspareunia (21.4 %). On physical examination, 8 out of 14 patients (57.1 %) had a palpable anterior vaginal wall mass, while 6 out of 14 patients (42.9 %) had no palpable mass. Transvaginal contrast-enhanced sonourethrography revealed 17 diverticula orifices in total and correlated well with surgical findings regarding the size, location, configuration, and the opening of the UD.
Conclusions
In patients with chronic irritative bladder symptoms, but with no response to conventional treatment a high index of suspicion for UD should be maintained. Our study demonstrates that transvaginal contrast-enhanced sonourethrography is a useful tool for defining the size, location, configuration, and opening of the UD before surgery.
This is a preview of subscription content, log in to check access.
Access options
Buy single article
Instant unlimited access to the full article PDF.
US$ 39.95
Price includes VAT for USA
Subscribe to journal
Immediate online access to all issues from 2019. Subscription will auto renew annually.
US$ 199
This is the net price. Taxes to be calculated in checkout.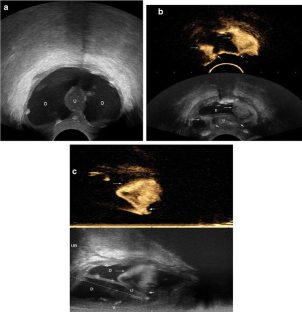 References
1.

Tsivian M, Tsivian A, Shreiber L et al (2009) Female urethral diverticulum: a pathological insight. Int Urogynecol J Pelvic Floor Dysfunct 20:957–960

2.

Smith NA (2011) Treatment approach to female urethral diverticulum. Rev Col Bras Cir 38:440–443

3.

Porten S, Kielb S (2008) Diagnosis of female diverticula using magnetic resonance imaging. Adv Urol 2008:213516

4.

Rufford J, Cardozo L (2004) Urethral diverticula: a diagnostic dilemma. BJU Int 94:1044–1047

5.

Siegel CL, Middleton WD, Teefey SA et al (1998) Sonography of the female urethra. AJR Am J Roentgenol 170:1269–1274

6.

Jacoby K, Rowbotham RK (1999) Double balloon positive pressure urethrography is more sensitive test than voiding cystourethrography for diagnosing urethral diverticulum in women. J Urol 162:2066–2069

7.

Dwarkasing RS, Dinkelaar W, Hop WC et al (2011) MRI evaluation of urethral diverticula and differential diagnosis in symptomatic women. AJR Am J Roentgenol 197:676–682

8.

Foster R, Amundsen CL, Webster GD (2007) The utility of magnetic resonance imaging for diagnosis and surgical planning before transvaginal periurethral diverticulectomy in women. Int Urogynecol J Pelvic Floor Dysfunct 18:315–319

9.

Ockrim JL, Allen DJ, Shan PJ et al (2009) A tertiary experience of urethral diverticulectomy: diagnosis, imaging and surgical outcomes. BJU Int 103:1550–1554

10.

Kim B, Hricak H, Tanagho EA (1993) Diagnosis of urethral diverticula in women: value of MR imaging. AJR Am J Roentgenol 161:809–815

11.

Chung DE, Purohit RS, Girshman J et al (2010) Urethral diverticula in women: discrepancies between magnetic resonance imaging and surgical findings. J Urol 183:2265–2269

12.

Chou CP, Levenson RB, Elsayes KM et al (2008) Imaging of female urethral diverticulum: an update. Radiographics 28:1917–1930

13.

Blander DS, Rovner ES, Schnall MD et al (2001) Endoluminal magnetic resonance imaging in the evaluation of urethral diverticula in women. Urology 57:660–665
Ethical approval
After obtaining written informed consent and the approval of ethics committee of the West China School of Medicine, Sichuan University (Chengdu, China), all cases were initially assessed by inquiry and palpation by the same physician, and then underwent transvaginal contrast-enhanced sonourethrography for further UD diagnosis or evaluation.
Conflicts of interest
None.
Electronic supplementary material
Below is the link to the electronic supplementary material.
About this article
Cite this article
Dai, Y., Wang, J., Shen, H. et al. Diagnosis of female urethral diverticulum using transvaginal contrast-enhanced sonourethrography. Int Urogynecol J 24, 1467–1471 (2013). https://doi.org/10.1007/s00192-012-2036-0
Received:

Accepted:

Published:

Issue Date:
Keywords
Urethra

Diverticulum

Transvaginal

Contrast agent

Sonourethrography

Contrast-enhanced sonourethrography