Abstract
Compared with conventional surface grinding (CSG) process, surface machining of carbon fiber-reinforced plastic (CFRP) composites using rotary ultrasonic machining (RUM) with vertical ultrasonic vibration generates smaller cutting forces because of improved machining performance and more damages to the machined CFRP surface due to the intermittent knocking induced by vertical ultrasonic vibration. It is reported that surface quality can be improved when the ultrasonic vibration is parallel to the feeding direction. In addition, elliptical ultrasonic vibration can be formed by the combination of horizontal and vertical ultrasonic vibrations. However, the effects of elliptical ultrasonic vibration in RUM surface machining of CFRPs are still unknown. This paper will study the influences of elliptical ultrasonic vibration on the machining performance and machined surface quality in RUM surface machining of CFRPs. The comparisons of output variables (including cutting forces, surface roughness, and machined surface topography) between RUM surface machining with elliptical ultrasonic vibration and the CSG process as well as RUM surface machining with vertical ultrasonic vibration will be conducted under different levels of input variables (including depth of cut, feedrate, and tool rotation speed). The abrasive-grain trajectory and the tool-workpiece contacting modes in these three machining processes are analyzed. It is found that RUM surface machining with elliptical ultrasonic vibration produced smallest feeding-direction cutting force, smallest vertical-direction cutting force, best morphology of machined surface, and smallest surface roughness among these three kinds of machining processes.
This is a preview of subscription content, log in to check access.
Access options
Buy single article
Instant access to the full article PDF.
US$ 39.95
Price includes VAT for USA
Subscribe to journal
Immediate online access to all issues from 2019. Subscription will auto renew annually.
US$ 199
This is the net price. Taxes to be calculated in checkout.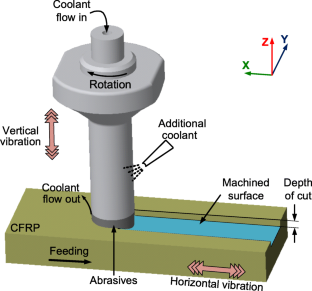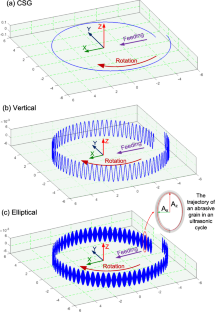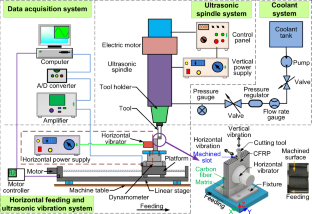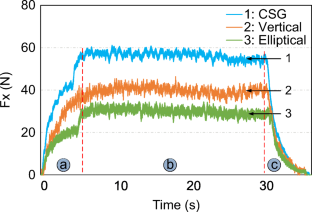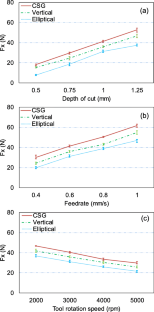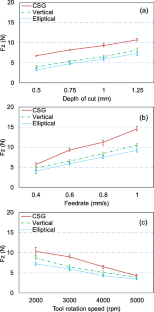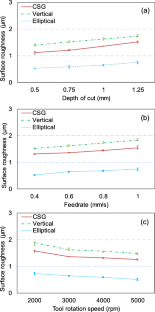 Funding
The U.S. National Science Foundation provided support (Grant No. CMMI-1538381).
Additional information
Publisher's note
Springer Nature remains neutral with regard to jurisdictional claims in published maps and institutional affiliations.
About this article
Cite this article
Wang, H., Zhang, D., Li, Y. et al. The effects of elliptical ultrasonic vibration in surface machining of CFRP composites using rotary ultrasonic machining. Int J Adv Manuf Technol (2020). https://doi.org/10.1007/s00170-020-04976-w
Received:

Accepted:

Published:
Keywords
Surface machining

CFRP composite

Rotary ultrasonic machining

Elliptical ultrasonic vibration

Cutting force

Surface quality