Abstract
Despite the advantages that additive manufacturing (AM) processes present and the progressive number of activity sectors that they emerge in, their successful adoption is currently hampered by defects in surface finish as well as dimensional and geometrical precision. This results in reduction of their suitability for net shape manufacturing, thereby, requiring the evaluation of their performances. Considering this notion, this paper deals with in-plane deviation modeling of material shrinkage occurring in fused deposition modeling (FDM) process. To achieve this aim, two models were developed, each for circular and squared shapes. The objective was to first understand the deviation behavior, then compare it with actual data extracted from a test part to find out the rates with which the shrinkage would be compensated, and finally based on the obtained results, the CAD file would be modified. The experimental findings showed the effectiveness of the adopted methodology and the ability of developed models to compensate for the deviation.
This is a preview of subscription content, log in to check access.
Access options
Buy single article
Instant unlimited access to the full article PDF.
US$ 39.95
Price includes VAT for USA
Subscribe to journal
Immediate online access to all issues from 2019. Subscription will auto renew annually.
US$ 199
This is the net price. Taxes to be calculated in checkout.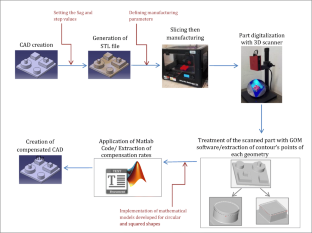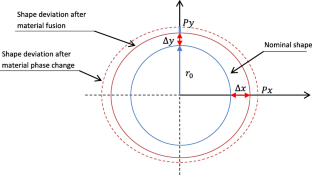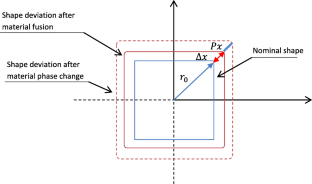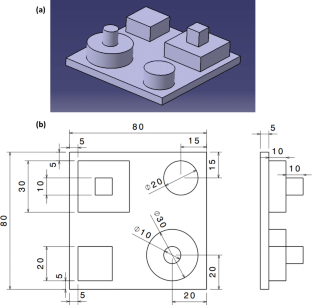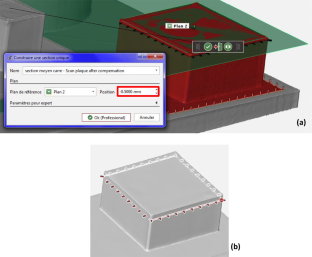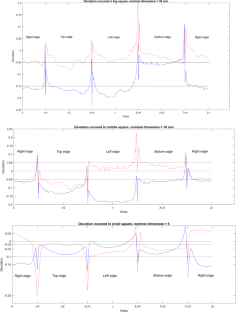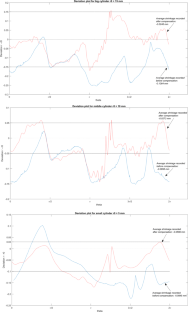 References
1.

Bahnini I, Rivette M, Rechia A, Siadat A, Elmesbahi A (2018) Additive manufacturing technology: the status, applications, and prospects. Int J Adv Manuf Technol 97(1–4):147–161

2.

Huang Q, Nouri H, Xu K, Chen Y, Sosina S, Dasgupta T (2014) Predictive modeling of geometric deviations of 3d printed products – a unified modeling approach for cylindrical and polygon shapes, 2014 IEEE International Conference on Automation Science and Engineering (CASE). https://doi.org/10.1109/CoASE.2014.6899299

3.

Huang Q, Zhang J, Sabbaghi A, Dasgupta T (2015) Optimal offline compensation of shape shrinkage for three dimensional printing processes. IIE Trans 47(5):431–441. https://doi.org/10.1080/0740817X.2014.955599

4.

Luan H, Grasso M, Colosimo BM, Huang Q, Angeles L (2019) Prescriptive data-analytical modeling of laser powder bed fusion processes for accuracy improvement. J Manuf Sci Eng 141(1):011008 (13 pages). https://doi.org/10.1115/1.4041709

5.

Sames WJ, List FA, Pannala S, Dehoff RR, Babu SS (2016) The metallurgy and processing science of metal additive manufacturing. Int Mater Rev 61(5):315–360. https://doi.org/10.1080/09506608.2015.1116649

6.

Tong K, Lehtihet EA, Joshi S (2003) Parametric error modeling and software error compensation for rapid prototyping. Rapid Prototyp J 9(5):301–313

7.

Tong K, Joshi S, Lehtihet EA (2008) Error compensation for fused deposition modeling (FDM) machine by correcting slice files. Rapid Prototyp J 14(1):4–14. https://doi.org/10.1108/13552540810841517

8.

Xu L, Angeles L, Sabbaghi A (2013) Shape deviation modeling for dimensional quality control in additive manufacturing. ASME 2013 International Mechanical Engineering Congress and Exposition 66329: V02AT02A018 (6 pages). https://doi.org/10.1115/IMECE2013-66329

9.

Zhu Z, Keimasi S, Anwer N, Mathieu L, Qiao L (2016) Review of shape deviation modeling for additive manufacturing. In International Joint Conference on Mechanics, Design Engineering & Advanced Manufacturing (JCM 2016) (pp. 205–241). Catane, Italy: Springer. https://doi.org/10.1007/978-3-319-45781-9_25

10.

Zhu Z, Anwer N, Mathieu L (2017) Deviation modeling and shape transformation in design for additive manufacturing. Procedia CIRP 60:211–216. https://doi.org/10.1016/j.procir.2017.01.023

11.

Zhu Z, Anwer N, Mathieu L (2018) Shape transformation perspective for geometric deviation modeling in additive manufacturing. Procedia CIRP 75:75–80. https://doi.org/10.1016/j.procir.2018.04.038
Additional information
Publisher's note
Springer Nature remains neutral with regard to jurisdictional claims in published maps and institutional affiliations.
About this article
Cite this article
Bahnini, I., uz Zaman, U.K., Rivette, M. et al. Computer-aided design (CAD) compensation through modeling of shrinkage in additively manufactured parts. Int J Adv Manuf Technol (2020). https://doi.org/10.1007/s00170-020-04924-8
Received:

Accepted:

Published:
Keywords
Additive manufacturing

Deviation compensation

Deviation modeling

Dimensional accuracy

Fused deposition modeling process