Abstract
Micro lens arrays (MLAs) are widely applied in different areas to fulfill different functions. Ultra-precision diamond cutting technology can generate MLA with sub-micrometer form accuracy and nanometer surface roughness but mostly for nonferrous material. In this paper, a three-axis micro punching machine tool is developed to use diamond tool to produce MLAs on steel mold. The developed micro punching machine realizes high-feed and high-precision motions by a macro-micro composite structure. An on-site measurement system based on machine vision is designed to provide evaluation results for MLAs and compensation data for the PZT. The fabrication methodologies for MLAs are studied under the consideration of the output voltage of PZT, tool path generation, and machining parameters. Experiments are conducted to testify the machine tool and the on-site measurement system by machining of MLAs on mold steel. The experimental results show that the micro punching machine can produce MLAs on hard materials with sub-micrometer form accuracy, and the evaluation results from the on-site measurement are close to those from the white-interference profiler.
This is a preview of subscription content, log in to check access.
Access options
Buy single article
Instant unlimited access to the full article PDF.
US$ 39.95
Price includes VAT for USA
Subscribe to journal
Immediate online access to all issues from 2019. Subscription will auto renew annually.
US$ 199
This is the net price. Taxes to be calculated in checkout.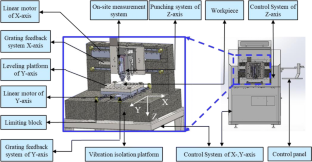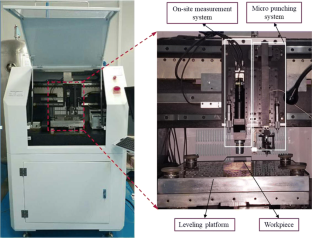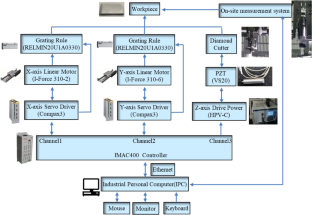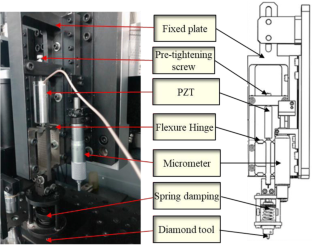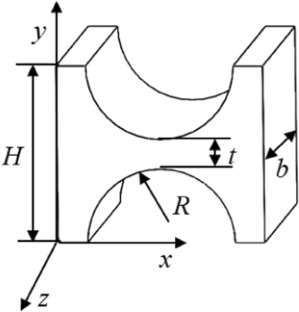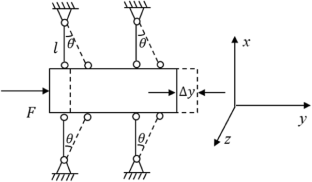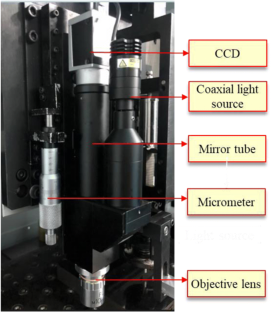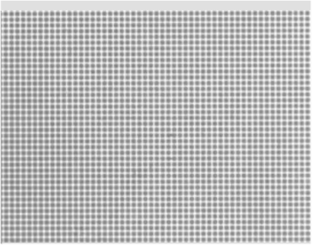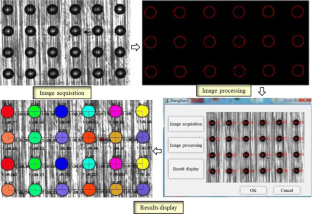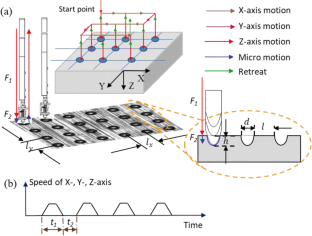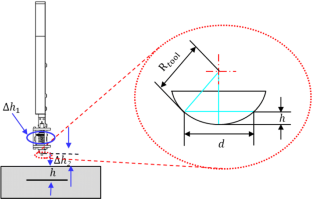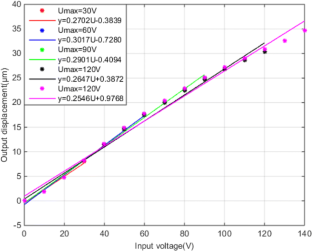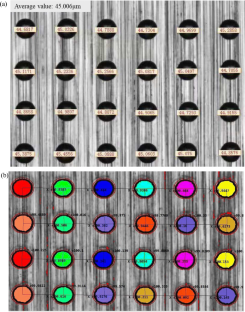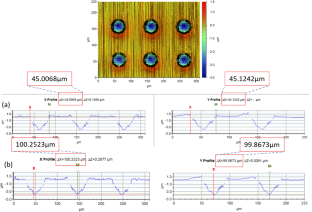 References
1.

Wang SJ, Chen X, Liu Q, Zhou CQ, Liu JQ, Yin ZQ (2018) Development of a precision grinding machine system for the fabrication of micro V-grooves array. Int J Adv Manuf Technol 97:2141–2150

2.

Li S, Wu Y, Fujimoto M, Nomura M (2016) Improving the working surface condition of electroplated cubic boron nitride grinding quill in surface grinding of Inconel 718 by the assistance of ultrasonic vibration. J Manuf Sci E-T Asme 138(7):071008

3.

Mamedov A, Lazoglu I (2016) An evaluation of micro milling chip thickness models for the process mechanics. Int J Adv Manuf Technol 87(5-8):1843–1849

4.

Wang SJ, To S, Chen X, Wang H, Xia HJ (2014) A study of the fabrication of v-groove structure in ultra-precision milling. Int J Comput Integr Manuf 27(11):986–996

5.

Kong LB, Cheung CF, Lee WB (2016) A theoretical and experimental investigation of orthogonal slow tool servo machining of wavy microstructured patterns on precision rollers. Precis Eng 43(2):315–327

6.

Zhang SJ, To S, Zhu ZW, Zhang GQ (2016) A review of fly cutting applied to surface generation in ultra-precision machining. Int J Mach Tools Manuf 103:13–27

7.

Wojciechowski S, Matuszak M, Powalka B, Madajewski M, Maruda RW, Krolczyk GM (2019) Prediction of cutting forces during micro end milling considering chip thickness accumulation. Int J Mach Tool Manuf 147:103466 26 pages

8.

Wojciechowski S, Mrozek K (2017) Mechanical and technological aspects of micro ball end milling with various tool inclinations. Int J Mech Sci 134:424–435

9.

Zhang GQ, To S, Xiao GB (2014) The relation between chip morphology and tool wear in ultra-precision raster milling. Int J Mach Tool Manuf 80–81:11–17

10.

Yu DP, Gan SW, Wong YS, Hong GS, Rahman M, Yao J (2012) Optimized tool path generation for fast tool servo diamond turning of micro-structured surfaces. Int J Adv Manuf Technol 63:1137–1152

11.

Yu DP, Wong YS, Hong GS (2011) Optimal selection of machining parameters for fast tool servo diamond turning. Int J Adv Manuf Technol 57:85–99

12.

Liu YT, Li BJ (2016) A 3-axis precision positioning device using PZT actuators with low interference motions. Precis Eng 16:118–128

13.

Ma HQ, Tian J, Hu D (2013) Development of a fast tool servo in noncircular turning and its control. Mech Syst Signal Pr 41:705–713

14.

Guo Z, Tian Y, Liu C, Wang F, Liu X, Shirinzadeh B, Zhang D (2015) Design and control methodology of a 3-DOF flexure-based mechanism for micro/nano-positioning. Robot Cim-int Manuf 32:93–105

15.

Zhao RL, Chen X, Li KT (2015) Design and experiments of micro motion platform based on a pair of flexible parallel six-bar linkages. Opt Precis Eng 23(10):2860–2969

16.

Zhao RL, Chen X, Li KT, Chen XD, Liu Q (2015) Experiment study of the fast tool servo(FTS) by laser interferometer. Key Eng Mater 625:178–181

17.

Yang ZJ, Zhou WB, Chen X, Chen XD, Li KT (2013) Modeling and optimal design of membrane based fast-tool-servo for freeform manufacturing of micro optical lens array. Key Eng Mater 552:411–414

18.

Tian F, Yin Z, Li S (2016) A novel long range fast tool servo for diamond turning. Int J Adv Manuf Technol 86:1227–1234

19.

Feng HH, Xia RSH, Li YY, Chen JJ, Yuan YM, Zhu DX, Chen SY, Chen H (2017) Fabrication of freeform progressive addition lensed using a self-developed long stroke fast tool servo. Int J Adv Manuf Technol 91:3799–3806

20.

Scheiding S, Yi AY, Gebhardt A, Li L, Risse S, Eberhandt R, Tünnermann A (2011) Freeform manufacturing of a microoptical lens array on a steep curved substrate by use of a voice coil fast tool servo. Opt Express 19(24):23938–23951

21.

Hong LU, Choi SC, Lee SM, Lee DW (2012) Microstructure of fast tool servo machining on copper alloy. T Nonferr Metal Soc 22(S3):820–824

22.

Zhou M, Zhang HJ, Huang SN, Chen SJ, Cheng K (2011) Experimental study on the effects of feed rate and tool geometries on tool wear in diamond cutting of sinusoidal microstructured surfaces. P I Mech Eng B J Eng 225(B2):172–183

23.

Lu H, Lee D, Kim J, Kim S (2014) Modeling and machining evaluation of microstructure fabrication by fast tool servo-based diamond machining. Precis Eng 38(1):212–216

24.

Chiu CC, Lee YC (2011) Fabricating of aspheric micro-lens array by excimer laser micromachining. Opt Lasers Eng 49:1232–1237

25.

Chen YL, Cai YD, Tohyma K, Yuki S, Ito S, Gao W (2017) Auto-tracking single point diamond cutting on non-plannar brittle material -substrates by a high-rigidity force controlled fast tool servo. Precis Eng 49:253–261

26.

Yu DP, Wong YS, Hong GS (2011) A novel method for determination of the subsurface damage depth in diamond turning of brittle materials. Int J Mach Tool Manu 51:918–927

27.

Yu DP, Wong YS, Hong GS (2011) Ultraprecision machining of micro-structured functional surfaces on brittle materials. J Micromech Microeng 21(9):095011 11pp

28.

Yu DP, Wong YS, Hong GS (2012) Ductile-regime machining for fast tool servo diamond turning of micro-structured surfaces on brittle materials. Adv Master Res 500:333–338

29.

Zhu Z, Zhou X, Liu Q, Lin J, Zhao S (2012) Fabrication of micro-structured surfaces on bulk metallic glassed based on fast tool servo assisted diamond turning. Adv Mater Res 4(9):906–911

30.

Zhu LL, Li ZX, Fang FZH, Huang SY, Zhang XD (2018) Review on fast tool servo machining of optical freeform surfaces. Int J Adv Manuf Technol 95:2071–2092

31.

Li ZX, Fang FZ, Chen JJ, Zhang X (2017) Machining approach of freeform optics on infrared materials via ultra-precision turning. Opt Express 25(3):2051–2062

32.

Zhao RL, Yan DX, Liu Q, Leng JW, Wan JF, Chen X, Zhang XF (2019) Digital twin-driven cyber-physical system for autonomously controlling of micro punching system. IEEE Access (Online. https://doi.org/10.1109/ACCESS.2019.2891060)10.1109/ACCESS.2019.2891060)

33.

Liu Q, Zhang H, Leng W, Chen X (2019) Digital twin-driven rapid individualized designing of automated flow-shop manufacturing system. Int J Prod Res 57(12):3903–3919

34.

Chern GL et al (2007) Punching of noncircular micro holes and development of micro-forming. Precis Eng 31:210–217

35.

Sari DY, Wu TL, Lin BT (2017) Preliminary study for online monitoring during the punching process. Int J Adv Manuf Technol 88:2275–2285

36.

Yu ZY, Li DP, Yang JF, Zeng ZHJ, Yang XL, Li JZ (2019) Fabrication of micro punching mold for micro complex shape part by micro EDM. Int J Adv Manuf Technol 100:743–749

37.

Wu YF, Zhou ZHY (2002) Design of flexure hinges. J Eng Mech 19:136–140

38.

Polit S, Dong JY (2011) Development of a high-band-width XY nanopositioning stage for high-rate micro-nano manufacturing. IEEE/ASME T Mech 16(4):724–733

39.

Zhao RL (2015) Research of perpendicular axis macro/micro composite 2D motion platform and straightness error compensation technology. Guangdong University of Technology, Dissertation
Additional information
Publisher's note
Springer Nature remains neutral with regard to jurisdictional claims in published maps and institutional affiliations.
About this article
Cite this article
Zhao, R., Wang, S., Chen, X. et al. Development of a micro punching machine tool for micro lens array on steel mold. Int J Adv Manuf Technol (2020) doi:10.1007/s00170-019-04809-5
Received:

Accepted:

Published:
Keywords
Micro punching machine

Macro-micro composite

Micro lens arrays (MLAs)

Steel mold

On-site measurement system