Abstract
The current competitive market demands that manufacturing companies have a survival strategy which should totally focus on providing high-quality products, being consistent in the level of service provided, having lower inventory levels and higher flexibility in operations. In this context, Kanban can be classified as a tool that assists in the proper sizing of inventory levels and production control of the system. However, numerous studies have been developed with the aim of reliably reducing stock levels in Kanban supermarkets, yielding different optimization techniques, but for fixed demands. This work proposes the minimization solution of the supermarket from randomly different demands, using environments with simulated experiments from the ARENA® software, from a response surface methodology (RSM) along with a weighted minimization of the mean standard error and compare with the results provided by the use of optimizer Arena OptQuest®, thus, it is possible to evaluate the robustness question.
This is a preview of subscription content, log in to check access.
Access options
Buy single article
Instant unlimited access to the full article PDF.
US$ 39.95
Price includes VAT for USA
Subscribe to journal
Immediate online access to all issues from 2019. Subscription will auto renew annually.
US$ 199
This is the net price. Taxes to be calculated in checkout.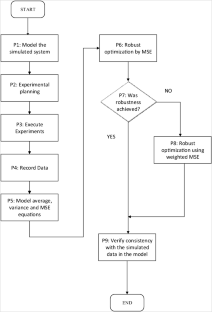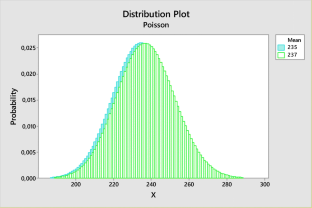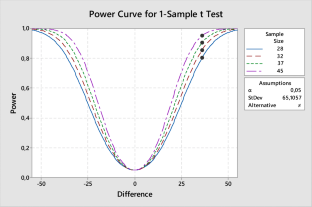 References
1.

Ahmed I, Sultana I (2014) A state of art review on optimization techniques in just in time. Uncertain Supply Chain Manag 2, 15:–26

2.

Araz OU, Eski O, Araz C (2008) Determining the parameters of dual-card Kanban system: an integrated multicriteria and artificial neural network methodology. Int J Adv Manuf Technol 38:965–977. https://doi.org/10.1007/s00170-007-1138-1

3.

Ardakani MK, Noorossana R (2008) A new optimization criterion for robust parameter design – the case of target is best. Int J Adv Manuf Technol 38:851–859

4.

Bezzerra MA, Santelli RE, Oliveira EP, Villar LS, Escaleira LA (2008) Response surface methodology (RSM) as a tool for optimization in analytical chemistry. Talanta 76:965–977

5.

Brenneman, W.; Myers, W. Robust parameter design with categorical noise variables. J Qual Technol. Vol. 35, n 4, 2003

6.

Gijo, EV Scaria, J (2012) Product design by application of Taguchi's robust engineering using computer simulation. International Journal of Computer Integrated Manufacturing. 25(9): 761–773.

7.

Hou TH, Hu WC (2011) An integrated MOGA approach to determine the Pareto-optimal KANBAN number and size for a JIT system. Expert Syst Appl 38:5912–5918

8.

Hurrion RD (1997) An example of simulation optimization using a neural network metamodel: finding the optimum number of Kanbans in a manufacturing system. J Oper Res Soc 48:1105–1112

9.

Jerbi A, Ammar A, Rid M, Salah B. Performance optimization of a flexible manufacturing system using simulation: the Taguchi method versus OptQuest®

10.

Köksoy O, Yalcinoz T (2006) Mean square error criteria to multiresponse process optimization by a new genetic algorithm. Appl Math Comput 175:1657–1674

11.

Krajewski LJ, Ritzman L, Malhotra M (2009) Operations management, 9th edn. Edição, Pearson Prentice Hall

12.

Lavoie P, Gharbi A, Keneé JP (2010) A comparative study of pull control mechanisms for unreliable homogenous transfer lines. Int J Prod Econ 124:241–251

13.

Price W, Gravel M, Nsakanda AL (1994) A review of optimization models of Kanban-based production systems. Eur J Oper Res 75:1–12

14.

Rossetti MD (2016) Simulation modeling and Arena®, 2nd edn. Edição. John Wiley & Sons
Additional information
Publisher's note
Springer Nature remains neutral with regard to jurisdictional claims in published maps and institutional affiliations.
About this article
Cite this article
Braga, W.L.M., Naves, F.L. & Gomes, J.H.F. Optimization of Kanban systems using robust parameter design: a case of study. Int J Adv Manuf Technol 106, 1365–1374 (2020). https://doi.org/10.1007/s00170-019-04756-1
Received:

Accepted:

Published:

Issue Date:
Keywords
Kanban

Design of experiments

Robust project design

Simulation experiments

OptQuest®