Abstract
A step drill is developed to minimize delamination and uncut fiber in machining carbon fiber reinforced plastics (CFRP), which consists of two parts, a core part and a step part. The core part is designed to minimize the thrust force by controlling core diameter. The step part is designed to remove the delamination generated by core part without 2nd delamination, which consists of step angle. The effect of feed rate and spindle speed on the performance of drilling also investigated. To remove the uncut fibers properly, the higher rake angle of step part is applied. By measurement of thrust force, it is found that the delamination can be reduce when smaller thrust force is generated. As a result, a step drill is designed for less generation of delamination and uncut fiber for drilling T700 3K CFRP.
This is a preview of subscription content, log in to check access.
Access options
Buy single article
Instant unlimited access to the full article PDF.
US$ 39.95
Price includes VAT for USA
Subscribe to journal
Immediate online access to all issues from 2019. Subscription will auto renew annually.
US$ 199
This is the net price. Taxes to be calculated in checkout.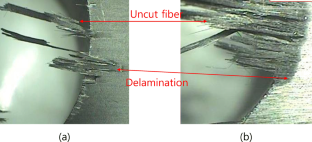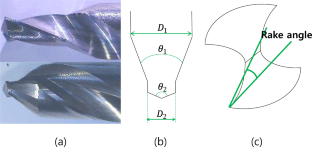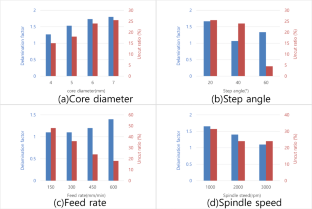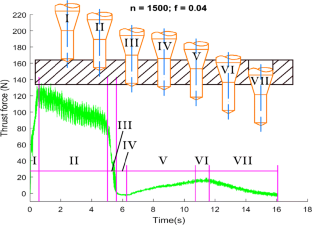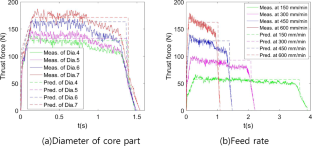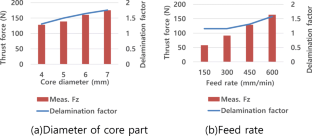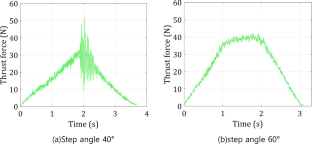 References
1.

Eneyew ED, Ramulu M (2014) Experimental study of surface quality and damage when drilling unidirectional CFRP composites. J Mater Res Technol 3(4):354–362

2.

Zou P, Li Y, Zhang K, Liua P, Zhong H (2014) Mode I delamination mechanisman alysis on CFRP interference-fit during the installation process. Mater Des 116:268–277

3.

Xu J, An Q, Cai X, Chen M (2013) Drilling machinability evaluation on new developed high-strength T800S/250F CFRP laminates. Int J Pr Eng Man 14(10):1687–1696

4.

Bonnet C, Poulachon G, Rech J, Girard Y, Costes JP (2015) Drilling: fundamental study of local feed force and consequences on hole exit damage. Int J Mach Tools Manuf 94:57–67

5.

Vijayan Krishnaraj A, Prabukarthi Arun Ramanathan N, Elanghovan M, Kumar S, Zitoune R, Davim JP (2012) Optimization of machining parameters at high speed drilling of carbon fiber reinforced plastic (CFRP) laminates. Composites Part B: Engineering 43(4):1791–1799

6.

Mudegowda M (2013) Influence of cutting parameters during drilling of filled glass fabric-reinforced epoxy composites. Sci Eng Compos Mater 22(1):81–88

7.

Luís Miguel P, Durão J, Tavares MRS, Hugo V, de Albuquerque C, Marques JFS, Andrade ONG (2014) Drilling damage in composite material. Materials 7(5):3802–3819

8.

Hocheng H, Tsao C (2003) Comprehensive analysis of delamination in drilling of composite materials with various drill bits. J Mater Process Technol 140(1-3):335–339

9.

Hocheng H, Tsao C (2003) Effects of special drill bits on drilling-induced on drilling-induced delamination of composite materials. Int J Mach Tools Manuf 46(12-13):1403–1416

10.

Feito N, Díaz Álvarez J, Cantero J L, Miguélez MH (2015) Influence of special tool geometry in drilling woven CFRPs materials. Procedia Engineering 132:632–638

11.

Feito N, Díaz-Álvarez J, lopez-Puente J, Miguélez MH (2016) Numerical analysis of the influence of tool wear and special cutting geometry when drilling woven CFRPs. Compos Struct 138:285–294

12.

Zhang L, Liu Z, Tian W, Liao W (2015) Experimental studies on the performance of different structure tools in drilling CFRP/Al alloy stacks. Int J Adv Manuf Technol 81(1-4):241–251

13.

Xu J, Li C, Chen M, El Mansori M, Ren F (2019) An investigation of drilling high-strength CFRP composites using specialized drills, The International Journal of Advanced Manufacturing Technology, 1–18

14.

Qun C, Wu G, Gao L, Li HN, Luo H (2019) Effects of machining conditions on the hole wall delamination in both conventional and ultrasonic-assisted CFRP drilling, The International Journal of Advanced Manufacturing Technology 1–15

15.

Sun D, Han F, Ying W (2019) The experimental investigation of water jet–guided laser cutting of CFRP. Int J Adv Manuf Technol 102(1-4):719–729

16.

Ning F, Wang H, Cong W (2019) Rotary ultrasonic machining of carbon fiber reinforced plastic composites: a study on fiber material removal mechanism through single-grain scratching. Int J Adv Manuf Technol 103(1-4):1095–1104

17.

Ko SL, Chang JE, Kaipakjian S (2013) Development of drill for burr minimization in drilling. CIRP Ann 52(1):45–48

18.

Qiu X, Li P, Li C, Niu Q, Chen A, Ouyang P, Jo Ko T (2018) Study on chisel edge drilling behavior and step drill structure on delamination in drilling CFRP. Compos Struct 203:404–413
Additional information
Publisher's note
Springer Nature remains neutral with regard to jurisdictional claims in published maps and institutional affiliations.
About this article
Cite this article
Kwon, B., Mai, N.D.D., Cheon, E.S. et al. Development of a step drill for minimization of delamination and uncut in drilling carbon fiber reinforced plastics (CFRP). Int J Adv Manuf Technol 106, 1291–1301 (2020). https://doi.org/10.1007/s00170-019-04423-5
Received:

Accepted:

Published:

Issue Date:
Keywords
Drilling

Delamination

CFRP

Step drill