Abstract
Aiming at the reconstruction of medical images, a fast triangulation algorithm from planar contours (FTA) is proposed in this paper. In FTA, the judgment of the similarity of counters is carried out at first. Then a traditional global optimisation method is applied to triangulating dissimilar counters. A simple local optimisation method is also applied on areas enveloped by line sections of similar counters. Through theoretical analysis and experience, the visual effect of FTA becomes approximately similar to traditional global optimisation methods and its calculating speed is much improved simultaneously. FTA was also applied to a stereo tactical radiation therapy planning system for a gamma knife (SRTPS) developed by the authors.
This is a preview of subscription content, log in to check access.
Access options
Buy single article
Instant access to the full article PDF.
US$ 39.95
Price includes VAT for USA
Subscribe to journal
Immediate online access to all issues from 2019. Subscription will auto renew annually.
US$ 199
This is the net price. Taxes to be calculated in checkout.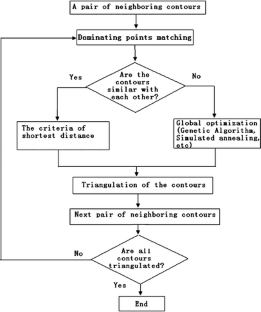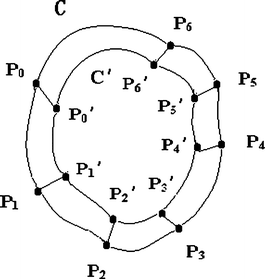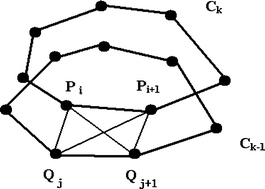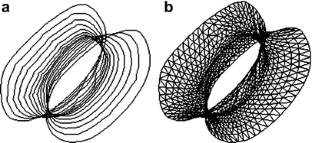 Reference
1.

Keppel E (1989) Approximating complex surface interpolation technique for reconstruction 3D objects from serial cross-sections. CVGIP 48:124–143

2.

Fuchs II, Kcddem ZM, Uselton SP (1977) Optimal surface reconstruction from planar contours. Commun ACM 20:693–702

3.

Christian HN, Sederberg TW (1978) Conversion of complex contour line definition into polygonal element mosaics. Comput Graphics 12:187–192

4.

Sloan KR, Paiter J (1998) Pessimal guesses may be optimal: a counterintuitive search result. IEEE Trans Pattern Anal 10:949–955

5.

Chen L-J, Jin J-R, Wang G-Z (1997) A uniform simulated annealing-based 3D reconstruction algorithm. J Comput 20:1133–1136

6.

Zhou Y, Li D-H, Wang Z-X (1999) Genetic algorithm of triangulation on a 3D surface. J Image Graphics 4A:357–362
About this article
Cite this article
Huang, Y., Duan, Z., Zhu, G. et al. A fast triangulation algorithm for 3D reconstruction from planar contours. Int J Adv Manuf Technol 24, 98–101 (2004). https://doi.org/10.1007/s00170-003-1772-1
Received:

Accepted:

Published:

Issue Date:
Keywords
3D reconstruction

Fast triangulation

Judgment of similarity

Shortest distance method