Abstract
Recent statistic data shows that low back pain accounts for the largest percent of industrial injuries occurred by manual material handling tasks and has an increasing trend around the world. The objective of this study is to develop a prevention method for low back pain using electromyography that resists the strain on the L5/S1 disc and measures the heart rate for the prevention of low back pain during lifting tasks. EMG signals and heart rate were analysed under the condition of a fixed vertical factor (20~80 cm), two horizontal factors (35 cm, 55 cm), two weight factors (10 kg, 25 kg), and two times per minute for each lifting task. Eight healthy male workers performed nine-step strengthening & stretching exercises that can increase back strength on the L5/S1 disc for six months. After completion of the two trials, the results were compared.
The results of this analysis show that EMG signals have more effect on the weight than the horizontal factors similar to those analysed in previous studies and are decreased. Therefore, those exercises were shown to be very efficient. Also, there are not statistically significant differences in the analysis results of heart rate between weight factors.
The intention of this study is to suggest exercise programs that help to prevent low back pain by strengthening and stretching the muscles and joints related to lifting tasks at the work place. Furthermore, this study could help many industries by saving compensation costs and workers by maintaining their health.
This is a preview of subscription content, log in to check access.
Access options
Buy single article
Instant access to the full article PDF.
US$ 39.95
Price includes VAT for USA
Subscribe to journal
Immediate online access to all issues from 2019. Subscription will auto renew annually.
US$ 199
This is the net price. Taxes to be calculated in checkout.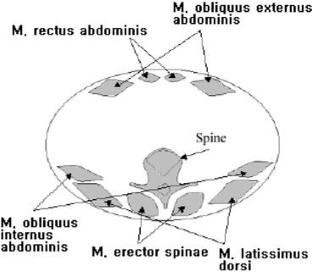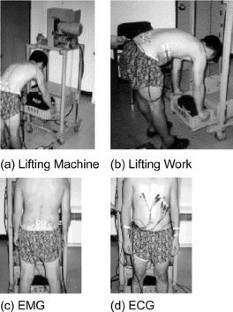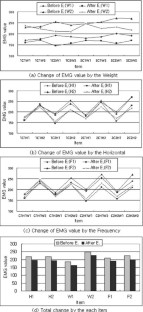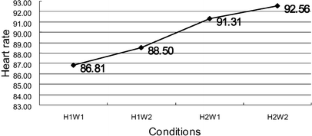 Reference
1.

Anderson GBJ (1981) Epidemiologic aspects on low back pain in industry. Spine 6:53–60

2.

Bernard TM (1995) Computerized dynamic biomechanical simulation of lifting versus inverse dynamics model: effects of task variables. Dissertation, Texas Tech University pp 5–30

3.

Chaffin D, Anderson G (1991) Occupational biomechanics. Wiley, pp 157–160

4.

Cook TM, Neumann DA (1987) The effects of load placement on the EMG activity of the low back muscle during load carrying by men and women. Ergonomics 30:1413–1423

5.

Garg A (1983) Lifting and back injuries: A review of the causes of this industrial health problem, and the major methods used to combat it. Plant Eng 37:67–71

6.

Hwang DY, Park KS (1992) Effects of sitting and standing posture on the compressive forces at L5/S1 Disc. J Hum Eng Soc Korea 11(2):3–13

7.

Kee DH, Chung MK (1995) Comparison of three existing methods for predicting compressive force the lumbosacral disc. J Korean Inst Ind Eng 21(4):581–591

8.

Kermit G et al. (1997) Influence of lift moment in determining MAWL. Hum Factors 39(2):312–322

9.

Kim HK (1995) Comparison of the revised NIOSH equation and different ergonomic approaches to determine the maximum weight of lift. J Ergon Soc Korea 14(1):91–96

10.

Kim JY (1995) Neuromuscular difference between normal subjects and low-back pain patients: neural excitation measured by dynamic electromyography. J Ergon Soc Korea 14(2):1–14

11.

Khalil TM et al. (1993) Ergonomics in back pain: a guide to prevention and rehabilitation. Van Nostrand Reinhold pp 174–185

12.

Kumar S, Mital A (1996) Electromyography in ergonomics. Taylor & Francis pp 18–47

13.

Lee SD, Park JM, Yoo BC (1994) Evaluation of isokinetic muscular strength of elbow flexors and extensors for Korean adults. J Ergon Soc Korea 13(2):49–55

14.

Millar DJ (1988) Summary of proposed national strategies for the prevention of leading work-related diseases and injuries, part 1. Am J Ind Med 13:223–240

15.

Mirka GA (1992) A stochastic simulation model of the muscles of the trunk during lifting. Dissertation, Ohio State University, pp 6–38

16.

Pulat BM (1992) Fundamentals of industrial ergonomics. Prentice Hall, pp 52–53

17.

Yang SH (1997) A study on the evaluation of compression force at the L5/S1 using electromyography. J Korean Inst Plant Eng 20(44):323–332

18.

Yang SH, Kim DS, Park P (1997) A study of the measurements of back power and the evaluation of compression force at the L5/S1. J Korean Inst Ind Safety 12(3):161–165

19.

Yang SH (1997) Causes and condition of industrial accidents during manual materials handling. J Korean Prof Eng Assoc 30(5):96–104
Appendix
Appendix
The figure below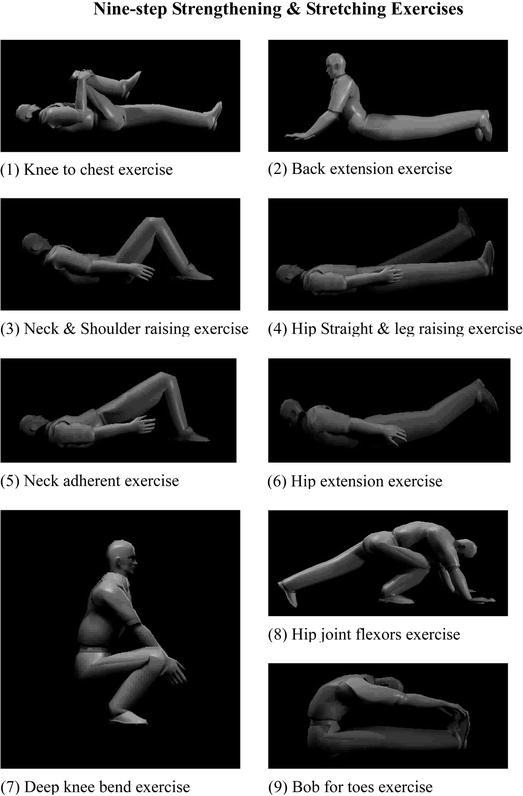 depicts a nine-step strengthening and stretching exercise program.
About this article
Cite this article
La, S., Yang, S. & Seo, J. Development of an exercise program to prevent low back pain using an ergonomic approach. Int J Adv Manuf Technol 24, 381–388 (2004). https://doi.org/10.1007/s00170-002-1507-8
Received:

Accepted:

Published:

Issue Date:
Keywords
Horizontal Distance

Back Muscle

Support Body Weight

Lift Task

Internal Oblique