Abstract
In support of the Joint City–County Taskforce on Ridge, Slope, and Hillside Development and Protection, the goal of this research was to identify areas within Knox County, Tennessee, where views of hillsides and ridges were most valued and how those values were affected by different economic climates. The amenity values added to houses by their views were quantified for houses sold during a housing boom and again during a recession. The results of this study show that forest views add significant value to homes during both periods. However, the amenity value added to houses decreased 13 % from the boom period to the recession period, implying that forest views decrease in value when there is an economic recession. Additionally, the value of the view of barren/scrub land, which was not significant in the boom period, became significant during the recession, reducing house value almost $112 per visible acre and showing that while consumers are less inclined to pay more for views of forest, they are also less willing to endure disamenity views during a recession. When the forest land values were mapped to highlight planned areas with consistently high visual amenity values across both periods, some areas exhibited amenity values in excess of $100 per visible acre of forest land. The areas with the highest amenity values of forest land views roughly correspond to the areas with the highest disamenity values of barren/scrub view. These results imply that these areas represent the highest potential return on investment for preservation and reforestation efforts.
This is a preview of subscription content, log in to check access.
Access options
Buy single article
Instant access to the full article PDF.
US$ 39.95
Price includes VAT for USA
Subscribe to journal
Immediate online access to all issues from 2019. Subscription will auto renew annually.
US$ 99
This is the net price. Taxes to be calculated in checkout.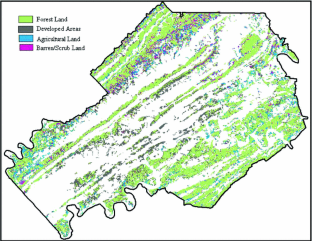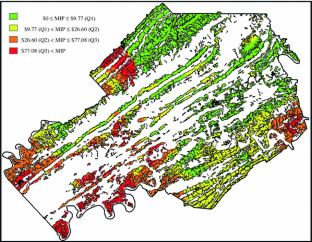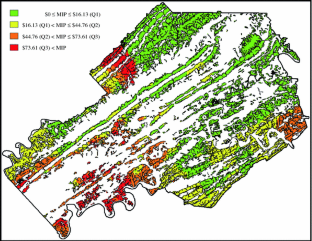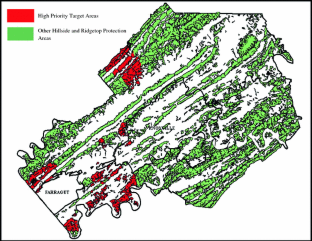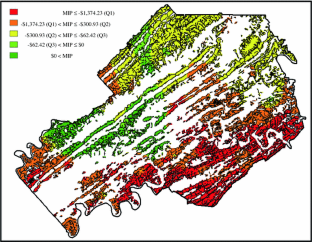 Notes
1.

A raster map is a GIS file format that stores and displays data in a map format where individual pixels contain a single piece of information such as height above sea level in elevation data in the USGS map or a code for a particular land-cover class in the National Land-cover Database (NLCD) map. The USGSelevation data at the 1/3 arc second level have a resolution of 10 m \(\times \) 10 m and are made from a digital elevation model of the US that is updated bi-monthly.
References
Anselin L (1988) Spatial econometrics: methods and models. Kluwer, Dordrecht

Acharya G, Bennett LL (2001) Valuing open space and land-use patterns in urban watersheds. J Real Estate Financ Econ 22:221–237

Bastian CT, McLeod DM, Germino MJ, Reiners WA, Blasko BJ (2002) Environmental amenities and agricultural land values: a hedonic model using geographic information systems data. Ecol Econ 40(3):337–349

Bishop JT (1999) Valuing forests: a review of methods and applications in developing countries. International Institute for Environment and Development (IIED), London.

Brasington DM, Hite D (2005) Demand for environmental quality: a spatial hedonic analysis. Reg Sci Urban Econ 35(1):57–82

Case B, Pollakowski HO, Watcher SM (1991) On choosing among house price index methodologies. Real Estate Econ 19:286–307

Cho S, Kim SG, Roberts RK (2011a) Values of environmental landscape amenities during the 2000–2006 real estate boom and subsequent 2008 recession. J Environ Plan Manag 54:71–91

Cho S, Lambert DM, Kim SG, Roberts RK, Park WM (2011b) Relationship between value of open space and distance from housing locations within a community. J Geogr Syst 13:319–414

Cho S, Bowker JM, Park WM (2006) Measuring the contribution of water and green space amenities to housing values: an application and comparison of spatially weighted hedonic models. J Agric Resour Econ 31:485–507

Cho S, Poudyal NC, Roberts RK (2007) Spatial analysis of the amenity value of green open space. Ecol Econ 66:403–416

Cho S, Kim SG, Roberts RK, Jung S (2009) Amenity values of spatial configurations of forest landscapes over space and time in the southern Appalachian highlands. Ecol Econ 68:2646–2657

Clapp JM, Giaccotto C (1998) Price indices based on the hedonic repeat-sales method: application to the housing market. J Real Estate Financ Econ 16:5–26

Cleveland WS, Devlin SJ (1988) Locally weighted regression: an approach to regression analysis by local fitting. J Am Stat Assoc 83(403):596–610

Cohen JP, Coughlin CC (2008) Spatial hedonic models of airport noise, proximity, and housing prices. J Reg Sci 48(5):859–878

Conway D, Li CQ, Wolch J, Kahle C, Jerrett M (2010) A spatial autocorrelation approach for examining the effects of urban greenspace on residential property values. J Real Estate Financ Econ 41:150–169

Donila M (2011) Burchett opposes Knox hillside plan. Knoxville News Sentinel, 28 Feb 2011.

ESRI (Environmental System Research Institute) (2008) ArcGIS 9.3. Software.

FHFA (Federal Housing Finance Agency) (2011) Online housing price index calculator. Available at: http://www.fhfa.gov/Default.aspx?Page=86. Accessed 15 Feb 2011

Florax R, Rey S (1995) The impacts of misspecified spatial interaction in linear regression models. In: Anselin L, Florax R (eds) New directions in spatial econometrics. Springer, Berlin, pp 111–135

Fotheringham AS, Brunsdon C (2000) Quantitative geography: perspectives on spatial data analysis. Sage Publications Ltd., London

Fotheringham AS, Brunsdon C, Charlton M (2002) Geographically weighted regression: the analysis of spatially varying relationships. Wiley, London

Geoghegan J (2002) The value of open spaces in residential land use. Land Use Policy 9:91–98

Geoghegan J, Wainger LA, Bockstael NE (1997) Spatial landscape indices in a hedonic framework: an ecological economics analysis using GIS. Ecol Econ 23:251–264

Hansen J (2009) Australian house prices: a comparison of hedonic and repeat-sales measures. Econ Rec 85:132–145

Hetzel RL (2009) Monetary policy in the 2008–2009 recession. Fed Reserve Bank of Richmond Econ Q 95(2):201–233

Irwin EG (2002) The effects of open space on residential property values. Land Econ 78:465–480

Iwata S, Murao H, Wang Q (2000) Nonparametric assessment of the effects of neighborhood land uses on residential house values. Adv Econom 14:229–258

Kelejian HH, Prucha IR (1998) A generalized spatial two-stage least squares procedure for estimating a spatial autoregressive model with autoregressive disturbances. J Real Estate Financ Econ 17(1):99–121

KGIS (Knox County, Knoxville Utilities Board Geographic Information System) (2010) Online database. Available at: http://www.kgis.org. Accessed 15 Dec 2010

Lee C, Linneman P (1998) Dynamics of the greenbelt amenity effect on the land market: the case of Seoul's greenbelt. Real Estate Econ 26:297–313

Lewis DJ, Provencher B, Butsic V (2009) The dynamic effects of open space conservation policies on residential development density. J Environ Econ Manag 57(3):239–252

Mahan BL, Polasky S, Adams RM (2000) Valuing urban wetlands: a property price approach. Land Econ 76:100–113

MPC (Knox County, Metropolitan Planning Commission) (2009) The Knoxville/Knox county hillside and ridgetop protection plan. Draft policy proposal. Available at: http://www.knoxmpc.org/hillside/. Accessed 22 Feb 2010

MPC (Knox County, Metropolitan Planning Commission) (2010) GIS shapefiles of all parcels in the county with attributes provided on CD, January 2010.

Newburn D, Berck P, Merenlender AM (2006) Habitat and open space at risk of land-use conversion: targeting strategies for land conservation. Am J Agric Econ 88(1):28–42

Olshansky RB (2007) Regulation of hillside development in the United States. Environ Manag 22:383–392

Palmquist RB, Danielson LE (1989) A hedonic study of the effects of erosion control and drainage on farmland values. Am J Agric Econ 7:55–62

Palmquist RB, Smith VK (2002) The use of hedonic property value techniques for policy and litigation. In: Tietenberg T, Folmer H (eds) The international yearbook of environmental and resource economics 2002/2003. Elgar, Cheltenham, pp 115–164

Peters JW (2006) Sales slow for homes new and old. New York Times, 26 July 2006.

Riddel M (2001) A dynamic approach to estimating hedonic prices for environmental goods: an application to open space purchase. Land Econ 77:494–512

Sander H, Polasky S, Haight RG (2010) The value of urban tree cover: a hedonic property price model in Ramsey and Dakota counties, Minnesota. USA. Ecol Econ 69(8):1646–1656

Smith V, Poulos C, Kim H (2002) Treating open space as an urban amenity. Resour Energy Econ 24:107–29

Tennessee Spatial Data Server (2011) GIS map of Knox County, Tennessee. Available at: http://www.tngis.org/data.html. Accessed 19 March 2011

Tse RYC (2002) Estimating neighbourhood effects in house prices: towards a new hedonic model approach. Urban Stud 39(7):1165–1180

United States Geologic Survey (USGS) (2001) National land-cover data base (NLCD). Available at: http://www.mrlc.gov/nlcd_multizone_map.php. Accessed 22 Feb 2010

US Census Bureau (2010) Houses sold by region, report. Available at: http://www.census.gov/const/soldreg.pdf. Accessed 23 Aug 2010

Wooldridge J (2003) Introductory econometrics: a modern approach. Thompson and Southwestern, Cincinnati, OH
Acknowledgments
Chadourne, Cho, and Roberts are, respectively, graduate research assistant, associate professors, and professor, Department of Agricultural Economics, University of Tennessee, Knoxville, TN. The views expressed here do not necessarily represent those of the University of Tennessee.
About this article
Cite this article
Chadourne, M., Cho, S. & Roberts, R.K. Identifying priority target areas for the Knoxville–Knox County hillside and ridgetop protection plan: using the value of visual amenity during the real estate boom of 2002–2007 and the recession of 2008. Ann Reg Sci 50, 911–934 (2013). https://doi.org/10.1007/s00168-012-0519-z
Received:

Accepted:

Published:

Issue Date:
JEL Classification