Abstract
Purpose
The revision rate of unicompartmental knee arthroplasty (UKA) is higher than in total knee arthroplasty (TKA), and implant positioning may play a role. In combination with a pre-operative CT, robotic UKA may provide the ability to position the implants more precisely. The aim of this study was to investigate the influence of component prominence relative to the native joint surface on early outcomes and revisions. The hypothesis was that aiming for restoration of joint space to 0.5–1.5 mm will improve outcomes.
Methods
Retrospective analysis of prospectively collected data of 94 patients undergoing robotic-assisted UKA (Mako, Stryker) was performed. The 'prominence' of the implant surface relative to the native bony surface in sagittal plane, hip–knee–ankle (HKA) correction in coronal plane was documented intraoperatively. The mean achieved gap between two components under valgus stress captured in at least 5 different flexion angles was calculated. These were then analysed for impact on early revision rate and outcomes, stratified by gender.
Results
Median HKA correction was 3.5° (range 0°–9.5°). Median femoral prominence was 1.5 mm (range − 0.6 to 4 mm) and median tibial prominence was 4.3 mm (2–7 mm). The median achieved gap was 1.0 mm (− 1.2 to 2.8 mm). There was no difference in achieved correction between men and women (p = n.s.) but men had a higher achieved combined prominence than women (p < 0.001). PROMs did not correlate with the average gap (p = n.s.) nor with combined prominence (p = n.s.). Two patients underwent an early revision. Lower femoral prominence was a significant predictor of revision (p = 0.045; OR = 0.21; 95% CI 0.000–0.918).
Conclusion
Female patients need less component prominence to achieve the same average gap balance through a range of motion, without correlation with patient's height. Intraoperatively low femoral prominence could be a reason for early revision.
Level of evidence
IV.
This is a preview of subscription content, log in to check access.
Access options
Buy single article
Instant access to the full article PDF.
US$ 39.95
Price includes VAT for USA
Subscribe to journal
Immediate online access to all issues from 2019. Subscription will auto renew annually.
US$ 199
This is the net price. Taxes to be calculated in checkout.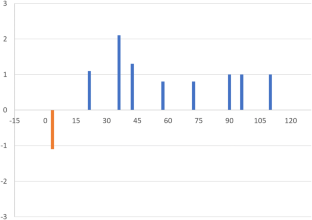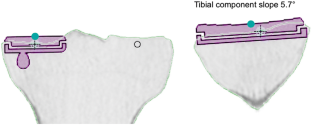 References
1.

Chau R, Gulati A, Pandit H, Beard DJ, Price AJ, Dodd AF, Gill HS, Murray DW (2009) Tibial component overhang following unicompartmental knee replacement—does it matter? Knee 16:310–313

2.

Christ AB, Pearle AD, Mayman DJ, Haas SB (2018) Robotic-assisted unicompartmental knee arthroplasty: state-of-the art and review of the literature. J Arthroplasty 33:1994–2001

3.

Citak M, Suero EM, Citak M, Dunbar NJ, Branch SH, Conditt MA, Banks SA, Pearle AD (2013) Unicompartmental knee arthroplasty: is robotic technology more accurate than conventional technique? Knee 20:268–271

4.

Elfring R, de la Fuente M, Radermacher K (2010) Assessment of optical localizer accuracy for computer aided surgery systems. Comput Aided Surg 15:1–12

5.

Gaudiani MA, Nwachukwu BU, Baviskar JV, Sharma M, Ranawat AS (2017) Optimization of sagittal and coronal planes with robotic-assisted unicompartmental knee arthroplasty. Knee 24:837–843

6.

Gilmour A, MacLean AD, Rowe PJ, Banger MS, Donnelly I, Jones BG, Blyth MJG (2018) Robotic-arm-assisted vs conventional unicompartmental knee arthroplasty. The 2-year clinical outcomes of a randomized controlled trial. J Arthroplasty 33:S109–S115

7.

Hansen DC, Kusuma SK, Palmer RM, Harris KB (2014) Robotic guidance does not improve component position or short-term outcome in medial unicompartmental knee arthroplasty. J Arthroplasty 29:1784–1789

8.

Herry Y, Batailler C, Lording T, Servien E, Neyret P, Lustig S (2017) Improved joint-line restitution in unicompartmental knee arthroplasty using a robotic-assisted surgical technique. Int Orthop 41:2265–2271

9.

Kleeblad LJ, Borus TA, Coon TM, Dounchis J, Nguyen JT, Pearle AD (2018) Midterm survivorship and patient satisfaction of robotic-arm-assisted medial unicompartmental knee arthroplasty: a multicenter study. J Arthroplasty 33:1719–1726

10.

Liddle AD, Judge A, Pandit H, Murray DW (2014) Adverse outcomes after total and unicompartmental knee replacement in 101,330 matched patients: a study of data from the National Joint Registry for England and Wales. Lancet 384:1437–1445

11.

Liddle AD, Pandit H, Judge A, Murray DW (2015) Optimal usage of unicompartmental knee arthroplasty: a study of 41,986 cases from the National Joint Registry for England and Wales. Bone Joint J 97-B:1506–1511

12.

Lim H-C, Bae J-H, Yoon J-Y, Kim S-J, Kim J-G, Lee J-M (2013) Gender differences of the morphology of the distal femur and proximal tibia in a Korean population. Knee 20:26–30

13.

Lonner JH, Klement MR (2019) Robotic-assisted medial unicompartmental knee arthroplasty: options and outcomes. J Am Acad Orthop Surg 27:e207

14.

Lustig S, Barba N, Magnussen RA, Servien E, Demey G, Neyret P (2012) The effect of gender on outcome of unicompartmental knee arthroplasty. Knee 19:176–179

15.

Murray DW, Goodfellow JW, O'Connor JJ (1998) The Oxford medial unicompartmental arthroplasty: a ten-year survival study. J Bone Joint Surg Br 80:983–989

16.

National Joint Replacement Registry AOA (2019) 2019 Hip, knee & shoulder arthroplasty annual report

17.

Pearle AD, van der List JP, Lee L, Coon TM, Borus TA, Roche MW (2017) Survivorship and patient satisfaction of robotic-assisted medial unicompartmental knee arthroplasty at a minimum two-year follow-up. Knee 24:419–428

18.

Quatman CE, Ford KR, Myer GD, Paterno MV, Hewett TE (2008) The effects of gender and maturational status on generalized joint laxity in young athletes. J Sci Med Sport 11:257–263

19.

Takayama K, Ishida K, Muratsu H, Kuroda Y, Tsubosaka M, Hashimoto S, Hayashi S, Matsushita T, Niikura T, Kuroda R, Matsumoto T (2018) The medial tibial joint line elevation over 5 mm restrained the improvement of knee extension angle in unicompartmental knee arthroplasty. Knee Surg Sports Traumatol Arthrosc 26:1737–1742

20.

Tummala S, Schiphof D, Byrjalsen I, Dam EB (2018) Gender differences in knee joint congruity quantified from MRI: a validation study with data from center for clinical and basic research and osteoarthritis initiative. Cartilage 9:38–45

21.

Wong J, Murtaugh T, Lakra A, Cooper HJ, Shah RP, Geller JA (2019) Robotic-assisted unicompartmental knee replacement offers no early advantage over conventional unicompartmental knee replacement. Knee Surg Sports Traumatol Arthrosc 27:2303–2308

22.

Zambianchi F, Franceschi G, Rivi E, Banchelli F, Marcovigi A, Nardacchione R, Ensini A, Catani F (2019) Does component placement affect short-term clinical outcome in robotic-arm assisted unicompartmental knee arthroplasty? Bone Joint J 101-B:435–442

23.

Zuiderbaan HA, van der List JP, Chawla H, Khamaisy S, Thein R, Pearle AD (2016) Predictors of subjective outcome after medial unicompartmental knee arthroplasty. J Arthroplasty 31:1453–1458
Funding
The research has been performed at the North Shore Hospital. No funding was received for this study.
Ethics declarations
Conflict of interest
AK has received research support from Implantcast, unrelated to this study. MC is an employee of Stryker Corporation. SWY has received research support and is a consultant for Stryker. SH has no conflicts to declare.
Ethical approval
The study was reviewed by our local ethical board prior to commencement (HDECS 28/6/2019).
Additional information
Publisher's Note
Springer Nature remains neutral with regard to jurisdictional claims in published maps and institutional affiliations.
About this article
Cite this article
Klasan, A., Carter, M., Holland, S. et al. Low femoral component prominence negatively influences early revision rate in robotic unicompartmental knee arthroplasty. Knee Surg Sports Traumatol Arthrosc (2020). https://doi.org/10.1007/s00167-020-05886-w
Received:

Accepted:

Published:
Keywords
Unicompartmental knee replacement

Robotic

Revision

Component placement

Proudness

Prominence

Outcome