Abstract
Purpose
Tendon disorders are a major problem in the general population. It is known that rotator cuff tendinopathy contributes to osteoarthritis (OA) of the shoulder. The aim of the study was to analyse the presence of tendinopathy in patients with shoulder OA and an intact rotator cuff, using a multimodal approach.
Methods
Thirteen consecutive patients median age 67 (52–84) years, with OA of the shoulder, and 13 consecutive control patients, with a fracture of the proximal humerus, median age 70 (51–84) years, underwent an open biopsy procedure from the biceps and subscapularis tendon in conjunction with shoulder arthroplasty. In addition to a macroscopic evaluation, the samples underwent histologic, morphologic and ultrastructural analyses in light and transmission electron microscopy.
Results
Macroscopic degeneration was found in 15 of 26 specimen in the OA group but in seven of 25 in the control group (p = 0.048). The histologic analysis revealed a non-significant difference for the total degeneration score (TDS) between the study groups. The morphologic evaluation of the samples revealed that the OA group had significantly more samples with non-homogeneous extracellular matrix (ECM), (p = 0.048). Ultrastructurally, the OA group revealed a significantly larger fibril diameter in the biceps tendon (p < 0.0001) but not in the subscapularis tendon compared with the control group.
Conclusion
A significantly worse macroscopic appearance and significantly more morphologically inhomogeneous ECM, indicating more tendon degeneration, were found in the OA group compared with the control group. This indicates that it could be beneficial to treat the tendinosis in an early stage to decrease symptoms from the OA.
Study design
Level of evidence, III.
This is a preview of subscription content, log in to check access.
Access options
Buy single article
Instant access to the full article PDF.
US$ 39.95
Price includes VAT for USA
Subscribe to journal
Immediate online access to all issues from 2019. Subscription will auto renew annually.
US$ 199
This is the net price. Taxes to be calculated in checkout.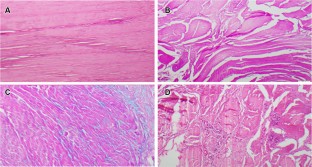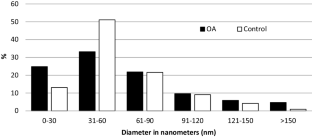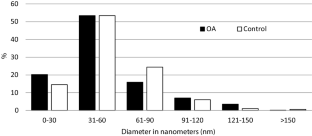 References
1.

Fitzpatrick J, Bulsara MK, O'Donnell J, McCrory PR, Zheng MH (2018) The effectiveness of platelet-rich plasma injections in gluteal tendinopathy: a randomized, double-blind controlled trial comparing a single platelet-rich plasma injection with a single corticosteroid injection. Am J Sports Med 46(4):933–939

2.

Andersson G, Danielson P, Alfredson H, Forsgren S (2008) Presence of substance P and the neurokinin-1 receptor in tenocytes of the human Achilles tendon. Regul Pept 150(1–3):81–87

3.

Hashimoto T, Nobuhara K, Hamada T (2003) Pathologic evidence of degeneration as a primary cause of rotator cuff tear. Clin Orthop Relat Res 415:111–120

4.

Movin T, Gad A, Reinholt FP, Rolf C (1997) Tendon pathology in long-standing achillodynia. Biopsy findings in 40 patients. Acta Orthop Scand 68(2):170–175

5.

Nirschl RP, Ashman ES (2004) Tennis elbow tendinosis (epicondylitis). Instr Course Lect 53:587–598

6.

Riley G (2005) Chronic tendon pathology: molecular basis and therapeutic implications. Expert Rev Mol Med 7(5):1–25

7.

Lohr JF, Uhthoff HK (1990) The microvascular pattern of the supraspinatus tendon. Clin Orthop Relat Res (254):35–38

8.

Orchard JW, Cook JL, Halpin N (2004) Stress-shielding as a cause of insertional tendinopathy: the operative technique of limited adductor tenotomy supports this theory. J Sci Med Sport 7(4):424–428

9.

Kongsgaard M, Qvortrup K, Larsen J et al (2010) Fibril morphology and tendon mechanical properties in patellar tendinopathy: effects of heavy slow resistance training. Am J Sports Med 38(4):749–756

10.

Magnusson SP, Qvortrup K, Larsen JO et al (2002) Collagen fibril size and crimp morphology in ruptured and intact Achilles tendons. Matrix Biol 21(4):369–377

11.

Molloy TJ, Kemp MW, Wang Y, Murrell GA (2006) Microarray analysis of the tendinopathic rat supraspinatus tendon: glutamate signaling and its potential role in tendon degeneration. J Appl Physiol 101(6):1702–1709

12.

Riley GP, Harrall RL, Constant CR, Chard MD, Cawston TE, Hazleman BL (1994) Tendon degeneration and chronic shoulder pain: changes in the collagen composition of the human rotator cuff tendons in rotator cuff tendinitis. Ann Rheum Dis 53(6):359–366

13.

Zabrzynski J, Lapaj L, Paczesny L, Zabrzynska A, Grzanka D (2018) Tendon—function related structure, simple healing process and mysterious ageing. Folia Morphol (Warsz). https://doi.org/10.5603/FM.a2018.0006

14.

Cook JL, Feller JA, Bonar SF, Khan KM (2004) Abnormal tenocyte morphology is more prevalent than collagen disruption in asymptomatic athletes' patellar tendons. J Orthop Res 22(2):334–338

15.

Lian O, Scott A, Engebretsen L, Bahr R, Duronio V, Khan K (2007) Excessive apoptosis in patellar tendinopathy in athletes. Am J Sports Med 35(4):605–611

16.

Alfredson H, Lorentzon R (2002) Chronic tendon pain: no signs of chemical inflammation but high concentrations of the neurotransmitter glutamate. Implications for treatment. Curr Drug Targets 3(1):43–54

17.

Meknas K, Johansen O, Steigen SE, Olsen R, Jorgensen L, Kartus J (2012) Could tendinosis be involved in osteoarthritis? Scand J Med Sci Sports 22(5):627–634

18.

McDowell EM, Trump BF (1976) Histologic fixatives suitable for diagnostic light and electron microscopy. Arch Pathol Lab Med 100(8):405–414

19.

Blankenbaker DG, Ullrick SR, Davis KW, De Smet AA, Haaland B, Fine JP (2008) Correlation of MRI findings with clinical findings of trochanteric pain syndrome. Skeletal Radiol 37(10):903–909

20.

Lequesne M, Mathieu P, Vuillemin-Bodaghi V, Bard H, Djian P (2008) Gluteal tendinopathy in refractory greater trochanter pain syndrome: diagnostic value of two clinical tests. Arthritis Rheum 59(2):241–246

21.

Windisch G, Braun EM, Anderhuber F (2007) Piriformis muscle: clinical anatomy and consideration of the piriformis syndrome. Surg Radiol Anat 29(1):37–45

22.

Liden M, Movin T, Ejerhed L et al (2008) A histological and ultrastructural evaluation of the patellar tendon 10 years after reharvesting its central third. Am J Sports Med 36(4):781–788

23.

Svensson M, Movin T, Rostgard-Christensen L, Blomen E, Hultenby K, Kartus J (2007) Ultrastructural collagen fibril alterations in the patellar tendon 6 years after harvesting its central third. Am J Sports Med 35(2):301–306

24.

Osti L, Buda M, Del Buono A, Osti R, Massari L, Maffulli N (2017) Apoptosis and rotator cuff tears: scientific evidence from basic science to clinical findings. Br Med Bull 122(1):123–133

25.

Scott A, Khan KM, Heer J, Cook JL, Lian O, Duronio V (2005) High strain mechanical loading rapidly induces tendon apoptosis: an ex vivo rat tibialis anterior model. Br J Sports Med 39(5):e25

26.

Scott A, Cook JL, Hart DA, Walker DC, Duronio V, Khan KM (2007) Tenocyte responses to mechanical loading in vivo: a role for local insulin-like growth factor 1 signaling in early tendinosis in rats. Arthritis Rheum 56(3):871–881

27.

Castagna A, Cesari E, Garofalo R et al (2013) Matrix metalloproteases and their inhibitors are altered in torn rotator cuff tendons, but also in the macroscopically and histologically intact portion of those tendons. Muscles Ligaments Tendons 3(3):132–138

28.

Sethi PM, Sheth CD, Pauzenberger L et al (2018) Macroscopic rotator cuff tendinopathy and histopathology do not predict repair outcomes of rotator cuff tears. Am J Sports Med 46(4):779–785

29.

Ventura-Rios L, Sanchez-Bringas G, Pineda C et al (2016) Tendon involvement in patients with gout: an ultrasound study of prevalence. Clin Rheumatol 35(8):2039–2044

30.

Steinbacher P, Tauber M, Kogler S, Stoiber W, Resch H, Sanger AM (2010) Effects of rotator cuff ruptures on the cellular and intracellular composition of the human supraspinatus muscle. Tissue Cell 42(1):37–41

31.

Thankam FG, Boosani CS, Dilisio MF, Agrawal DK (2018) MicroRNAs associated with inflammation in shoulder tendinopathy and glenohumeral arthritis. Mol Cell Biochem 437(1–2):81–97

32.

Clayton W. Nuelle CW, Stokes DC, Kuroki K, Crim JR, Sherman SL (2018) Radiologic and histologic evaluation of proximal biceps pathology in patients with chronic biceps tendinopathy undergoing open subpectoral biceps tenodesis. Arthroscopy 34(6):1790–1796. https://doi.org/10.1016/j.arthro.2018.01.021
Funding
This study was partially supported by "Dr. Trygve Gythfeldt and wife's research fund."
Ethics declarations
Conflict of interest
One of the authors J.K. has received remuneration for knee related lecturing from Linvatec Sweden not related to the work.
Ethical approval
Ethical regional committee for medical research approval number REK Sør-øst B 2014/1773.
Additional information
The original version of this article was revised: The given name and the family name of the authors were incorrectly identified in the original article.
About this article
Cite this article
Ibrahim, M., Kartus, J., Steigen, S.E. et al. More tendon degeneration in patients with shoulder osteoarthritis. Knee Surg Sports Traumatol Arthrosc 27, 267–275 (2019). https://doi.org/10.1007/s00167-018-5186-x
Received:

Accepted:

Published:

Issue Date:
Keywords
Tendinosis

Extracellular matrix

Shoulder

Osteoarthritis