Abstract
Possible failures of autologous chondrocyte implantation (ACI), a cell-based technique for articular cartilage repair, are not always clinically apparent and the underlying mechanisms largely remain unknown. This case report presents the first scenario in the literature highlighting an association of a medium-term partial failure of an advanced ACI procedure (matrix-assisted ACI) in the knee with focal asymptomatic calcium pyrophosphate deposition disease, a common inflammatory pyrophosphate arthropathy. The specific presence of CPPDs, resulting from increased biomechanical stresses in the repair tissue–cartilage and repair tissue–subchondral bone integration sites, together with the absence of cartilage regeneration was identified and possibly contributed to the partial failure.
Level of evidence V.
This is a preview of subscription content, log in to check access.
Access options
Buy single article
Instant access to the full article PDF.
US$ 39.95
Price includes VAT for USA
Subscribe to journal
Immediate online access to all issues from 2019. Subscription will auto renew annually.
US$ 199
This is the net price. Taxes to be calculated in checkout.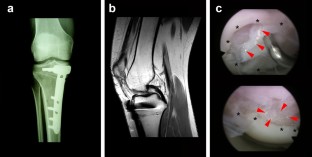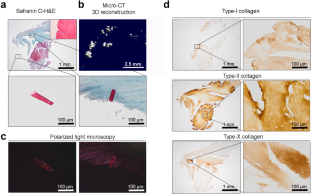 References
1.

Abhishek A, Doherty M (2016) Update on calcium pyrophosphate deposition. Clin Exp Rheumatol 34:32–38

2.

Andriolo L, Merli G, Filardo G, Marcacci M, Kon E (2017) Failure of autologous chondrocyte implantation. Sports Med Arthrosc Rev 25:10–18

3.

Boumans D, Hettema ME, Vonkeman HE, Maatman RG, van de Laar MA (2017) The added value of synovial fluid centrifugation for monosodium urate and calcium pyrophosphate crystal detection. Clin Rheumatol 36:1599–1605

4.

Doherty M, Watt I, Dieppe PA (1982) Localised chondrocalcinosis in post-meniscectomy knees. Lancet 1:1207–1210

5.

Ebert JR, Smith A, Fallon M, Wood DJ, Ackland TR (2014) Correlation between clinical and radiological outcomes after matrix-induced autologous chondrocyte implantation in the femoral condyles. Am J Sports Med 42:1857–1864

6.

Felson DT, Naimark A, Anderson J, Kazis L, Castelli W, Meenan RF (1987) The prevalence of knee osteoarthritis in the elderly. The Framingham Osteoarthritis Study. Arthritis Rheum 30:914–918

7.

Gao L, Orth P, Muller-Brandt K, Goebel LK, Cucchiarini M, Madry H (2017) Early loss of subchondral bone following microfracture is counteracted by bone marrow aspirate in a translational model of osteochondral repair. Sci Rep 7:45189

8.

Gersing AS, Schwaiger BJ, Heilmeier U, Joseph GB, Facchetti L, Kretzschmar M et al (2017) Evaluation of chondrocalcinosis and associated knee joint degeneration using MR imaging: data from the osteoarthritis initiative. Eur Radiol 27:2497–2506

9.

Goebel L, Kohn D, Madry H (2016) Biological reconstruction of the osteochondral unit after failed focal resurfacing of a chondral defect in the knee. Am J Sports Med 44:2911–2916

10.

Han BK, Kim W, Niu J, Basnyat S, Barshay V, Gaughan JP et al (2017) Association of chondrocalcinosis in knee joints with pain and synovitis: data from the osteoarthritis initiative. Arthritis Care Res (Hoboken) 69:1651–1658

11.

Harris JD, Siston RA, Brophy RH, Lattermann C, Carey JL, Flanigan DC (2011) Failures, re-operations, and complications after autologous chondrocyte implantation—a systematic review. Osteoarthritis Cartilage 19:779–791

12.

Knutsen G, Drogset JO, Engebretsen L, Grontvedt T, Ludvigsen TC, Loken S et al (2016) A randomized multicenter trial comparing autologous chondrocyte implantation with microfracture: long-term follow-up at 14 to 15 years. J Bone Joint Surg Am 98:1332–1339

13.

Minas T, Gomoll AH, Rosenberger R, Royce RO, Bryant T (2009) Increased failure rate of autologous chondrocyte implantation after previous treatment with marrow stimulation techniques. Am J Sports Med 37:902–908

14.

Neame RL, Carr AJ, Muir K, Doherty M (2003) UK community prevalence of knee chondrocalcinosis: evidence that correlation with osteoarthritis is through a shared association with osteophyte. Ann Rheum Dis 62:513–518

15.

Niemeyer P, Pestka JM, Kreuz PC, Erggelet C, Schmal H, Suedkamp NP et al (2008) Characteristic complications after autologous chondrocyte implantation for cartilage defects of the knee joint. Am J Sports Med 36:2091–2099

16.

Reuge L, Van Linthoudt D, Gerster JC (2001) Local deposition of calcium pyrophosphate crystals in evolution of knee osteoarthritis. Clin Rheumatol 20:428–431

17.

Vijayan S, Bentley G, Rahman J, Briggs TW, Skinner JA, Carrington RW (2014) Revision cartilage cell transplantation for failed autologous chondrocyte transplantation in chronic osteochondral defects of the knee. Bone Joint J 96-b:54–58

18.

Zaslav K, Cole B, Brewster R, DeBerardino T, Farr J, Fowler P et al (2009) A prospective study of autologous chondrocyte implantation in patients with failed prior treatment for articular cartilage defect of the knee: results of the Study of the Treatment of Articular Repair (STAR) clinical trial. Am J Sports Med 37:42–55
Funding
No financial support was received for this study.
Ethics declarations
Conflict of interest
None of the authors reported any conflict of interest.
Ethical approval
All procedures performed in studies involving human participants were in accordance with the ethical standards of the institutional and/or national research committee and with the 1964 Helsinki declaration and its later amendments or comparable ethical standards.
Informed consent
Informed consent was obtained from the patient in this study.
About this article
Cite this article
Gao, L., Oláh, T., Cucchiarini, M. et al. Asymptomatic focal calcium pyrophosphate crystal deposition within partially failed repair tissue after matrix-assisted autologous chondrocyte implantation. Knee Surg Sports Traumatol Arthrosc 27, 1939–1942 (2019). https://doi.org/10.1007/s00167-018-5136-7
Received:

Accepted:

Published:

Issue Date:
Keywords
Matrix-assisted autologous chondrocyte implantation

Calcium pyrophosphate deposition disease

Asymptomatic failure

Mid-term outcome

Knee