Abstract
Purpose
There is an increased interest in treating arthritis of the medial and patellofemoral compartments without using a total knee arthroplasty. The purpose of this study was to measure kinematics in knees with a monoblock bicompartmental arthroplasty to see whether maintaining the cruciate ligaments and lateral compartment resulted in consistent kinematics more similar to healthy knees than those observed in replaced knees.
Methods
The kinematics of ten knees with monoblock bicompartmental arthroplasty were observed using fluoroscopy during three weight-bearing activities. Model-image registration techniques were used to quantify the three-dimensional motions of the knee joints.
Results
During kneeling, lunging, and stair-step activities, the medial condyle remained relatively close to the centre of the tibial plateau, while the lateral condyle typically moved posteriorly with flexion. Knees generally exhibited motion patterns consistent with retained cruciate ligament function, but individual patterns varied significantly.
Conclusions
Bicompartmental knee arthroplasty has the potential to retain more natural knee function. Improved tools for aligning the implants and increased implant sizing options may be required to achieve highly consistent results and realize the clinical benefit of a knee arthroplasty with intact cruciate ligaments.
Level of evidence
III.
This is a preview of subscription content, log in to check access.
Access options
Buy single article
Instant access to the full article PDF.
US$ 39.95
Price includes VAT for USA
Subscribe to journal
Immediate online access to all issues from 2019. Subscription will auto renew annually.
US$ 199
This is the net price. Taxes to be calculated in checkout.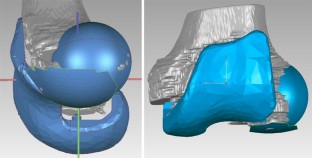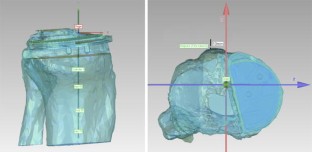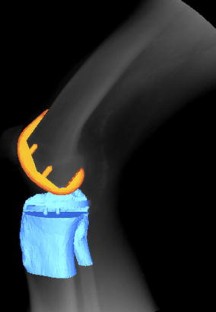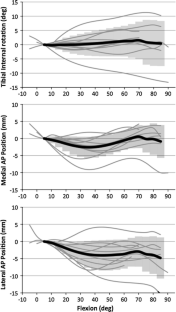 References
1.

Acker S, Li R, Murray H, John PS, Banks S, Wyss U, Deluzio K (2011) Accuracy of single-plane fluoroscopy in determining relative position and orientation of total knee replacement components. J Biomech 44:784–787

2.

Adam C, Eckstein F, Milz S, Schulte E, Becker C, Putz R (1998) The distribution of cartilage thickness in the knee-joints of old-aged individuals measurement by A-mode ultrasound. Clin Biomech 13:1–10

3.

Argenson J-NA, Guillaume JM, Aubaniac JM (1995) Is there a place for patellofemoral arthroplasty? Clin Orthop Relat Res 321:162–167

4.

Banks SA (2009) Haptic robotics enable a systems approach to design of a minimally invasive modular knee arthroplasty. Am J Orthop (Belle Mead. NJ) 38:23–27

5.

Banks SA, Fregly BJ, Boniforti F, Reinschmidt C, Romagnoli S (2005) Comparing in vivo kinematics of unicondylar and bi-unicondylar knee replacements. Knee Surg Sport Traumatol Arthrosc 13:551–556

6.

Banks SA, Hodge WA (1996) Accurate measurement of three-dimensional knee replacement kinematics using single-plane fluoroscopy. IEEE Trans Biomed Eng 43:638–649

7.

Banks SA, Hodge WA (2004) 2003 Hap Paul Award Paper of the International Society for technology in arthroplasty: design and activity dependence of kinematics in fixed and mobile-bearing knee arthroplasties. J Arthroplast 19:809–816

8.

Banks SA, Markovich GD, Hodge WA (1997) The mechanics of knee replacements during gait. In vivo fluoroscopic analysis of two designs. Am J Knee Surg 10:261–267

9.

Chung JY, Min B-H (2013) Is bicompartmental knee arthroplasty more favourable to knee muscle strength and physical performance compared to total knee arthroplasty? Knee Surg Sports Traumatol Arthrosc 21:2532–2541

10.

Engh GA (2007) A bi-compartmental solution: what the Deuce? Orthopedics 30:770–771

11.

Koo S, Gold GE, Andriacchi TP (2005) Considerations in measuring cartilage thickness using MRI: factors influencing reproducibility and accuracy. Osteoarthr Cartil 13:782–789

12.

Leffler J, Scheys L, Planté-Bordeneuve T, Callewaert B, Labey L, Bellemans J, Franz A (2012) Joint kinematics following bi-compartmental knee replacement during daily life motor tasks. Gait Posture 36:454–460

13.

Moro-oka T, Hamai S, Miura H, Shimoto T, Higaki H, Fregly B, Iwamoto Y, Banks S (2007) Can magnetic resonance imaging-derived bone models be used for accurate motion measurement with single-plane three-dimensional shape registration? J Orthop Res 25:867–872

14.

Moro-oka TA, Hamai S, Miura H, Shimoto T, Higaki H, Fregly BJ, Iwamoto Y, Banks SA (2008) Dynamic activity dependence of in vivo normal knee kinematics. J Orthop Res 26:428–434

15.

Moro-oka TA, Muenchinger M, Canciani JP, Banks SA (2007) Comparing in vivo kinematics of anterior cruciate-retaining and posterior cruciate-retaining total knee arthroplasty. Knee Surg Sport Traumatol Arthrosc 15:93–99

16.

Müller M, Matziolis G, Falk R, Hommel H (2012) The bicompartmental knee joint prosthesis Journey Deuce: failure analysis and optimization strategies. Orthopade 41:894–904

17.

Nelissen RG, Hogendoorn PC (2001) Retain or sacrifice the posterior cruciate ligament in total knee arthroplasty? A histopathological study of the cruciate ligament in osteoarthritic and rheumatoid disease. J Clin Pathol 54:381–384

18.

Palumbo BT, Henderson ER, Edwards PK, Burris RB, Gutiérrez S, Raterman SJ (2011) Initial experience of the journey-deuce bicompartmental knee prosthesis: a review of 36 cases. J Arthroplast 26:40–45

19.

Parratte S, Pauly V, Aubaniac J-M, Argenson J-NA (2009) Survival of bicompartmental knee arthroplasty at 5 to 23 years. Clin Orthop Relat Res 468:64–72

20.

Rolston L, Bresch J, Engh G, Franz A, Kreuzer S, Nadaud M, Puri L, Wood D (2007) Bicompartmental knee arthroplasty: a bone-sparing, ligament-sparing, and minimally invasive alternative for active patients. Orthopedics 30:70–73

21.

Rolston L, Siewert K (2009) Assessment of knee alignment after bicompartmental knee arthroplasty. J Arthroplast Elsevier Inc 24:1111–1114

22.

Steinert A, Nöth U, Rudert M (2013) The individual-template system combined with individual endoprosthesis: ConforMIS iUni G2, iDuo G2, and iTotal G2. In: Haaker R, Konermann W (eds) Computer and Template Assisted Orthopedic Surgery, Springer, Berlin, pp 53–62

23.

Swienckowski JJ, Pennington DW (2004) Unicompartmental knee arthroplasty in patients sixty years of age or younger. J Bone Joint Surg Am 86(A Suppl):131–142

24.

Thienpont E, Price A (2013) Bicompartmental knee arthroplasty of the patellofemoral and medial compartments. Knee Surg Sports Traumatol Arthrosc 21:2523–2531

25.

Tria AJ (2013) Bicompartmental knee arthroplasty: the clinical outcomes. Orthop Clin North Am 44:281–286

26.

Tupling SJ, Pierrynowski MR (1987) Use of Cardan angles to locate rigid bodies in three-dimensional space. Med Biol Eng Comput 25:527–532

27.

Wang H, Dugan E, Frame J, Rolston L (2009) Gait analysis after bi-compartmental knee replacement. Clin Biomech Elsevier Ltd 24:751–754

28.

Wünschel M, Lo J, Dilger T, Wülker N, Müller O (2011) Influence of bi- and tricompartmental knee arthroplasty on the kinematics of the knee joint. BMC Musculoskel Disord 12:7
Acknowledgments
This work was sponsored by research grants to the authors' institutions from Smith & Nephew plc.
About this article
Cite this article
Park, B.H., Leffler, J., Franz, A. et al. Kinematics of monoblock bicompartmental knee arthroplasty during weight-bearing activities. Knee Surg Sports Traumatol Arthrosc 23, 1756–1762 (2015). https://doi.org/10.1007/s00167-014-3427-1
Received:

Accepted:

Published:

Issue Date:
Keywords
Knee

Kinematics

Bicompartmental

Arthroplasty

Fluoroscopy