Abstract
Purpose
Unicompartmental knee arthroplasty (UKA) has shown a higher rate of revision compared with total knee arthroplasty. The success of UKA depends on prosthesis component alignment, fixation and soft tissue integrity. The tibial cut is the crucial surgical step. The hypothesis of the present study is that tibial component malalignment is correlated with its risk of loosening in UKA.
Methods
This study was performed in twenty-three patients undergoing primary cemented unicompartmental knee arthroplasties. Translations and rotations of the tibial component and the maximum total point motion (MTPM) were measured using radiostereometric analysis at 3, 6, 12 and 24 months. Standard radiological evaluations were also performed immediately before and after surgery. Varus/valgus and posterior slope of the tibial component and tibial–femoral axes were correlated with radiostereometric micro-motion. A survival analysis was also performed at an average of 5.9 years by contacting patients by phone.
Results
Varus alignment of the tibial component was significantly correlated with MTPM, anterior tibial sinking, varus rotation and anterior and medial translations from radiostereometry. The posterior slope of the tibial component was correlated with external rotation. The survival rate at an average of 5.9 years was 89 %. The two patients who underwent revision presented a tibial component varus angle of 10° for both.
Conclusions
There is correlation between varus orientation of the tibial component and MTPM from radiostereometry in unicompartmental knee arthroplasties. Particularly, a misalignment in varus larger than 5° could lead to risk of loosening the tibial component.
Level of evidence
Prognostic studies—retrospective study, Level II.
This is a preview of subscription content, log in to check access.
Access options
Buy single article
Instant access to the full article PDF.
US$ 39.95
Price includes VAT for USA
Subscribe to journal
Immediate online access to all issues from 2019. Subscription will auto renew annually.
US$ 199
This is the net price. Taxes to be calculated in checkout.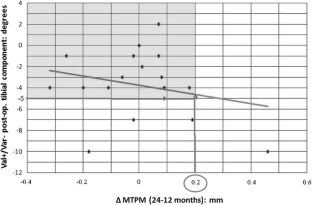 References
1.

Ackroyd CE, Whitehouse SL, Newman JH, Joslin CC (2002) A comparative study of the medial St Georg sled and kinematic total knee arthroplasties. Ten-year survivorship. J Bone Joint Surg Br 84(5):667–672

2.

Aleto TJ, Berend ME, Ritter MA, Faris PM, Meneghini RM (2008) Early failure of unicompartmental knee arthroplasty leading to revision. J Arthroplasty 23(2):159–163

3.

Beard DJ, Pandit H, Ostlere S, Jenkins C, Dodd CA, Murray DW (2007) Pre-operative clinical and radiological assessment of the patellofemoral joint in unicompartmental knee replacement and its influence on outcome. J Bone Joint Surg Br 89(12):1602–1607

4.

Boissonneault A, Pandit H, Pegg E, Jenkins C, Gill HS, Dodd CA, Gibbons CL, Murray DW (2013) No difference in survivorship after unicompartmental knee arthroplasty with or without an intact anterior cruciate ligament. Knee Surg Sports Traumatol Arthrosc 21(11):2480–2486

5.

Bruni D, Iacono F, Russo A, Zaffagnini S, Marcheggiani Muccioli GM, Bignozzi S, Bragonzoni L, Marcacci M (2010) Minimally invasive unicompartmental knee replacement: retrospective clinical and radiographic evaluation of 83 patients. Knee Surg Sports Traumatol Arthrosc 18(6):710–717

6.

Cartier P, Cheaib S (1987) Unicondylar knee arthroplasty. 2–10 years of follow-up evaluation. J Arthroplasty 2(2):157–162

7.

Cartier P, Sanouiller JL, Grelsamer RP (1996) Unicompartmental knee arthroplasty surgery. 10-year minimum follow-up period. J Arthroplasty 11(7):782–788

8.

Collier MB, Eickmann TH, Sukezaki F, McAuley JP, Engh GA (2006) Patient, implant, and alignment factors associated with revision of medial compartment unicondylar arthroplasty. J Arthroplasty 21(6 Suppl 2):108–115

9.

Curtin B, Malkani A, Lau E, Kurtz S, Ong K (2012) Revision after total knee arthroplasty and unicompartmental knee arthroplasty in the Medicare population. J Arthroplasty 27(8):1480–1486

10.

Deschamps G, Chol C (2011) Fixed-bearing unicompartmental knee arthroplasty. Patient's selection and operative technique. Orthop Traumatol Surg Res 97(6):648–661

11.

Egidy CC, Sherman SL, Macdessi SJ, Cross MB, Windsor RE (2012) Long-term survivorship of a unicondylar knee replacement: a case report. Knee 19(6):944–947

12.

Emerson RH Jr, Higgins LL (2008) Unicompartmental knee arthroplasty with the oxford prosthesis in patients with medial compartment arthritis. J Bone Joint Surg Am 90(1):118–122

13.

Ensini A, Barbadoro P, Leardini A, Catani F, Giannini S (2013) Early migration of the cemented tibial component of unicompartmental knee arthroplasty: a radiostereometry study. Knee Surg Sports Traumatol Arthrosc 21(11):2474–2479

14.

Epinette JA, Brunschweiler B, Mertl P, Mole D, Cazenave A; French Society for Hip and Knee (2012) Unicompartmental knee arthroplasty modes of failure: wear is not the main reason for failure: a multicentre study of 418 failed knees. Orthop Traumatol Surg Res 98(6 Suppl):S124–S130

15.

Furnes O, Espehaug B, Lie SA, Vollset SE, Engesaeter LB, Havelin LI (2007) Failure mechanisms after unicompartmental and tricompartmental primary knee replacement with cement. J Bone Joint Surg Am 89(3):519–525

16.

Griffin T, Rowden N, Morgan D, Atkinson R, Woodruff P, Maddern G (2007) Unicompartmental knee arthroplasty for the treatment of unicompartmental osteoarthritis: a systematic study. ANZ J Surg 77(4):214–221

17.

Gulati A, Chau R, Simpson DJ, Dodd CA, Gill HS, Murray DW (2009) Influence of component alignment on outcome for unicompartmental knee replacement. Knee 16(3):196–199

18.

Gulati A, Pandit H, Jenkins C, Chau R, Dodd CA, Murray DW (2009) The effect of leg alignment on the outcome of unicompartmental knee replacement. J Bone Joint Surg Br. 91(4):469–74

19.

Hernigou P, Deschamps G (2004) Posterior slope of the tibial implant and the outcome of unicompartmental knee arthroplasty. J Bone Joint Surg Am 86-A(3):506–511

20.

Hopkins AR, New AM, Rodriguez-y-Baena F, Taylor M (2010) Finite element analysis of unicompartmental knee arthroplasty. Med Eng Phys 32(1):14–21

21.

Iesaka K, Tsumura H, Sonoda H, Sawatari T, Takasita M, Torisu T (2002) The effects of tibial component inclination on bone stress after unicompartmental knee arthroplasty. J Biomech 35(7):969–974

22.

Jeer PJ, Keene GC, Gill P (2004) Unicompartmental knee arthroplasty: an intermediate report of survivorship after the introduction of a new system with analysis of failures. Knee 11(5):369–374

23.

Koskinen E, Eskelinen A, Paavolainen P, Pulkkinen P, Remes V (2008) Comparison of survival and cost-effectiveness between unicondylar arthroplasty and total knee arthroplasty in patients with primary osteoarthritis: a follow-up study of 50,493 knee replacements from the Finnish Arthroplasty Register. Acta Orthop 79(4):499–507

24.

Lindstrand A, Stenström A, Ryd L, Toksvig-Larsen S (2000) The introduction period of unicompartmental knee arthroplasty is critical: a clinical, clinical multicentered, and radiostereometric study of 251 Duracon unicompartmental knee arthroplasties. J Arthroplasty 15(5):608–616

25.

Lustig S, Paillot J-L, Servien E, Henry J, Ait Si Selmi T, Neyret P (2009) Cemented all polyethylene tibial insert unicompartimental knee arthroplasty: a long term follow-up study. Orthop Traumatol Surg Res 95:12–21

26.

Nakama GY, Peccin MS, Almeida GJ, Lira Neto Ode A, Queiroz AA, Navarro RD (2012) Cemented, cementless or hybrid fixation options in total knee arthroplasty for osteoarthritis and other non-traumatic diseases. Cochrane Database Syst Rev 10:CD006193

27.

Pijls BG, Valstar ER, Kaptein BL, Fiocco M, Nelissen RG (2012) The beneficial effect of hydroxyapatite lasts: a randomized radiostereometric trial comparing hydroxyapatite-coated, uncoated, and cemented tibial components for up to 16 years. Acta Orthop 83(2):135–141

28.

Pijls BG, Valstar ER, Nouta KA, Plevier JW, Fiocco M, Middeldorp S, Nelissen RG (2012) Early migration of tibial components is associated with late revision: a systematic review and meta-analysis of 21,000 knee arthroplasties. Acta Orthop 83(6):614–624

29.

Rees JL, Price AJ, Beard DJ, Dodd CA, Murray DW (2004) Minimally invasive Oxford unicompartmental knee arthroplasty: functional results at 1 year and the effect of surgical inexperience. Knee 11(5):363–367

30.

Ryd L, Albrektsson BE, Carlsson L, Dansgard F, Herberts P, Lindstrand A, Regner L, Toksvig-Larsen S (1995) Roentgen stereophotogrammetric analysis as a predictor of mechanical loosening of knee prostheses. J Bone Joint Surg Br 77(3):377–383

31.

Sawatari T, Tsumura H, Iesaka K, Furushiro Y, Torisu T (2005) Three-dimensional finite element analysis of unicompartmental knee arthroplasty: the influence of tibial component inclination. J Orthop Res 23(3):549–554

32.

Swienckowski J, Page BJ 2nd (1989) Medial unicompartmental arthroplasty of the knee. Use of the L-cut and comparison with the tibial inset method. Clin Orthop Relat Res 239:161–167

33.

Weale AE, Murray DW, Baines J, Newman JH (2000) Radiological changes five years after unicompartmental knee replacement. J Bone Joint Surg Br 82(7):996–1000

34.

Whiteside LA (2005) Making your next unicompartmental knee arthroplasty last: three keys to success. J Arthroplasty 20(4 Suppl 2):2–3
Conflict of interest
The authors declare that they have not conflict of interest.
About this article
Cite this article
Barbadoro, P., Ensini, A., Leardini, A. et al. Tibial component alignment and risk of loosening in unicompartmental knee arthroplasty: a radiographic and radiostereometric study. Knee Surg Sports Traumatol Arthrosc 22, 3157–3162 (2014). https://doi.org/10.1007/s00167-014-3147-6
Received:

Accepted:

Published:

Issue Date:
Keywords
Unicompartmental knee arthroplasty (UKA)

Tibial component fixation

Tibial component alignment

Radiostereometry (RSA)

Maximum total point motion (MTPM)