Abstract
Purpose
The present study evaluated the presence of stem cells in hamstring tendons from adult subjects of different ages. The aim was to isolate, characterize and expand these cells in vitro, and to evaluate whether cell activities are influenced by age.
Methods
Tendon stem cells (TSCs) were isolated through magnetic sorting from the hamstring tendons of six patients. TSC percentage, morphology and clonogenic potential were evaluated, as well as the expression of specific surface markers. TSC multi-potency was also investigated as a function of age, and quantitative polimerase chain reaction was used to evaluate gene expression of TSCs cultured in suitable differentiating media.
Results
The presence of easily harvestable stem cell population within adult human hamstring tendons was demonstrated. These cells exhibit features such as clonogenicity, multi-potency and mesenchymal stem cells markers expression. The age-related variations in human TSCs affect the number of isolated cells and their self-renewal potential, while multi-potency assays are not influenced by tendon ageing, even though cells from younger individuals expressed higher levels of osteogenic and adipogenic genes, while chondrogenic genes were highly expressed in cells from older individuals.
Conclusions
These results may open new opportunities to study TSCs to better understand tendon physiology, healing and pathological processes such as tendinopathy and degenerative age-related changes opening new frontiers in the management of tendinopathy and tendon ruptures.
This is a preview of subscription content, log in to check access.
Access options
Buy single article
Instant access to the full article PDF.
US$ 39.95
Price includes VAT for USA
Subscribe to journal
Immediate online access to all issues from 2019. Subscription will auto renew annually.
US$ 199
This is the net price. Taxes to be calculated in checkout.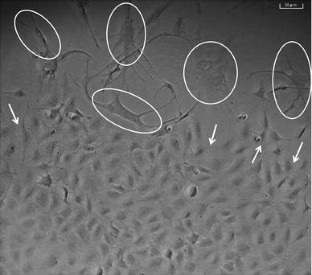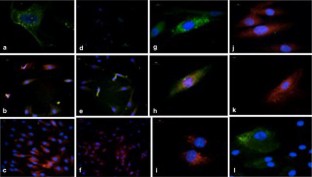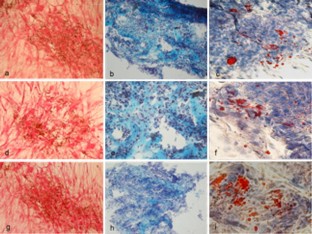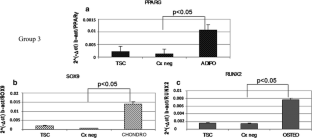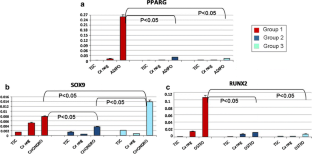 References
1.

Aslan H, Kimelman-Bleich N, Pelled G, Gazit D (2008) Molecular targets for tendon neoformation. J Clin Invest 118:439–444

2.

Bi Y, Ehirchiou D, Kilts TM, Inkson CA, Embree MC, Sonoyama W, Li L, Leet AI, Seo BM, Zhang L, Shi S, Young MF (2007) Identification of tendon stem/progenitor cells and the role of the extracellular matrix in their niche. Nat Med 13:1219–1227

3.

Buonocore D, Rucci S, Vandoni M, Negro M, Marzatico F (2011) Oxidative system in aged skeletal muscle. MLTJ 1:85–90

4.

Chen X, Song XH, Yin Z, Zou XH, Wang LL, Hu H, Cao T, Zheng M, Ouyang HW (2009) Stepwise differentiation of human embryonic stem cells promotes tendon regeneration by secreting fetal tendon matrix and differentiation factors. Stem Cells 27:1276–1287

5.

da Silva ML, Chagastelles PC, Nardi NB (2006) Mesenchymal stem cells reside in virtually all post-natal organs and tissues. J Cell Sci 119:2204–2213

6.

De Bari C, Dell'Accio F, Tylzanowski P, Luyten FP (2001) Multipotent mesenchymal stem cells from adult human synovial membrane. Arthritis Rheum 44:1928–1942

7.

De Bari C, Dell'Accio F, Vanlauwe J, Eyckmans J, Khan IM, Archer CW, Jones EA, McGonagle D, Mitsiadis TA, Pitzalis C, Luyten FP (2006) Mesenchymal multipotency of adult human periosteal cells demonstrated by single-cell lineage analysis. Arthritis Rheum 54:1209–1221

8.

de Mos M, Koevoet WJ, Jahr H, Verstegen MM, Heijboer MP, Kops N, van Leeuwen JP, Weinans H, Verhaar JA, van Osch GJ (2007) Intrinsic differentiation potential of adolescent human tendon tissue: an in vitro cell differentiation study. BMC Musculoskeletal Disord 8:16

9.

Denaro V, Ruzzini L, Longo UG, Franceschi F, De Paola B, Cittadini A, Maffulli N, Sgambato A (2010) Effect of dihydrotestosterone on cultured human tenocytes from intact supraspinatus tendon. Knee Surg Sports Traumatol Arthrosc 18:971–976

10.

Gregory CA, Prockop DJ, Spees JL (2005) Non-hematopoietic bone marrow stem cells: molecular control of expansion and differentiation. Exp Cell Res 306:330–335

11.

Ippolito E, Natali PG, Postacchini F, Accinni L, De Martino C (1980) Morphological, immunochemical, and biochemical study of rabbit achilles tendon at various ages. J Bone Joint Surg (Am) 62:583–598

12.

Jones EA, Crawford A, English A, Henshaw K, Mundy J, Corscadden D, Chapman T, Emery P, Hatton P, McGonagle D (2008) Synovial fluid mesenchymal stem cells in health and early osteoarthritis: detection and functional evaluation at the single-cell level. Arthritis Rheum 58:1731–1740

13.

Koelling S, Kruegel J, Irmer M, Path JR, Sadowski B, Miro X, Miosge N (2009) Migratory chondrogenic progenitor cells from repair tissue during the later stages of human osteoarthritis. Stem Cell 4:324–335

14.

Longo UG, Franceschi F, Ruzzini L, Rabitti C, Morini S, Maffulli N, Denaro V (2009) Characteristics at haematoxylin and eosin staining of ruptures of the long head of the biceps tendon. Br J Sports Med 43:603–607

15.

Longo UG, Franceschi F, Ruzzini L, Rabitti C, Morini S, Maffulli N, Denaro V (2008) Histopathology of the supraspinatus tendon in rotator cuff tears. Am J Sports Med 36:533–538

16.

Longo UG, Franceschi F, Ruzzini L, Rabitti C, Morini S, Maffulli N, Forriol F, Denaro V (2007) Light microscopic histology of supraspinatus tendon ruptures. Knee Surg Sports Traumatol Arthrosc 15:1390–1394

17.

Longo UG, Lamberti A, Maffulli N, Denaro V (2010) Tendon augmentation grafts: a systematic review. Br Med Bull 94:165–188

18.

Longo UG, Lamberti A, Maffulli N, Denaro V (2011) Tissue engineered biological augmentation for tendon healing: a systematic review. Br Med Bull 98:31–59

19.

Loppini M, Maffulli N (2011) Conservative management of tendinopathy: an evidence-based approach. MLTJ 1:133–136

20.

Lui PP, Chan KM (2011) Tendon-derived stem cells (TDSCs): from basic science to potential roles in tendon pathology and tissue engineering applications. Stem Cell Rev 7:883–889

21.

Maffulli N, Longo UG, Denaro V (2010) Novel approaches for the management of tendinopathy. J Bone Joint Surg Am 92:2604–2613

22.

Maffulli N, Longo UG, Maffulli GD, Rabitti C, Khanna A, Denaro V (2010) Marked pathological changes proximal and distal to the site of rupture in acute Achilles tendon ruptures. Knee Surg Sports Traumatol Arthrosc 19:680–687

23.

Mazzocca AD, McCarthy MB, Chowaniec DM, Cote MP, Arciero RA, Drissi H (2010) Rapid isolation of human stem cells (connective tissue progenitor cells) from the proximal humerus during arthroscopic rotator cuff surgery. Am J Sports Med 38:1438–1447

24.

Muschler GF, Midura RJ (2002) Connective tissue progenitors: practical concepts for clinical applications. Clin Orthop Rel Res 395:66–80

25.

Rui YF, Lui PP, Li G, Fu SC, Lee YW, Chan KM (2010) Isolation and characterization of multipotent rat tendon-derived stem cells. Tissue Eng 16:1549–1558

26.

Scadden DT (2006) The stem-cell niche as an entity of action. Nature 441:1075–1079

27.

Sharma P, Maffulli N (2008) Tendinopathy and tendon injury: the future. Disabil Rehabil 30:1733–1745

28.

Sharma P, Maffulli N (2005) Tendon injury and tendinopathy: healing and repair. J Bone Joint Surg (Am) 87:187–202

29.

Yao L, Bestwick CS, Bestwick LA, Maffulli N, Aspden RM (2006) Phenotypic drift in human tenocyte culture. Tissue Eng 12:1843–1849

30.

Yin Z, Chen X, Chen JL, Shen WL, Hieu Nguyen TM, Gao L, Ouyang HW (2010) The regulation of tendon stem cell differentiation by the alignment of nanofibers. Biomaterials 31:2163–2175

31.

Zhang J, Pan T, Liu Y, Wang JH (2010) Mouse treadmill running enhances tendons by expanding the pool of tendon stem cells (TSCs) and TSC-related cellular production of collagen. J Orthop Res 28:1178–1183

32.

Zhang J, Wang JH (2012) BMP-2 mediates PGE(2)-induced reduction of proliferation and osteogenic differentiation of human tendon stem cells. J Orthop Res 30:47–52

33.

Zhang J, Wang JH (2010) Characterization of differential properties of rabbit tendon stem cells and tenocytes. BMC Musculoskelet Disord 11:10

34.

Zhang J, Wang JH (2010) Mechanobiological response of tendon stem cells: implications of tendon homeostasis and pathogenesis of tendinopathy. J Orthop Res 28:639–643

35.

Zhang J, Wang JH (2010) Platelet-rich plasma releasate promotes differentiation of tendon stem cells into active tenocytes. Am J Sports Med 38:2477–2486

36.

Zhou Z, Akinbiyi T, Xu L, Ramcharan M, Leong DJ, Ros SJ, Colvin AC, Schaffler MB, Majeska RJ, Flatow EL, Sun HB (2010) Tendon-derived stem/progenitor cell aging: defective self-renewal and altered fate. Aging Cell 9:911–915
Conflict of interest
The authors declare no conflict of interest.
About this article
Cite this article
Ruzzini, L., Abbruzzese, F., Rainer, A. et al. Characterization of age-related changes of tendon stem cells from adult human tendons. Knee Surg Sports Traumatol Arthrosc 22, 2856–2866 (2014). https://doi.org/10.1007/s00167-013-2457-4
Received:

Accepted:

Published:

Issue Date:
Keywords
Tendon stem cells

Ageing

Differentiation

Tendinopathy