Abstract
Purpose
The objectives of the study were to examine knee kinematics in knees with severe valgus deformities and to compare pre- and post-operative knee kinematics for the same subjects implanted with medial-pivot total knee arthroplasty (TKA).
Methods
Seven subjects with severe valgus deformities due to osteoarthritis (OA) or rheumatoid arthritis (RA) were enrolled in the prospective study. Prior to TKA, three-dimensional (3D) kinematics were assessed by 3D to 2D registration technique using the image matching software 'Knee Motion', under in vivo, weight-bearing conditions. Postoperatively, each subject again performed the same motion under fluoroscopic surveillance.
Results
Preoperative kinematics demonstrated external rotation of tibias from extension to flexion, and small posterior femoral translations dominated in the medial condyle associated with anterior slides during partial range of motion. Postoperatively, these non-physiological tibial rotations were restored, and most subjects exhibited small internal rotations of tibias. On average, preoperative tibial internal rotation was −4.7° ± 7.6° from full extension to maximum flexion, and the angle was 4.8° ± 3.1° postoperatively (p = 0.01). In addition, small amounts of posterior translation of the lateral condyle and anterior translation of the medial condyle were confirmed in most subjects postoperatively.
Conclusions
The study showed that the preoperative kinematic pattern established in severe valgus deformity was different from the physiological knee pattern. In addition, post-operative results suggest that the non-physiological kinematics were partially restored after TKA by using the prosthesis design even in the absence of the posterior cruciate ligament (PCL) and the cam–post mechanism.
Level of evidence
II.
This is a preview of subscription content, log in to check access.
Access options
Buy single article
Instant access to the full article PDF.
US$ 39.95
Price includes VAT for USA
Subscribe to journal
Immediate online access to all issues from 2019. Subscription will auto renew annually.
US$ 199
This is the net price. Taxes to be calculated in checkout.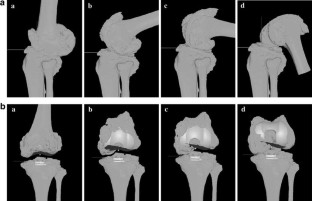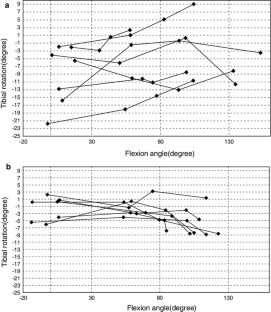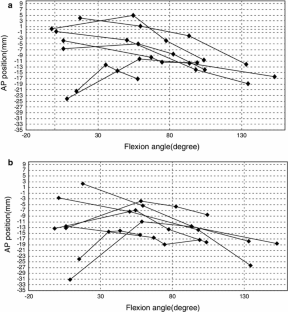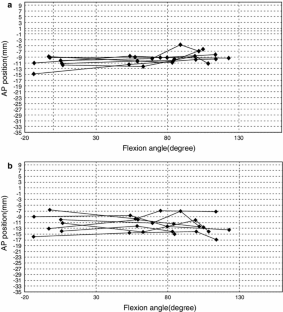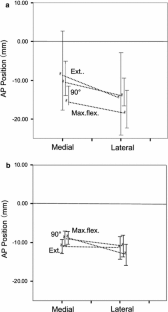 References
1.

Banks SA, Hodge WA (1996) Accurate measurement of three-dimensional knee replacement kinematics using single-plane fluoroscopy. IEEE Trans Biomed Eng 43:638–649

2.

Barnes CL, Sharma A, Blaha JD, Nambu SN, Carroll ME (2011) Kneeling is safe for patients implanted with medial-pivot total knee arthroplasty designs. J Arthroplast 26(4):549–554

3.

Bellemans J, Banks SA, Victor J, Vandenneucker H, Moemans A (2002) Fluoroscopic analysis of the kinematics of deep flexion in total knee arthroplasty. Influence of posterior condylar offset. J Bone Joint Surg (Br) 84-B:50–53

4.

Defrate LE, Papannagari R, Gill TJ, Moses JM, Pathare NP, Li G (2006) The 6 degrees of freedom kinematics of the knee after anterior cruciate ligament deficiency: an in vivo imaging analysis. Am J Sports Med 34(8):1240–1246

5.

Easley ME, Insall JN, Scuderi GR, Bullek DD (2000) Primary constrained condylar knee arthroplasty for the arthritic valgus knee. Clin Orthop Relat Res 380:58–64

6.

Freeman MAR, Pinskerova V (2005) The movement of the normal tibio-femoral joint. J Biomech 38:197–208

7.

Hill PF, Vedi V, Williams A, Iwaki H, Pinskerova V (2000) Tibiofemoral movement 2: the loaded and unloaded living knee studied by MRI. J Bone Joint Surg(Br) 82-B:1196–1998

8.

Hirokawa S (1993) Biomechanics of the knee joint. A critical review. Crit Rev Biomed Eng 21:79–133

9.

Kitagawa A, Tsumura N, Chin T, Gamada K, Banks SA, Kurosaka M (2010) In vivo comparison of knee kinematics before and after high-flexion posterior cruciate-retaining total knee arthroplasty. J Arthroplast 25(6):964–969

10.

Kobayashi K, Sato T, Omori G, Koga Y, Sakamoto M, Tanabe Y (2006) Accuracy of the 3D-pose estimation using fluoroscopic images of total knee arthroplasty. J Clin Biomech 27:225–229

11.

Koga Y (1998) Three dimensional knee motion analysis for the pathogenesis of knee osteoarthritis. Biomed Master Eng 8:197–205

12.

Miyazaki Y, Nakamura T, Kogame K, Saito M, Yamamoto K, Suguro T (2011) Analysis of the kinematics of total knee prostheses with a medial pivot design. J Arthroplast 26(7):1038–1044

13.

Moro-oka TA, Hamai S, Miura H, Shimoto T, Higaki H, Fregly BJ, Iwamoto Y, Banks SA (2008) Dynamic activity dependence of in vivo normal knee kinematics. J Orthop Res 26(4):428–434

14.

Nagao N, Tachibana T, Mizuno K (1998) The rotational angle in osteoarthritic knees. Int Orthop 22:282–287

15.

Nakagawa S, Kadoya Y, Todo S, Kobayashi A, Sakamoto H, Freeman MAR, Yamano Y (2000) Tibiofemoral movement 3: full flexion in the living knee studied by MRI. J Bone Joint Surg(Br) 82-B:1196–1998

16.

Omori G, Onda N, Shimura M, Hayashi T, Sato T, Koga Y (2009) The effect of geometry of the tibial polyethylene insert on the tibiofemoral contact kinematics in advance medial pivot total knee arthroplasty. J Orthop Sci 14:754–760

17.

Ranawat AS, Ranawat CS, Elkus M, Rasquinha VJ, Rossi R, Babhulkar S (2005) Total knee arthroplasty for severe valgus deformity. J Bone Joint Surg Am 87(Suppl 1(Pt 2)):271–284

18.

Saari T, Carlsson L, Karlsson J, Karrholm J (2005) Knee kinematics in medial arthrosis. Dynamic radiostereometry during active extension and weight-bearing. J Biomech 38:285–292

19.

Schmidt R, Blaha JD, Penenberg BL, Maloney WJ, Komistek RD (2003) Fluoroscopic analyses of cruciate-retaining and medial pivot knee implants. Clin Orthop Relat Res 410:139–147

20.

Stiehl JB, Komistek RD, Dennis DA, Paxson RD, Hoff WA (1995) Fluoroscopic analysis of kinematics after posterior-cruciate-retaining knee arthroplasty. J Bone Joint Surg (Br) 77:884–889

21.

Victor J, Banks SA, Bellemans J (2005) Kinematics of posterior cruciate ligament-retaining and–substituting total knee arthroplasty: a prospective randomized outcome study. J Bone Joint Surg (Br) 87:646–655

22.

Yue B, Varadarajan KM, Moynihan AL, Liu F, Rubash HE, Li G (2011) Kinematics of medial osteoarthritic knees before and after posterior cruciate ligament retaining total knee arthroplasty. J Orthop Res 29(1):40–46
About this article
Cite this article
Kitagawa, A., Ishida, K., Chin, T. et al. Partial restoration of knee kinematics in severe valgus deformity using the medial-pivot total knee arthroplasty. Knee Surg Sports Traumatol Arthrosc 22, 1599–1606 (2014). https://doi.org/10.1007/s00167-012-2315-9
Received:

Accepted:

Published:

Issue Date:
Keywords
Total knee arthroplasty

Knee kinematics

Valgus deformity

Medial-pivot knee

Fluoroscopic analysis