Abstract
Purpose
Acquired patella baja may result in decreased range of motion of the knee, extensor lag, and anterior knee pain. The aim of the study was to evaluate the efficacy of tibial tubercle osteotomy with proximal displacement.
Methods
Between 1998 and 2011, a proximalization of the tibial tuberosity was performed in 15 patients (15 knees) with patella baja diagnosed using the Blackburne–Peel ratio. Clinical outcomes included the Tegner Lysholm knee scoring scales, the WOMAC questionnaire, the short form-12 (SF-12), and a visual analogue score (VAS) pain scale.
Results
Fifteen proximalizations of the tibial tuberosity were performed, with a mean follow-up period of 64 months (5–160). The mean patient age was 59 years (41–86 years). The mean preoperative Blackburne–Peel ratio of 0.4 (0.1–0.6) was improved to a mean of 1.0 (0.8–1.2) post-operatively, which was associated with significant improvements in the Lysholm knee scoring scale from 13.3 ± 13.0 to 86.7 ± 10.4 points (p < 0.0001). Quality of life, as measured using the SF-12 outcome, also improved significantly (p < 0.0001), as did all WOMAC questionnaire score subscales (p < 0.0001). The VAS preoperative status for pain improved from 8.3 ± 2.0 to 1.5 ± 1.8. No patient had delayed or non-union of the osteotomy site.
Conclusions
A series of patients with patella baja, treated with proximalization of the tibial tuberosity, achieved satisfactory outcomes in terms of pain relief and improved function, without major complication.
This is a preview of subscription content, log in to check access.
Access options
Buy single article
Instant access to the full article PDF.
US$ 39.95
Price includes VAT for USA
Subscribe to journal
Immediate online access to all issues from 2019. Subscription will auto renew annually.
US$ 199
This is the net price. Taxes to be calculated in checkout.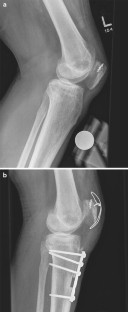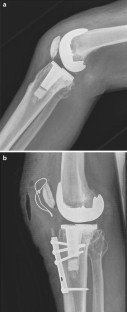 References
1.

Ahmad CS, Kwak SD, Ateshian GA, Warden WH, Steadman JR, Mow VC (1998) Effects of patellar tendon adhesion to the anterior tibia on knee mechanics. Am J Sports Med 26(5):715–724

2.

Aho K, Sainio K, Kianta M, Varpanen E (1983) Pneumatic tourniquet paralysis. Case report. J Bone Joint Surg Br 65(4):441–443

3.

Bellamy N, Buchanan WW, Goldsmith CH, Campbell J, Stitt LW (1988) Validation study of WOMAC: a health status instrument for measuring clinically important patient relevant outcomes to antirheumatic drug therapy in patients with osteoarthritis of the hip or knee. J Rheumatol 15(12):1833–1840

4.

Berg EE, Mason SL, Lucas MJ (1996) Patellar height ratios. A comparison of four measurement methods. Am J Sports Med 24(2):218–221

5.

Blackburne JS, Peel TE (1977) A new method of measuring patellar height. J Bone Joint Surg Br 59(2):241–242

6.

Cameron HU (2005) A comedy of errors: the bad knee. J Arthroplasty 20(4 Suppl 2):18–22

7.

Cameron HU, Jung YB (1988) Patella baja complicating total knee arthroplasty. A report of two cases. J Arthroplasty 3(2):177–180

8.

Caton J, Deschamps G, Chambat P, Lerat JL, Dejour H (1982) Patella infera. Apropos of 128 cases. Rev Chir Orthop Reparatrice Appar Mot 68(5):317–325

9.

Chonko DJ, Lombardi AV Jr, Berend KR (2004) Patella baja and total knee arthroplasty (TKA): etiology, diagnosis, and management. Surg Technol Int 12:231–238

10.

Dejour D, Levigne C, Dejour H (1995) Postoperative low patella. Treatment by lengthening of the patellar tendon. Rev Chir Orthop Reparatrice Appar Mot 81(4):286–295

11.

Ficat RPHD (1977) Disorders of the patellofemoral joint. Williams & Wilkinson, Baltimore

12.

Hockings M, Cameron JC (2004) Patella baja following chronic quadriceps tendon rupture. Knee 11(2):95–97

13.

Hughston JC, Walsh WM (1979) Proximal and distal reconstruction of the extensor mechanism for patellar subluxation. Clin Orthop Relat Res 144:36–42

14.

Insall J, Salvati E (1971) Patella position in the normal knee joint. Radiology 101(1):101–104

15.

Lancourt JE, Cristini JA (1975) Patella alta and patella infera. Their etiological role in patellar dislocation, chondromalacia, and apophysitis of the tibial tubercle. J Bone Joint Surg Am 57(8):1112–1115

16.

Lysholm J, Tegner Y (2007) Knee injury rating scales. Acta Orthop 78(4):445–453

17.

Mariani PP, Del Signore S, Perugia L (1994) Early development of patella infera after knee fractures. Knee Surg Sports Traumatol Arthrosc 2(3):166–169

18.

Meyer SA, Brown TD, Pedersen DR, Albright JP (1997) Retropatellar contact stress in simulated patella infera. Am J Knee Surg 10(3):129–138

19.

Noyes FR, Wojtys EM, Marshall MT (1991) The early diagnosis and treatment of developmental patella infera syndrome. Clin Orthop Relat Res 265:241–252

20.

Paulos LE, Rosenberg TD, Drawbert J, Manning J, Abbott P (1987) Infrapatellar contracture syndrome. An unrecognized cause of knee stiffness with patella entrapment and patella infera. Am J Sports Med 15(4):331–341

21.

Paulos LE, Wnorowski DC, Greenwald AE (1994) Infrapatellar contracture syndrome. Diagnosis, treatment, and long-term followup. Am J Sports Med 22(4):440–449

22.

Pham T, van der Heijde D, Altman RD, Anderson JJ, Bellamy N, Hochberg M, Simon L, Strand V, Woodworth T, Dougados M (2004) OMERACT-OARSI initiative: Osteoarthritis Research Society international set of responder criteria for osteoarthritis clinical trials revisited. Osteoarthr Cartil 12(5):389–399

23.

Scuderi GR, Windsor RE, Insall JN (1989) Observations on patellar height after proximal tibial osteotomy. J Bone Joint Surg Am 71(2):245–248

24.

Seil R, Muller B, Georg T, Kohn D, Rupp S (2000) Reliability and interobserver variability in radiological patellar height ratios. Knee Surg Sports Traumatol Arthrosc 8(4):231–236

25.

Tegner Y, Lysholm J (1985) Rating systems in the evaluation of knee ligament injuries. Clin Orthop Relat Res 198:43–49

26.

Tria AJ Jr, Alicea JA, Cody RP (1994) Patella baja in anterior cruciate ligament reconstruction of the knee. Clin Orthop Relat Res 299:229–234

27.

Ware J Jr, Kosinski M, Keller SD (1996) A 12-item short-form health survey: construction of scales and preliminary tests of reliability and validity. Med Care 34(3):220–233

28.

Weale AE, Murray DW, Newman JH, Ackroyd CE (1999) The length of the patellar tendon after unicompartmental and total knee replacement. J Bone Joint Surg Br 81(5):790–795

29.

Yoo JH, Chang JD, Seo YJ, Baek SW (2011) Reconstruction of a patellar tendon with Achilles tendon allograft for severe patellar infera—a case report. Knee 18(5):350–353
Acknowledgments
The authors wish to thank Ms. Elizabeth Wood for all her effort and support in this study.
About this article
Cite this article
Drexler, M., Dwyer, T., Marmor, M. et al. The treatment of acquired patella baja with proximalize the tibial tuberosity. Knee Surg Sports Traumatol Arthrosc 21, 2578–2583 (2013). https://doi.org/10.1007/s00167-012-2278-x
Received:

Accepted:

Published:

Issue Date:
Keywords
SROM

Total hip arthroplasty

Small femur