Abstract
Posterior shoulder instability with glenoid deficiency is a rare entity and its surgical treatment is challenging. Reconstructive techniques have focused on extra-articular structural bone transfer that obstructs humeral translation and thereby prevents glenohumeral dislocation. However, long-term results are not as promising. In this report, the authors describe a technique for anatomic posterior glenoid reconstruction using an osteoarticular distal tibia allograft in two patients including their outcomes after 2 years.
Level of evidence IV.
This is a preview of subscription content, log in to check access.
Access options
Buy single article
Instant access to the full article PDF.
US$ 39.95
Price includes VAT for USA
Subscribe to journal
Immediate online access to all issues from 2019. Subscription will auto renew annually.
US$ 199
This is the net price. Taxes to be calculated in checkout.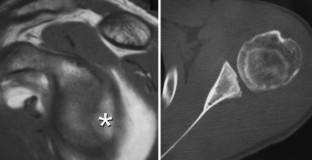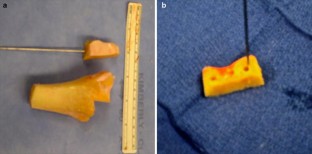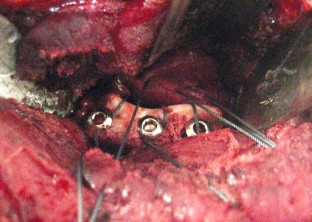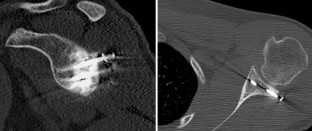 References
1.

Bahk M, Keyurapan E, Tasaki A, Sauers EL, McFarland EG (2007) Laxity testing of the shoulder: a review. Am J Sports Med 35(1):131–144

2.

Barbier O, Ollat D, Marchaland JP, Versier G (2009) Iliac bone-block autograft for posterior shoulder instability. Orthop Traumatol Surg Res 95(2):100–107

3.

Barker JU, Gardner MJ, Boraiah S, Kelly BT, Lane JM, Lorich DG (2008) Complete bony union achieved after arthrodesis of native glenoid and acromion to an allograft proximal humerus: a case report. J Should Elb Surg 17(2):e19–e22

4.

Burkhart SS, De Beer JF (2000) Traumatic glenohumeral bone defects and their relationship to failure of arthroscopic Bankart repairs: significance of the inverted-pear glenoid and the humeral engaging Hill-Sachs lesion. Arthroscopy 16(7):677–694

5.

Burkhart SS, Debeer JF, Tehrany AM, Parten PM (2002) Quantifying glenoid bone loss arthroscopically in shoulder instability. Arthroscopy 18(5):488–491

6.

Kouvalchouk JF, Coudert X, Watin Augouard L, Da Silva Rosa R, Paszkowski A (1993) Treatment of posterior instability of the shoulder joint using an acromial stop with a pediculated deltoid flap. Rev Chir Orthop Repar Appar Mot 79(8):661–665

7.

Lo IK, Parten PM, Burkhart SS (2004) The inverted pear glenoid: an indicator of significant glenoid bone loss. Arthroscopy 20(2):169–174

8.

Meuffels DE, Schuit H, van Biezen FC, Reijman M, Verhaar JA (2010) The posterior bone block procedure in posterior shoulder instability: a long-term follow-up study. J Bone Joint Surg Br 92(5):651–655

9.

Millett PJ, Clavert P, Hatch GF 3rd, Warner JJ (2006) Recurrent posterior shoulder instability. J Am Acad Orthop Surg 14(8):464–476

10.

Mowery CA, Garfin SR, Booth RE, Rothman RH (1985) Recurrent posterior dislocation of the shoulder: treatment using a bone block. J Bone Joint Surg Am 67(5):777–781

11.

Provencher MT, Ghodadra N, LeClere L, Solomon DJ, Romeo AA (2009) Anatomic osteochondral glenoid reconstruction for recurrent glenohumeral instability with glenoid deficiency using a distal tibia allograft. Arthroscopy 25(4):446–452

12.

Servien E, Walch G, Cortes ZE, Edwards TB, O'Connor DP (2007) Posterior bone block procedure for posterior shoulder instability. Knee Surg Sports Traumatol Arthrosc 15(9):1130–1136

13.

Sirveaux F, Leroux J, Roche O, Gosselin O, De Gasperi M, Mole D (2004) Surgical treatment of posterior instability of the shoulder joint using an iliac bone block or an acromial pediculated bone block: outcome in eighteen patients. Rev Chir Orthop Repar Appar Mot 90(5):411–419

14.

Weng PW, Shen HC, Lee HH, Wu SS, Lee CH (2009) Open reconstruction of large bony glenoid erosion with allogeneic bone graft for recurrent anterior shoulder dislocation. Am J Sports Med 37(9):1792–1797
Disclaimer
The views expressed in this article are those of the author(s) and do not necessarily reflect the official policy or position of the Department of the Navy, Department of Defense, or the United States Government.
About this article
Cite this article
Millett, P.J., Schoenahl, J., Register, B. et al. Reconstruction of posterior glenoid deficiency using distal tibial osteoarticular allograft. Knee Surg Sports Traumatol Arthrosc 21, 445–449 (2013). https://doi.org/10.1007/s00167-012-2254-5
Received:

Accepted:

Published:

Issue Date:
Keywords
Glenoid bone loss

Posterior shoulder instability

Bone deficiency

Allograft

Distal tibia