Abstract
Purpose
To assess the effect of autologous platelet-rich plasma on the repair of full-thickness articular cartilage lesions in immature rabbits. To that end, the samples were studied using macroscopic, microscopic and biomechanical techniques.
Methods
Twenty-four 11-week-old New Zealand rabbits were divided into two groups based on the treatment (physiological saline serum PCB, autologous platelet-rich plasma PRP). Cartilage lesions were drilled in medial femoral condyle of these rabbits. Other 12 rabbits were under the same conditions, but they did not suffer any lesion and treatment (control group CTR). The three groups were divided into two subgroups, depending on the age at the time of killing (16 and 19 weeks old).
Results
The CTR group showed the best possible value in the macroscopic and microscopic evaluation. Meanwhile, the PCB and PRP group values were lower than the CTR group values, at two times of the study, but similar to each other at 19 weeks. In the biomechanical study, at 16 weeks, the CTR and PCB groups behaved similarly, with values above PRP group values, while at 19 weeks, CTR group showed higher values than PCB and PRP groups, and there were no differences between these values.
Conclusions
The evolution of the tissue treated with autologous PRP showed a positive tendency over time, while the PCB group was negative. Nevertheless, at 19 weeks of age, the PRP treatment did not show better results than the PCB, both showing the characteristics of fibrocartilaginous tissue. Likewise, none of the two treatments produced a repair tissue as the healthy cartilage.
This is a preview of subscription content, log in to check access.
Access options
Buy single article
Instant access to the full article PDF.
US$ 39.95
Price includes VAT for USA
Subscribe to journal
Immediate online access to all issues from 2019. Subscription will auto renew annually.
US$ 199
This is the net price. Taxes to be calculated in checkout.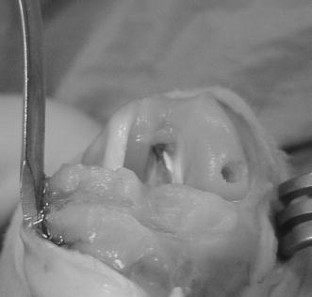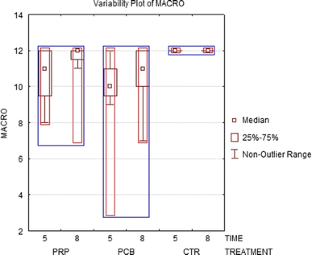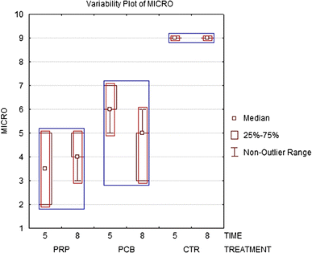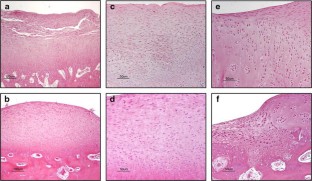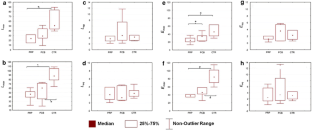 References
1.

Alford JW, Cole BJ (2005) Cartilage restoration, part 1. Basic science, historical perspective, patient evaluation and treatment options. Am J Sports Med 33:295–306

2.

Anitua E, Andia I, Ardanza B et al (2004) Autologous platelets as a source of proteins for healing and tissue regeneration. Throm Haemost 91:4–15

3.

Anitua E, Sánchez M, Orive G et al (2007) The potential impact of the preparation rich in growth factors (PRGF) in different medical fields. Biomaterials 28:4551–4560

4.

Athanasiou KA, Rosenwasser MP, Buckwalter JA et al (1991) Interspecies comparisons of in situ intrinsic mechanical properties of distal femoral cartilage. J Orthop Res 9:330–340

5.

Chuma H, Mizuta H, Kudo S et al (2004) One day exposure to FGF-2 was sufficient for the regenerative repair of full-thickness defects of articular cartilage in rabbits. Osteoarthr Cartil 12:834–845

6.

Dausse Y, Grossin L, Miralles G et al (2003) Cartilage repair using new polysaccharidic biomaterials: macroscopic, histological and biochemical approaches in a rat model of cartilage defect. Osteoarthr Cartil 11:16–28

7.

DiSilvestro MR, Zhu Q, Suh JKF (2001) Biphasic poroviscoelastic simulation of the unconfined compression of articular cartilage: II effect of variable strain rates. J Biomech Eng 123:198–200

8.

Dhollander AA, De Neve F, Almqvist KF et al (2011) Autologous matrix-induced chondrogenesis combined with platelet-rich plasma gel: technical description and a five pilots patient report. Knee Surg Sports Traumatol Arthrosc 19:536–542

9.

Foster TE, Puskas BL, Mandelbaum BR et al (2009) Platelet rich plasma. From basic science to clinical applications. Am J Sports Med 37:2259–2272

10.

Hayes WC, Keer LM, Herrmann G et al (1972) A mathematical analysis for indentation tests of articular cartilage. J Biomech 5:541–551

11.

Howard RD, Mcllwraith CW, Trotter GW (1994) Long-term fate and effects of exercise on sternal cartilage autografts used for repair of large osteochondral defects in horses. Am J Vet Res 55:1158–1167

12.

Jin H, Lewis JL (2004) Determination of Poisson's ratio of articular cartilage by indentation using different sized indenters. J Biomech Eng 126:138–145

13.

Jo CH, Yoon KS, Lee JH et al (2011) Does platelet-rich plasma accelerate recovery after rotator cuff repair? A prospective cohort study. Arthroscopy 27(10):1329–1334

14.

Jurvelin J, Arokoski JPA, Hunziker EB et al (2000) Topographical variation of the elastic properties of articular cartilage in the canine knee. J Biomech 33:669–675

15.

Landesberg R (1998) Risk of using platelet-rich plasma gel. J Oral Maxillofac Surg 56:116–117

16.

Lynch SE, Ruiz de Castilla G, Williams RC (1991) The effect of short-term application of a combination of platelet derived and insulin-like growth factors on periodontal wound healing. J Periodont 62:458–467

17.

March LM, Bagga H (2004) Epidemiology of osteoarthritis in Australia. Med J Aust Suppl 180:6–10

18.

Mcllwraith CW, Vachon A (1988) Review of pathogenesis and treatment of degenerative joint disease. Equine Vet J Suppl 6:3–11

19.

Mehta S, Watson T (2008) Platelet rich concentrate: basic science and current clinical applications. J Orthop Trauma 22(6):433–438

20.

Milano G, Sanna E, Deriu L et al (2010) The effect of platelet rich plasma combined with microfractures on the treatment of chondral defects: an experimental study in a sheep model. Osteoarthr Cartil 18:971–980

21.

Mizuta H, Kudo S, Nakamura E et al (2004) Active proliferation of mesenchymal cells prior to the chondrogenic repair response in rabbit full-thickness defects of articular cartilage. Osteoarthr Cartil 12:586–596

22.

Pena E, Calvo B, Martínez MA et al (2006) Why lateral meniscectomy is more dangerous than medial meniscectomy. A finite element study. J Orthop Res 24:1001–1010

23.

Pomonis JD, Boulet JM, Gottshall SL et al (2005) Development and pharmacological characterization of a rat model of osteoarthritis pain. Pain 114:339–346

24.

Sánchez M, Azofra J, Anitua E (2003) Use of autologous plasma rich in growth factors in the treatment of a large non-traumatic avulsion of articular cartilage: a case report. Med Sci Sport Exer 10:1648–1652

25.

Serra CI, Cugat R, Carrillo JM et al (2005) Plasma rich in growth factors (PRGF) effects in active proliferation of mesenchymal cells in full-thickness defects of articular cartilage. Osteoarthr Cartil Suppl 13(A):168–169

26.

Spero JA (1993) Bovine thrombin-induced inhibitor of factor V and bleeding risk in postoperative neurosurgical patients. Neurosurgery 78:817

27.

Sun Y, Feng Y, Zhang CQ et al (2009) The regenerative effect of platelet-rich plasma on healing in large osteochondral defects. In: Proceedings of the international orthopaedics (SICOT), Pattaya AIC

28.

Tomkoria S, Patel RV, Mao JJ (2004) Heterogeneous nanomechanical properties of superficial and zonal regions of articular cartilage of the rabbit proximal radius condyle by atomic force microscopy. Med Eng Phys 26:815–822

29.

Yamamoto T, Wakitani S, Imoto K et al (2004) Fibroblast growth factor-2 promotes the repair of partial thickness defects of articular cartilage in immature rabbits but not in mature rabbits. Osteoarthr Cartil 1:1–6
Acknowledgments
This work was supported by the "Fundación García Cugat para la investigación biomedica".
Conflict of interest
Dr. Cugat is the Director of the "Fundación García Cugat para la investigación biomedica". Dr. Serra, Dr. Soler and Dr. Carrillo are members of this foundation. They have not received any benefits or payment by this work. The other authors have no conflict of interest to report.
About this article
Cite this article
Serra, C.I., Soler, C., Carillo, J.M. et al. Effect of autologous platelet-rich plasma on the repair of full-thickness articular defects in rabbits. Knee Surg Sports Traumatol Arthrosc 21, 1730–1736 (2013). https://doi.org/10.1007/s00167-012-2141-0
Received:

Accepted:

Published:

Issue Date:
Keywords
Platelet-rich plasma

Articular cartilage

Repair tissue

Rabbit