Abstract
Purpose
The purpose of this study was to retrospectively evaluate a large series of patients for functional, radiographic and MRI outcomes after a Chevron-type medial malleolar osteotomy.
Methods
Sixty-two patients underwent a Chevron-type medial malleolar osteotomy with a median follow-up of 34.5 months. Standard digital radiographs were used to determine bony union and the angle of the osteotomy relative to the longitudinal axis of the tibia. Morphologic and quantitative T2-mapping MRI was also analysed in 32 patients.
Results
Fifty-eight patients (94 %) reported being asymptomatic at the site of the medial malleolar osteotomy. The median time to healing on standard radiograph was 6 weeks (range, 4–6 weeks) with an angle of 31.7° ± 6.9°. Quantitative T2-mapping MRI analysis demonstrated that the deep half of interface repair tissue had relaxation times that were not significantly different from normal tibial cartilage. In contrast, interface repair tissue in the superficial half demonstrated significant prolongation from normal relaxation time values, indicating a more fibrocartilaginous repair. Four patients (6 %) reported pain post-operatively.
Conclusion
A Chevron-type medial malleolar osteotomy demonstrates satisfactory healing and fixation, with fibrocartilaginous tissue evident superficially at the osteotomy interface. Further investigation is warranted in the form of longitudinal study to assess the long-term outcomes of medial malleolar osteotomy.
Level of evidence
IV.
This is a preview of subscription content, log in to check access.
Access options
Buy single article
Instant access to the full article PDF.
US$ 39.95
Price includes VAT for USA
Subscribe to journal
Immediate online access to all issues from 2019. Subscription will auto renew annually.
US$ 199
This is the net price. Taxes to be calculated in checkout.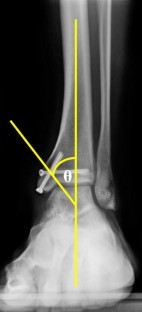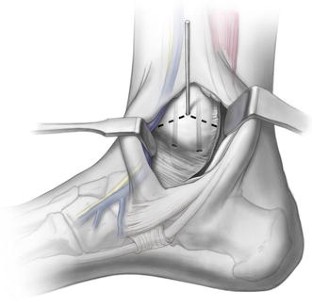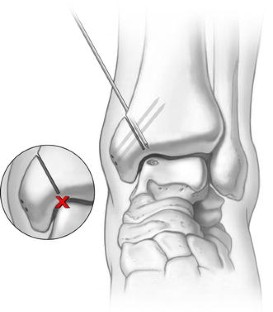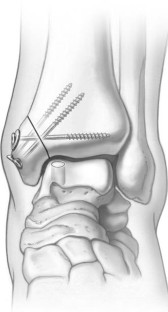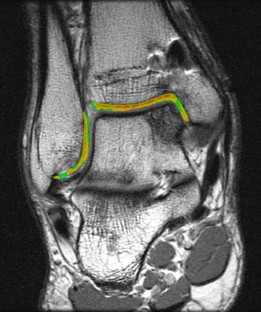 References
1.

Alexander IJ, Watson JT (1991) Step-cut osteotomy of the medial malleolus for exposure of the medial ankle joint space. Foot Ankle Int 11:242–243

2.

Battaglia M, Rimondi E, Monti C, Guaraldi F, Sant'Andrea A, Buda R, Cavallo M, Giannini S, Vannini F (2011) Validity of T2 mapping in characterization of the regeneration tissue by bone marrow derived cell transplantation in osteochondral lesions of the ankle. Eur J Radiol 80:e132–e139

3.

Cohen B, Anderson R (2002) Chevron-type transmalleolar osteotomy: an approach to medial talar dome lesions. Tech Foot Ankle Surg 1:158–162

4.

Fortier LA, Potter HG, Rickey EJ, Schnabel LV, Foo LF, Chong LR, Stokol T, Cheetham J, Nixon AJ (2010) Concentrated bone marrow aspirate improves full-thickness cartilage repair compared with microfracture in the equine model. J Bone Joint Surg Am 92:1927–1937

5.

Gaulrapp H, Hagena FW, Wasmer G (1996) Postoperative evaluation of osteochondrosis dissecans of the talus with special reference to medial malleolar osteotomy. Z Orthop Ihre Grenzgeb 134:346–353

6.

Kennedy JG, Murawski CD (2011) The treatment of osteochondral lesions of the talus with autologous osteochondral transplantation and bone marrow aspirate concentrate: surgical technique. Cartilage 2:327–336

7.

Navid DO, Myerson MS (2002) Approach alternatives for treatment of osteochondral lesions of the talus. Foot Ankle Clin 7:635–649

8.

Seil R, Rupp S, Pape D, Dienst M, Kohn D (2011) Approach to open treatment of osteochondral lesions of the talus. Orthopade 30:47–52

9.

Thordarson DB, Kaku SK (2006) Results of step-cut medial malleolar osteotomy. Foot Ankle Int 27:1020–1023

10.

van Bergen CJA, Tuijthof GJM, Sierevelt IN, van Dijk CN (2010) Direction of the oblique medial malleolar osteotomy for exposure of the talus. Arch Orthop Trauma Surg 131:893–901

11.

Young KW, Deland JT, Lee KT, Lee YK (2010) Medial approaches to osteochondral lesion of the talus without medial malleolar osteotomy. Knee Surg Sports Traumatol Arthrosc 18:634–637

12.

Ziran BH, Abidi NA, Scheel MJ (2001) Medial malleolar osteotomy for exposure of complex talar body fractures. J Orthop Trauma 15:513–518
About this article
Cite this article
Lamb, J., Murawski, C.D., Deyer, T.W. et al. Chevron-type medial malleolar osteotomy: a functional, radiographic and quantitative T2-mapping MRI analysis. Knee Surg Sports Traumatol Arthrosc 21, 1283–1288 (2013). https://doi.org/10.1007/s00167-012-2050-2
Received:

Accepted:

Published:

Issue Date:
Keywords
Osteochondral lesion

Medial malleolar osteotomy

Talar dome

Ankle