Abstract
Purpose
The purpose of this article was to analyze the results of studies in the literature, which evaluated the use of endothelial progenitor cells (EPCs) as a cell-based tissue engineering strategy.
Methods
EPCs have been successfully used in regenerative medicine to augment neovascularization in patients after myocardial infarction and limb ischemia. EPCs' important role as vasculogenic progenitors presents them as a potential source for cell-based therapies to promote bone healing.
Results
EPCs have been shown to have prominent effects in promoting bone regeneration in several animal models. Evidence indicates that EPCs promote bone regeneration by stimulating both angiogenesis and osteogenesis through a differentiation process toward endothelial cell lineage and formation of osteoblasts. Moreover, EPCs increase vascularization and osteogenesis by increased secretion of growth factors and cytokines through paracrine mechanisms.
Conclusion
EPCs offer the potential to emerge as a new strategy among other cell-based therapies to promote bone regeneration. Further investigations and human trials are required to address current questions with regard to biology and mechanisms of action of EPCs in bone tissue engineering.
This is a preview of subscription content, log in to check access.
Access options
Buy single article
Instant access to the full article PDF.
US$ 39.95
Price includes VAT for USA
Subscribe to journal
Immediate online access to all issues from 2019. Subscription will auto renew annually.
US$ 199
This is the net price. Taxes to be calculated in checkout.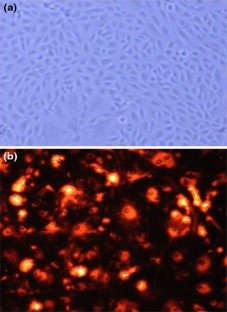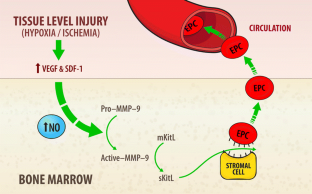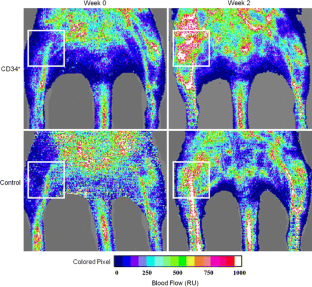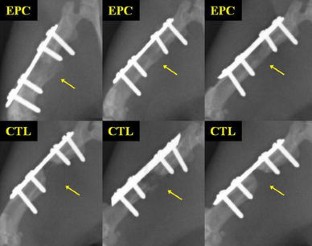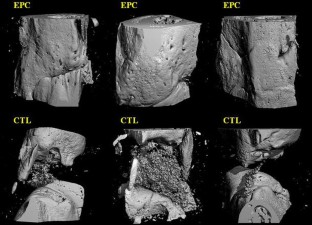 References
1.

Aguirre A, Planell JA, Engel E (2010) Dynamics of bone marrow-derived endothelial progenitor cell/mesenchymal stem cell interaction in co-culture and its implications in angiogenesis. Biochem Biophys Res Commun 400:284–291

2.

Aicher A, Brenner W, Zuhayra M, Badorff C, Massoudi S, Assmus B, Eckey T, Henze E, Zeiher AM, Dimmeler S (2003) Assessment of the tissue distribution of transplanted human endothelial progenitor cells by radioactive labeling. Circulation 107:2134–2139

3.

Aicher A, Heeschen C, Mildner-Rihm C, Urbich C, Ihling C, Technau-Ihling K, Zeiher AM, Dimmeler S (2003) Essential role of endothelial nitric oxide synthase for mobilization of stem and progenitor cells. Nat Med 9:1370–1376

4.

Asahara T, Murohara T, Sullivan A, Silver M, van der Zee R, Li T, Witzenbichler B, Schatteman G, Isner JM (1997) Isolation of putative progenitor endothelial cells for angiogenesis. Science 275:964–967

5.

Assmus B, Schachinger V, Teupe C, Britten M, Lehmann R, Dobert N, Grunwaldt F, Aicher A, Urbich C, Martin H, Hoelzer D, Dimmeler S, Zeiher AM (2002) Transplantation of progenitor cells and regeneration enhancement in acute myocardial infarction (TOPCARE-AMI). Circulation 106:3009–3017

6.

Atesok K, Li R, Stewart DJ, Schemitsch EH (2010) Endothelial progenitor cells promote fracture healing in a segmental bone defect model. J Orthop Res 28:1007–1014

7.

Atesok K (2011) The use of endothelial progenitor cells to promote bone healing in a defect model in the rat femur. Thesis submitted to Institute of Medical Science at the University of Toronto for the degree of Master of Science, pp 83–86

8.

Bahlmann FH, De Groot K, Spandau JM, Landry AL, Hertel B, Duckert T, Boehm SM, Menne J, Haller H, Fliser D (2004) Erythropoietin regulates endothelial progenitor cells. Blood 103:921–926

9.

Brighton CT, Hunt RM (1991) Early histological and ultrastructural changes in medullary fracture callus. J Bone Joint Surg Am 73:832–847

10.

Brighton CT, Hunt RM (1997) Early histologic and ultrastructural changes in microvessels of periosteal callus. J Orthop Trauma 11:244–253

11.

Bueno EM, Glowacki J (2009) Cell-free and cell-based approaches for bone regeneration. Nat Rev Rheumatol 5:685–697

12.

Caplice NM (2006) The future of cell therapy for acute myocardial infarction. Nat Clin Pract Cardiovasc Med 3:S129–S132

13.

Capobianco S, Chennamaneni V, Mittal M, Zhang N, Zhang C (2010) Endothelial progenitor cells as factors in neovascularization and endothelial repair. World J Cardiol 2:411–420

14.

Carano RA, Filvaroff EH (2003) Angiogenesis and bone repair. Drug Discov Today 8:980–989

15.

Carlini RG, Dusso AS, Obialo CI, Alvarez UM, Rothstein M (1993) Recombinant human erythropoietin (rHuEPO) increases endothelin-1 release by endothelial cells. Kidney Int 43:1010–1014

16.

Dickson KF, Katzman S, Paiement G (1995) The importance of the blood supply in the healing of tibial fractures. Contemp Orthop 30:489–493

17.

Doyle B, Metharom P, Caplice NM (2006) Endothelial progenitor cells. Endothelium 13:403–410

18.

Einhorn TA (1995) Enhancement of fracture-healing. J Bone Joint Surg Am 77:940–956

19.

Einhorn TA, Lee CA (2001) Bone regeneration: new findings and potential clinical applications. J Am Acad Orthop Surg 9:157–165

20.

Fedorovich NE, Haverslag RT, Dhert WJ, Alblas J (2010) The role of endothelial progenitor cells in prevascularized bone tissue engineering: development of heterogeneous constructs. Tissue Eng Part A 16:2355–2367

21.

Fuchs S, Baffour R, Zhou YF, Shou M, Pierre A, Tio FO, Weissman NJ, Leon MB, Epstein SE, Kornowski R (2001) Transendocardial delivery of autologous bone marrow enhances collateral perfusion and regional function in pigs with chronic experimental myocardial ischemia. J Am Coll Cardiol 37:1726–1732

22.

Gao YS, Zhang CQ (2010) Cytotherapy of osteonecrosis of the femoral head: a mini review. Int Orthop 34:779–782

23.

Geiger F, Bertram H, Berger I, Lorenz H, Wall O, Eckhardt C, Simank HG, Richter W (2005) Vascular endothelial growth factor gene-activated matrix (VEGF165-GAM) enhances osteogenesis and angiogenesis in large segmental bone defects. J Bone Miner Res 20:2028–2035

24.

Giannoudis PV, Einhorn TA, Marsh D (2007) Fracture healing: the diamond concept. Injury 38:S3–S6

25.

Gill M, Dias S, Hattori K, Rivera ML, Hicklin D, Witte L, Girardi L, Yurt R, Himel H, Rafii S (2001) Vascular trauma induces rapid but transient mobilization of VEGFR2(+) AC133(+) endothelial precursor cells. Circ Res 88:167–174

26.

Glowacki J (1998) Angiogenesis in fracture repair. Clin Orthop Relat Res 355:S82–S89

27.

Haller A (1763) Experimentorum de ossiem formatione. Opera Minora 2:400

28.

Haller H, Christel C, Dannenberg L, Thiele P, Lindschau C, Luft FC (1996) Signal transduction of erythropoietin in endothelial cells. Kidney Int 50:481–488

29.

Hendrikx PJ, Martens CM, Hagenbeek A, Keij JF, Visser JW (1996) Homing of fluorescently labeled murine hematopoietic stem cells. Exp Hematol 24:129–140

30.

Holstein JH, Menger MD, Scheuer C, Meier C, Culemann U, Wirbel RJ, Garcia P, Pohlemann T (2007) Erythropoietin (EPO)—EPO-receptor signaling improves early endochondral ossification and mechanical strength in fracture healing. Life Sci 80:893–900

31.

Hristov M, Weber C (2004) Endothelial progenitor cells: characterization, pathophysiology, and possible clinical relevance. J Cell Mol Med 8:498–508

32.

Hulth A, Olerud S (1964) Early fracture callus in normal and cortisone treated rats. A study by a combination of tetracycline labelling, microangiography and microradiography. Acta Orthop Scand 34:1–23

33.

Jaquet K, Krause K, Tawakol-Khodai M, Geidel S, Kuck KH (2002) Erythropoietin and VEGF exhibit equal angiogenic potential. Microvasc Res 64:326–333

34.

Kalka C, Masuda H, Takahashi T, Kalka-Moll WM, Silver M, Kearney M, Li T, Isner JM, Asahara T (2000) Transplantation of ex vivo expanded endothelial progenitor cells for therapeutic neovascularization. Proc Natl Acad Sci USA 97:3422–3427

35.

Kamihata H, Matsubara H, Nishiue T, Fujiyama S, Tsutsumi Y, Ozono R, Masaki H, Mori Y, Iba O, Tateishi E, Kosaki A, Shintani S, Murohara T, Imaizumi T, Iwasaka T (2001) Implantation of bone marrow mononuclear cells into ischemic myocardium enhances collateral perfusion and regional function via side supply of angioblasts, angiogenic ligands, and cytokines. Circulation 104:1046–1052

36.

Kato S, Amano H, Ito Y, Eshima K, Aoyama N, Tamaki H, Sakagami H, Satoh Y, Izumi T, Majima M (2010) Effect of erythropoietin on angiogenesis with the increased adhesion of platelets to the microvessels in the hind-limb ischemia model in mice. J Pharmacol Sci 112:167–175

37.

Kawamoto A, Tkebuchava T, Yamaguchi J, Nishimura H, Yoon YS, Milliken C, Uchida S, Masuo O, Iwaguro H, Ma H, Hanley A, Silver M, Kearney M, Losordo DW, Isner JM, Asahara T (2003) Intramyocardial transplantation of autologous endothelial progenitor cells for therapeutic neovascularization of myocardial ischemia. Circulation 107:461–468

38.

Keith A (1928) Concerning the origin and nature of osteoblasts. Proc R Soc Med 21:301–308

39.

Keramaris NC, Calori GM, Nikolaou VS, Schemitsch EH, Giannoudis PV (2008) Fracture vascularity and bone healing: a systematic review of the role of VEGF. Injury 39:S45–S57

40.

Kocher AA, Schuster MD, Szabolcs MJ, Takuma S, Burkhoff D, Wang J, Homma S, Edwards NM, Itescu S (2001) Neovascularization of ischemic myocardium by human bone marrow-derived angioblasts prevents cardiomyocyte apoptosis, reduces remodeling and improves cardiac function. Nat Med 7:430–436

41.

Kuroda R, Matsumoto T, Miwa M, Kawamoto A, Mifune Y, Fukui T, Kawakami Y, Niikura T, Lee SY, Oe K, Shoji T, Kuroda T, Horii M, Yokoyama A, Ono T, Koibuchi Y, Kawamata S, Fukushima M, Kurosaka M, Asahara T (2011) Local transplantation of G-CSF-mobilized CD34+ cells in a patient with tibial nonunion: a case report. Cell Transplant 20:1491–1496

42.

Laing AJ, Dillon JP, Condon ET, Street JT, Wang JH, McGuinness AJ, Redmond HP (2007) Mobilization of endothelial precursor cells: systemic vascular response to musculoskeletal trauma. J Orthop Res 25:44–50

43.

Lee DY, Cho TJ, Kim JA, Lee HR, Yoo WJ, Chung CY, Choi IH (2008) Mobilization of endothelial progenitor cells in fracture healing and distraction osteogenesis. Bone 42:932–941

44.

Li R, Atesok K, Nauth A, Wright D, Qamirani E, Whyne CM, Schemitsch EH (2011) Endothelial progenitor cells for fracture healing: a microcomputed tomography and biomechanical analysis. J Orthop Trauma 25:467–471

45.

Li R, Stewart DJ, von Schroeder HP, Mackinnon ES, Schemitsch EH (2009) Effect of cell-based VEGF gene therapy on healing of a segmental bone defect. J Orthop Res 27:8–14

46.

Li ZH, Liao W, Cui XL, Zhao Q, Liu M, Chen YH, Liu TS, Liu NL, Wang F, Yi Y, Shao NS (2011) Intravenous transplantation of allogeneic bone marrow mesenchymal stem cells and its directional migration to the necrotic femoral head. Int J Med Sci 8:74–83

47.

Logan ELB (2006) Phenotypic characterization of a human endothelial progenitor cell population isolated through non-contact suspension culture conditions. Thesis submitted to Institute of Biomaterials and Biomedical Engineering at the University of Toronto for the degree of Master of Applied Science, pp 4–15

48.

Lu C, Miclau T, Hu D, Marcucio RS (2007) Ischemia leads to delayed union during fracture healing: a mouse model. J Orthop Res 25:51–61

49.

Matsumoto T, Ingham SM, Mifune Y, Osawa A, Logar A, Usas A, Kuroda R, Kurosaka M, Fu FH, Huard J (2011) Isolation and characterization of human anterior cruciate ligament-derived vascular stem cells. Stem Cells Dev. PMID:21732814

50.

Matsumoto T, Kawamoto A, Kuroda R, Ishikawa M, Mifune Y, Iwasaki H, Miwa M, Horii M, Hayashi S, Oyamada A, Nishimura H, Murasawa S, Doita M, Kurosaka M, Asahara T (2006) Therapeutic potential of vasculogenesis and osteogenesis promoted by peripheral blood CD34-positive cells for functional bone healing. Am J Pathol 169:1440–1457

51.

Matsumoto T, Kuroda R, Mifune Y, Kawamoto A, Shoji T, Miwa M, Asahara T, Kurosaka M (2008) Circulating endothelial/skeletal progenitor cells for bone regeneration and healing. Bone 43:434–439

52.

Matsumoto T, Mifune Y, Kawamoto A, Kuroda R, Shoji T, Iwasaki H, Suzuki T, Oyamada A, Horii M, Yokoyama A, Nishimura H, Lee SY, Miwa M, Doita M, Kurosaka M, Asahara T (2008) Fracture induced mobilization and incorporation of bone marrow-derived endothelial progenitor cells for bone healing. J Cell Physiol 215:234–242

53.

Meng QY, Li XQ, Yu XB, Lei FR, Jiang K, Li CY (2010) Transplantation of VEGF165-genetransfected endothelial progenitor cells in the treatment of chronic venous thrombosis in rats. Chin Med J (Engl) 123:471–477

54.

Mund JA, Ingram DA, Yoder MC, Case J (2009) Endothelial progenitor cells and cardiovascular cell-based therapies. Cytotherapy 11:103–113

55.

Murohara T, Asahara T, Silver M, Bauters C, Masuda H, Kalka C, Kearney M, Chen D, Symes JF, Fishman MC, Huang PL, Isner JM (1998) Nitric oxide synthase modulates angiogenesis in response to tissue ischemia. J Clin Invest 101:2567–2578

56.

Murohara T, Ikeda H, Duan J, Shintani S, Sasaki K, Eguchi H, Onitsuka I, Matsui K, Imaizumi T (2000) Transplanted cord blood-derived endothelial precursor cells augment postnatal neovascularization. J Clin Invest 105:1527–1536

57.

Papapetropoulos A, García-Cardeña G, Madri JA, Sessa WC (1997) Nitric oxide production contributes to the angiogenic properties of vascular endothelial growth factor in human endothelial cells. J Clin Invest 100:3131–3139

58.

Poh CK, Shi Z, Lim TY, Neoh KG, Wang W (2010) The effect of VEGF functionalization of titanium on endothelial cells in vitro. Biomaterials 31:1578–1585

59.

Rafii S, Lyden D (2003) Therapeutic stem and progenitor cell transplantation for organ vascularization and regeneration. Nat Med 9:702–712

60.

Rouwkema J, Rivron NC, van Blitterswijk CA (2008) Vascularization in tissue engineering. Trends Biotechnol 26:434–441

61.

Rozen N, Bick T, Bajayo A, Shamian B, Schrift-Tzadok M, Gabet Y, Yayon A, Bab I, Soudry M, Lewinson D (2009) Transplanted blood-derived endothelial progenitor cells (EPC) enhance bridging of sheep tibia critical size defects. Bone 45:918–924

62.

Schachinger V, Assmus B, Britten MB, Honold J, Lehmann R, Teupe C, Abolmaali ND, Vogl TJ, Hofmann WK, Martin H, Dimmeler S, Zeiher AM (2004) Transplantation of progenitor cells and regeneration enhancement in acute myocardial infarction: final one-year results of the TOPCARE-AMI Trial. J Am Coll Cardiol 44:1690–1699

63.

Schuster MD, Kocher AA, Seki T, Martens TP, Xiang G, Homma S, Itescu S (2004) Myocardial neovascularization by bone marrow angioblasts results in cardiomyocyte regeneration. Am J Physiol Heart Circ Physiol 287:H525–H532

64.

Seebach C, Henrich D, Kähling C, Wilhelm K, Tami AE, Alini M, Marzi I (2010) Endothelial progenitor cells and mesenchymal stem cells seeded onto beta-TCP granules enhance early vascularization and bone healing in a critical-sized bone defect in rats. Tissue Eng Part A 16:1961–1970

65.

Shintani S, Murohara T, Ikeda H, Ueno T, Honma T, Katoh A, Sasaki K, Shimada T, Oike Y, Imaizumi T (2001) Mobilization of endothelial progenitor cells in patients with acute myocardial infarction. Circulation 103:2776–2779

66.

Strauer BE, Brehm M, Zeus T, Kostering M, Hernandez A, Sorg RV, Kogler G, Wernet P (2002) Repair of infarcted myocardium by autologous intracoronary mononuclear bone marrow cell transplantation in humans. Circulation 106:1913–1918

67.

Teng YD, Santos FNC, Black PM, Konya D, Park KI, Sidman RL, Synder EY (2008) Neural stem cells. In: Atala A, Lanza R, Thomson JA, Nerem RM (eds) Principles of regenerative medicine. Elsevier, Amsterdam, pp 300–313

68.

Tei K, Matsumoto T, Mifune Y, Ishida K, Sasaki K, Shoji T, Kubo S, Kawamoto A, Asahara T, Kurosaka M, Kuroda R (2008) Administrations of peripheral blood CD34-positive cells contribute to medial collateral ligament healing via vasculogenesis. Stem Cells 26:819–830

69.

Timmermans F, Plum J, Yöder MC, Ingram DA, Vandekerckhove B, Case J (2009) Endothelial progenitor cells: identity defined? J Cell Mol Med 13:87–102

70.

Trueta J (1963) The role of vessels in osteogenesis. J Bone Joint Surg 45B:402–418

71.

Urbich C, Dimmeler S (2004) Endothelial progenitor cells: characterization and role in vascular biology. Circ Res 95:343–353

72.

Zampetaki A, Kirton JP, Xu Q (2008) Vascular repair by endothelial progenitor cells. Cardiovasc Res 78:413–421

73.

Ziche M, Morbidelli L, Masini E, Amerini S, Granger HJ, Maggi CA, Geppetti P, Ledda F (1994) Nitric oxide mediates angiogenesis in vivo and endothelial cell growth and migration in vitro promoted by substance P. J Clin Invest 94:2036–2044
About this article
Cite this article
Atesok, K., Matsumoto, T., Karlsson, J. et al. An emerging cell-based strategy in orthopaedics: endothelial progenitor cells. Knee Surg Sports Traumatol Arthrosc 20, 1366–1377 (2012). https://doi.org/10.1007/s00167-012-1940-7
Received:

Accepted:

Published:

Issue Date:
Keywords
Endothelial progenitor cell (EPC)

Bone tissue engineering

Cell-based therapy

Fracture healing