Abstract
Congenital absence of the cruciate ligaments is a rare condition with a prevalence of 0.017 per 1,000 live births. The most important finding of this study was the presence of a posterior menisco-femoral ligament of Wrisberg with cruciate ligaments agenesia and the hypothesis advanced about the development of the ligamentous structures of the knee. Reviewing the literature, we assume that the congenital anomaly that causes the anatomical defect expresses itself around the 7th to 8th post-ovulatory week. Literature teaches us that the need for a knee replacement seems to be inevitable before or after and during the life of a patient without cruciate ligaments.
This is a preview of subscription content, log in to check access.
Access options
Buy single article
Instant access to the full article PDF.
US$ 39.95
Price includes VAT for USA
Subscribe to journal
Immediate online access to all issues from 2019. Subscription will auto renew annually.
US$ 199
This is the net price. Taxes to be calculated in checkout.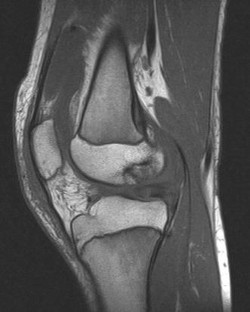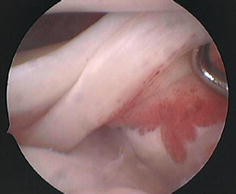 References
1.

Arey LB (1961) Developmental anatomy. W.B. Saunders, London

2.

Càceres E, Caja VL (1980) Estudio de las cavidades intraarticulares de la rodilla en los perìodos embrionario y fetal humano. Ann Desarr 56:79–85

3.

Dejour H, Neyret P, Eberhard P, Walch G (1990) Absence congénitale bilatérale du ligament Croisé antérieur et du ménisque interne du genou. A propos d'un cas. Rev Chir Orthop Reparatrice Appar Mot 76:329–332

4.

Dubinkin G, Motnenko A (1931) Uber die Entwicklung der Menisken des Kniegelensk. Arch Klin Chir 8:165–178

5.

Ergun S, Karahan M, Akgun U, Kocaoglu B (2008) A case of multiple congenital anomalies including agenesis of the anterior cruciate ligament. Acta Orthop Traumatol Turc 42:373–376

6.

Frikha R, Dahmene J, Ben HR, Chaieb Z, Janhaoui N, Laziz BAM (2006) Congenital absence of the anterior cruciate ligament: eight cases in the same family. Rev Chir Orthop Reparatrice Appar Mot 91:642–648

7.

Frioux R, Philippeau JM, Letenneur J (2007) Une anomalie anatomique exceptionelle: l'absence congénitale bilatérale des ligaments croisés du genou: à propos d'un cas. Ann Orthop Ouest 39:116–118

8.

Gabos PG, Rassi GE, Pahys J (2005) Knee reconstruction in syndromes with congenital absence of the anterior cruciate ligament. J Pediatr Orthop 25:210–214

9.

Gardner E, O'Rahilly R (1968) The early development of the knee joint in staged human embryos. J Anat 102:289–299

10.

Giorgi B (1956) Morphologic variations of the intercondylar eminence of the knee. Clin Orthop Relat Res 8:209–217

11.

Gray DJ, Gardner E (1950) Prenatal development of the human knee and superior tibiofibular joints. Am J Anat 86:235–287

12.

Gupte CM, Bull AMJ, Thomas RD, Amis AA (2003) The meniscofemoral ligaments: secondary restraint to the posterior drawer. J Bone Joint Surg Br 85B:765–773

13.

Heller L, Langman J (1964) The menisco-femoral ligaments of the human knee. J Bone Joint Surg Br 46:307–313

14.

Johansson E, Aparisi T (1982) Congenital absence of the cruciate ligaments: a case report and review of the literature. Clin Orthop Relat Res 162:108–111

15.

Kaelin A, Hulin PH, Carlioz H (1986) Congenital aplasia of the cruciate ligaments. A report of six cases. J Bone Joint Surg Br 68:827–828

16.

Katz MP, Grogono BJS, Soper KC (1947) The etiology and treatment of congenital dislocation of the knee. J Bone Joint Surg Br 49B:112–120

17.

Kwan K, Ross K (2009) Arthrogryposis and congenital absence of the anterior cruciate ligament: a case report. Knee 16:81–82

18.

Lucien M (1904) Développement de l'articulation du genou et formation du ligament adipeux. Bull Assoc Anat 13:133–135

19.

Malumed J, Hudanich R, Collins M (1999) Congenital absence of the anterior and posterior cruciate ligaments in the presence of bilateral absent patellae. Am J Knee Surg 12:241–243

20.

Manner HM, Radler C, Ganger R, Grill F (2006) Dysplasia of the cruciate ligaments: radiographic assessment and classification. J Bone Joint Surg Am 88:130–137

21.

McDermott LJ (1943) Development of the human knee joint. Arch Surg 46:705–719

22.

Mèrida-Velasco JA, Sànchez-Montesinos I, Espìn-Ferra J, Rodriguez-Vazquez JF, Mèrida-Velasco JR, Jimenez-Collado J (1997) Development of the human knee joint. Anat Rec 248:269–278

23.

Noble J (1975) Congenital absence of the anterior cruciate ligament associated with a ring meniscus. J Bone Joint Surg Am 57:1165–1166

24.

O'Rahilly R, Muller F (2010) Developmental stages in human embryos: revised and new measurements. Cell Tissues Organs 192:73–84

25.

Oransky M, Canero G, Maiotti M (1989) Embryonic development of the posterolateral structures of the knee. Anat Rec 225:347–354

26.

Poynton AR, Javadpour SM, Finegan PJ, O'Brien M (1997) The meniscofemoral ligaments of the knee. J Bone Joint Surg Br 79B:327–330

27.

Silva A, Sampaio R (2011) Anterior lateral meniscofemoral ligament with congenital absence of the ACL. Knee Surg Sports Traumatol Arthrosc 19:192–195

28.

Steckel H, Klinger HM, Baums MH, Schultz W (2005) Cruciate ligament reconstruction in knees with congenital cruciate ligament aplasia. Sportverletz Sportschaden 19:130–133

29.

Sutton JB (1887) Ligaments: their nature and morphology. Son and Co, Philadelphia, pp 31–37

30.

Thomas NP, Jakson AM, Aichroth PM (1985) Congenital absence of the anterior cruciate ligament a common component of knee dysplasia. J Bone Joint Surg Br 67:572–575

31.

Tolo VT (1981) Congenital absence of the menisci and cruciate ligaments of the knee. J Bone Joint Surg Am 63:1022–1024

32.

Uhthoff HK (1990) The embryology of the human locomotor system. Springer, Berlin, pp 129–140
About this article
Cite this article
Berruto, M., Gala, L., Usellini, E. et al. Congenital absence of the cruciate ligaments. Knee Surg Sports Traumatol Arthrosc 20, 1622–1625 (2012). https://doi.org/10.1007/s00167-011-1816-2
Received:

Accepted:

Published:

Issue Date:
Keywords
Knee

ACL

PCL

Congenital

Absence

Menisco-femoral ligaments