Abstract
Purpose
This study presents the short-term follow-up results from our case series of patients with posteriorly localized intraosseous talar cysts. Patients were treated via hindfoot endoscopy in the prone position.
Methods
We evaluated six ankles of five patients treated with hindfoot endoscopy for intraosseous cysts localized to the posterior portion of talus. Three patients were men and two were women. The median age of the patients was 34 (22–40) years. The bilateral case was treated with a sole operation. The median preoperative AOFAS score was 69 (38–72) points. Additionally, all patients were found to have flexor hallucis longus (FHL) tendinitis in clinical and radiologic evaluations; large os trigoni were detected in five affected ankles. Debridement of scar tissue and FHL tendinitis, resection of os trigoni, and curettage and grafting of the cysts were completed endoscopically with one surgery. The cavities were filled with autografts in all patients except one. Hydroxyapatite was used in one case. The pathologic diagnoses were intraosseous ganglia in three feet and simple bone cysts in the remainder. The preoperative diagnoses were unchanged postoperatively.
Results
The median postoperative follow-up was 27 (12–74) months. In all patients, graft union was confirmed with computed tomography. The median AOFAS score improved to 90 (75–100) points postoperatively. There were no complications. All patients were satisfied with their results.
Conclusion
Hindfoot endoscopy can be used for the treatment of intraosseous talar cysts that are posteriorly localized. Significant advantages of this method include lower morbidity and shorter postoperative hospitalization time. Hindfoot endoscopy is a safe and effective method for treating talar cystic lesions and is an attractive option for experienced arthroscopic surgeons.
Level of evidence
IV.
This is a preview of subscription content, log in to check access.
Access options
Buy single article
Instant unlimited access to the full article PDF.
US$ 39.95
Price includes VAT for USA
Subscribe to journal
Immediate online access to all issues from 2019. Subscription will auto renew annually.
US$ 199
This is the net price. Taxes to be calculated in checkout.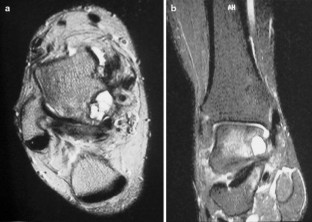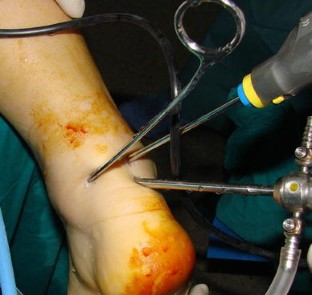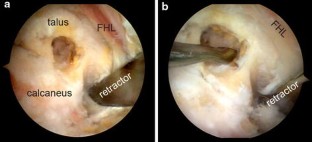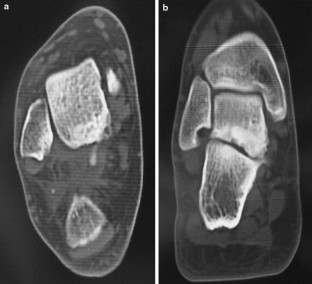 References
1.

Baker CL, Parisien JS (1996) Arthroscopic surgery in osteocartilaginous lesions of the ankle. In: McGinty JB (ed) Operative arthroscopy, 2nd edn. Lippincott-Raven, New York, pp 1157–1172

2.

Bisbinas I, De Silva U, Grimer RJ (2004) Pigmented villonodular synovitis of the foot and ankle: a 12-year experience from a tertiary orthopedic oncology unit. J Foot Ankle Surg 43:407–411

3.

Carnesale PG (2003) Benign tumors of bone. In: Canale ST (ed) Campbell's operative orthopaedics, 10th edn. Mosby, Philadelphia, pp 793–812

4.

Flandry F, Hughston JC (1987) Pigmented villonodular synovitis. J Bone Jt Surg Am 69:942–949

5.

Krause FG, Wroblewski JA, Younger AS (2009) Pigmented villonodular synovitis in both hindfeet. Can J Surg 52:E38–E39

6.

Neubauer P, Weber AK, Miller NH et al (2007) Pigmented villonodular synovitis in children: a report of six cases and review of the literature. Iowa Orthop J 27:90–94

7.

Nigrisoli P, Beltrami P (1971) Subchondral cysts of bone. Lo Scapello 1:65–75

8.

Scholten PE, Altena MC, Krips R et al (2003) Treatment of a large intraosseous talar ganglion by means of hindfoot endoscopy. Arthroscopy 19:96–100

9.

Schwartz HS, Unni KK, Pritchard DJ (1989) Pigmented villonodular synovitis. Clin Orthop Relat Res 247:243–255

10.

Stone JW, Guhl JF (1995) Ankle arthroscopy in the management of osteochondral lesions. In: Parisien JS (ed) Current techniques in arthroscopy. Current Medicine, Philadelphia, pp 226–237

11.

Ugai K, Morimoto K (1992) Magnetic resonance imaging of pigmented villonodular synovitis in subtalar joint: report of a case. Clin Orthop Relat Res 283:281–284

12.

Urguden M (2009) Ayak Bileginin Eklem İci Tumorleri ve Tumore Benzer Olusumları. In: Aydın AT (ed) Ayak Bileği Artroskopisi. Orkun Ozan Medya Hizmetleri AS, Antalya, pp 139–148

13.

Uysal M, Akpinar S, Ozalay M et al (2005) Arthroscopic debridement and grafting of an intraosseous talar ganglion. Arthroscopy 21:1269

14.

Van Dijk CN (2004) Hindfoot endoscopy for posterior ankle pain. In: Guhl JF, Parisien JS, Boynton MD (eds) Foot and ankle arthroscopy, 3rd edn. Springer-Verlag, New York, pp 207–214

15.

Van Dijk CN, De Leeuw PA, Scholten PE (2009) Hindfoot endoscopy for posterior ankle impingement. Surgical technique. J Bone Jt Surg Am 91(Suppl 2):287–298

16.

Van Dijk CN, Scholten PE, Krips R (2000) A 2-portal endoscopic approach for diagnosis and treatment of posterior ankle pathology. Arthroscopy 16:871–876

17.

Van Dijk CN, Stibbe AB, Marti RK (2002) Posterior ankle impingement. In: Nyska M, Mann G (eds) The unstable ankle. Human Kinetics, Illinois, pp 139–148
Electronic supplementary material
Below is the link to the electronic supplementary material.
Supplementary material 1 (MPG 13914 kb)
Supplementary material 2 (MPG 12622 kb)
Supplementary material 3 (MPG 10250 kb)
About this article
Cite this article
Ogut, T., Seker, A. & Ustunkan, F. Endoscopic treatment of posteriorly localized talar cysts. Knee Surg Sports Traumatol Arthrosc 19, 1394–1398 (2011). https://doi.org/10.1007/s00167-011-1459-3
Received:

Accepted:

Published:

Issue Date:
Keywords
Talus

Endoscopic treatment

Arthroscopy

Cystic lesion