Abstract
Intersection syndrome of the forearm is a painful condition in the area where the muscle bellies of the abductor pollicis longus and extensor pollicis brevis cross the common wrist extensors. A similar case of the foot with marked fibrosis at the interconnection of flexor hallucis longus and flexor digitorum tendons is reported and the fibrous interconnection was extended proximally. This was successfully treated with endoscopic release of the master knot of Henry.
This is a preview of subscription content, log in to check access.
Access options
Buy single article
Instant unlimited access to the full article PDF.
US$ 39.95
Price includes VAT for USA
Subscribe to journal
Immediate online access to all issues from 2019. Subscription will auto renew annually.
US$ 199
This is the net price. Taxes to be calculated in checkout.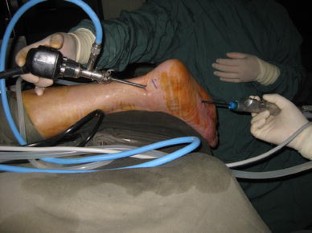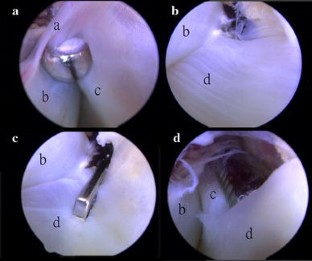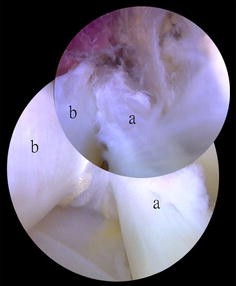 References
1.

Grundberg AB, Reagan DS (1985) Pathologic anatomy of the forearm: intersection syndrome. J Hand Surg Am 10:299–302

2.

Pantukosit S, Petchkrua W, Stiens SA (2001) Intersection syndrome in Buriram Hospital: a 4-yr prospective study. Am J Phys Med Rehabil 80:656–661

3.

Lui TH, Chan KB, Chan LK (2009) Zone 2 flexor hallucis longus tendoscopy: a cadaveric study. Foot Ankle Int 30:447–451

4.

Lui TH (2009) Flexor hallucis longus tendoscopy: a technical note. Knee Surg Sports Traumatol Arthrosc 17:107–110

5.

Lui TH, Chan KB, Chan LK (2010) Cadaveric study of zone 2 flexor hallucis longus tendon sheath. Arthroscopy 26:808–812

6.

O'Sullivan E, Carare-Nnadi R, Greenslade J, Bowyer G (2005) Clinical significance of variations in the interconnections between flexor digitorum longus and flexor hallucis longus in the region of the knot of Henry. Clin Anat 18:121–125

7.

Andersen LI, Hvid I (1979) Bilateral hallux saltans. Report of a case. Acta Orthop Scand 50:599–600

8.

Lereim P (1985) Trigger toe in classical-ballet dancers. Arch Orthop Trauma Surg 104:325–326

9.

Newman NM, Fowles JV (1984) A case of "trigger toe". Canadian J Surg 27:378–379

10.

Boruta PM, Beauperthuy GD (1997) Partial tear of the flexor hallucis longus at the knot of Henry: presentation of three cases. Foot Ankle Int 18:243–246
Electronic supplementary material
Below is the link to the electronic supplementary material.
Video 1 The patient can move his left big toe freely with the little toe hold still (AVI 6739 kb)
Video 2 The patient had difficulty in initiating his right big toe motion while his little toe was hold still (AVI 14470 kb)
About this article
Cite this article
Lui, T.H., Chow, F.Y.H. "Intersection syndrome" of the foot: treated by endoscopic release of master knot of Henry. Knee Surg Sports Traumatol Arthrosc 19, 850–852 (2011) doi:10.1007/s00167-010-1394-8
Received:

Accepted:

Published:

Issue Date:
Keywords
Master knot of Henry

Flexor digitorum longus

Flexor hallucis longus

Tendoscopy

Intersection

Arthroscopy