Abstract
Purpose
Cryotherapy and compression as integral part of the RICE regimen are thought to improve treatment outcome after sport injuries. Using standardized cryotherapy and compression perioperatively has been reported with conflicting clinical results. The impact of combined cryotherapy and compression is compared to standard care among patients undergoing wrist arthroscopy.
Methods
Fifty-six patients undergoing wrist arthroscopy were assessed, 54 patients were randomized to either Cryo/Cuff™ (3 × 10 min twice daily) or standard care over 3 weeks. Follow-up clinical visits were at postoperative days 1, 8, and 21. One patient in each group was lost during follow-up. Fifty-two patients were analyzed. Statistics were performed as Intention-to-treat analysis. Outcome parameters were pain, three-dimensional volume of the wrist, range of motion, and DASH score.
Results
The Cryo/Cuff™ group had a 49% reduction in pain level (VAS 3.5 ± 0.4 vs. VAS 1.8 ± 0.2 on the 21st postoperative day) when compared to a reduction of 41% in the control group (VAS 5.1 ± 0.6 preoperatively vs. VAS 3.0 ± 0.5 on the 21st postoperative day). Swelling and range of motion were not as significantly different between the two groups as were DASH scores (DASH-score Cryo/Cuff group preoperatively 37.3 ± 3.5 and postoperatively 36.9 ± 3.5; DASH-score control group preoperatively 42.8 ± 4.3 and postoperatively 41.9 ± 4.9). The CONSORT score reached 17 out of 22.
Conclusion
There was no significant effect of additional home-based combined cryotherapy and compression using the Cryo/Cuff™ wrist bandage, following wrist arthroscopy regarding pain, swelling, range of motion, and subjective impairment assessed using the DASH score over 3 weeks in comparison with the control group.
This is a preview of subscription content, log in to check access.
Access options
Buy single article
Instant access to the full article PDF.
US$ 39.95
Price includes VAT for USA
Subscribe to journal
Immediate online access to all issues from 2019. Subscription will auto renew annually.
US$ 199
This is the net price. Taxes to be calculated in checkout.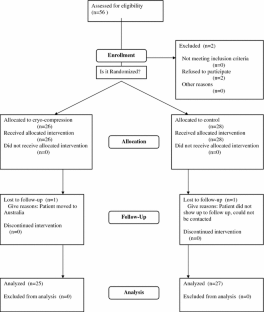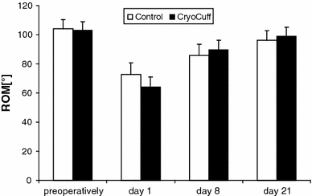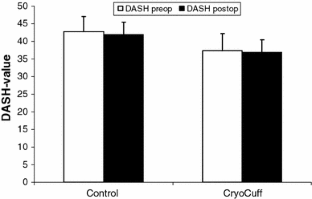 References
1.

Basur RL, Shephard E, Mouzas GL (1976) A cooling method in the treatment of ankle sprains. Practitioner 216:708–711

2.

Bleakley C, McDonough S, MacAuley D (2004) The use of ice in the treatment of acute soft-tissue injury: a systematic review of randomized controlled trials. Am J Sports Med 32:251–261

3.

Bleakley CM, McDonough SM, MacAuley DC, Bjordal J (2006) Cryotherapy for acute ankle sprains: a randomised controlled study of two different icing protocols. Br J Sports Med 40:700–705 (discussion 705)

4.

Boutron I, Moher D, Altman DG, Schulz KF, Ravaud P (2008) Extending the CONSORT statement to randomized trials of nonpharmacologic treatment: explanation and elaboration. Ann Intern Med 148:295–309

5.

Carter TI, Pansy B, Wolff AL, Hillstrom HJ, Backus SI, Lenhoff M, Wolfe SW (2009) Accuracy and reliability of three different techniques for manual goniometry for wrist motion: a cadaveric study. J Hand Surg Am 34:1422–1428

6.

Dervin GF, Taylor DE, Keene GC (1998) Effects of cold and compression dressings on early postoperative outcomes for the arthroscopic anterior cruciate ligament reconstruction patient. J Orthop Sports Phys Ther 27:403–406

7.

Edwards DJ, Rimmer M, Keene GC (1996) The use of cold therapy in the postoperative management of patients undergoing arthroscopic anterior cruciate ligament reconstruction. Am J Sports Med 24:193–195

8.

Germann G, Wind G, Harth A (1999) The DASH(Disability of Arm-Shoulder-Hand) questionnaire—a new instrument for evaluating upper extremity treatment outcome. Handchir Mikrochir Plast Chir 31:149–152

9.

Hocutt JE Jr, Jaffe R, Rylander CR, Beebe JK (1982) Cryotherapy in ankle sprains. Am J Sports Med 10:316–319

10.

Hudak PL, Amadio PC, Bombardier C (1996) Development of an upper extremity outcome measure: the DASH (disabilities of the arm, shoulder and hand) [corrected]. The Upper Extremity Collaborative Group (UECG). Am J Ind Med 29:602–608

11.

Knight KL (1989) Cryotherapy in sports injury management. Int Perspect Physiother 4:163–185

12.

Knobloch K, Grasemann R, Jagodzinski M, Richter M, Zeichen J, Krettek C (2006) Changes of Achilles midportion tendon microcirculation after repetitive simultaneous cryotherapy and compression using a Cryo/Cuff. Am J Sports Med 34:1953–1959

13.

Knobloch K, Grasemann R, Spies M, Vogt PM (2007) Intermittent KoldBlue cryotherapy of 3 × 10 min changes mid-portion Achilles tendon microcirculation. Br J Sports Med 41:e4

14.

Knobloch K, Grasemann R, Spies M, Vogt PM (2008) Midportion achilles tendon microcirculation after intermittent combined cryotherapy and compression compared with cryotherapy alone: a randomized trial. Am J Sports Med 36:2128–2138

15.

Knobloch K, Kraemer R, Lichtenberg A, Jagodzinski M, Gosling T, Richter M, Krettek C (2006) Microcirculation of the ankle after Cryo/Cuff application in healthy volunteers. Int J Sports Med 27:250–255

16.

Lessard LA, Scudds RA, Amendola A, Vaz MD (1997) The efficacy of cryotherapy following arthroscopic knee surgery. J Orthop Sports Phys Ther 26:14–22

17.

Mac Auley DC (2001) Ice therapy: how good is the evidence? Int J Sports Med 22:379–384

18.

Martin SS, Spindler KP, Tarter JW, Detwiler K, Petersen HA (2001) Cryotherapy: an effective modality for decreasing intraarticular temperature after knee arthroscopy. Am J Sports Med 29(3):288–291

19.

Martin SS, Spindler KP, Tarter JW, Detwiler KB (2002) Does cryotherapy affect intraarticular temperature after knee arthroscopy? Clin Orthop Relat Res 400:184–189

20.

Moher D, Schulz KF, Altman DG (2001) The CONSORT statement: revised recommendations for improving the quality of reports of parallel-group randomised trials. Lancet 357:1191–1194

21.

Radkowski CA, Pietrobon R, Vail TP, Nunley JA II, Jain NB, Easley ME (2007) Cryotherapy temperature differences after total knee arthroplasty: a prospective randomized trial. J Surg Orthop Adv 16:67–72

22.

Sanchez-Inchausti G, Vaquero-Martin J, Vidal-Fernandez C (2005) Effect of arthroscopy and continuous cryotherapy on the intra-articular temperature of the knee. Arthroscopy 21:552–556

23.

Singh H, Osbahr DC, Holovacs TF, Cawley PW, Speer KP (2001) The efficacy of continuous cryotherapy on the postoperative shoulder: a prospective, randomized investigation. J Shoulder Elbow Surg 10:522–525

24.

Speer KP, Warren RF, Horowitz L (1996) The efficacy of cryotherapy in the postoperative shoulder. J Shoulder Elbow Surg 5:62–68

25.

van Grinsven S, van Cingel RE, Holla CJ, van Loon CJ (2010) Evidence-based rehabilitation following anterior cruciate ligament reconstruction. Knee Surg Sports Traumatol Arthrosc 18:1128–1144

26.

Woolf SK, Barfield WR, Merrill KD, McBryde AM Jr (2008) Comparison of a continuous temperature-controlled cryotherapy device to a simple icing regimen following outpatient knee arthroscopy. J Knee Surg 21:15–19
Disclosure
Dj Ormed provided the Cryo/Cuff system. No author has anything to disclose.
About this article
Cite this article
Meyer-Marcotty, M., Jungling, O., Vaske, B. et al. Standardized combined cryotherapy and compression using Cryo/Cuff after wrist arthroscopy. Knee Surg Sports Traumatol Arthrosc 19, 314–319 (2011). https://doi.org/10.1007/s00167-010-1280-4
Received:

Accepted:

Published:

Issue Date:
Keywords
Arthroscopy

Wrist

Cryotherapy

Pain

DASH