Abstract
Following anatomic double-bundle anterior cruciate ligament (ACL) reconstruction with hamstring tendon autografts, 38 consecutive patients were evaluated with high-speed three-dimensional computed tomography. Scans were performed within 3 days following surgery. The length and width of the reconstructed ACL footprint were measured on axial images. Then, 3D images were converted into 2D with radiologic density for measurement purposes. Tunnel orientation was measured on AP and lateral views. In the sagittal plane, the center of the anteromedial (AMB) and posterolateral bundle (PLB) tibial attachment positions was calculated as the ratio between the geometric insertion sites with respect to the sagittal diameter of the tibia. In addition, the length from the anterior tibial plateau to the retro-eminence ridge was measured; the relationship of this line with the centers of the AM and PL tunnels was then measured. The AP length of the reconstructed footprint was 17.1 mm ± 1.9 mm and the width 7.3 mm ± 1.2 m. The distance from retro-eminence ridge to center of AM tunnel was 18.8 mm ± 2.8 mm, and the distance from RER to center of PL tunnel was 8.7 mm ± 2.6 mm. The distance between tunnels center was 10.1 mm ± 1.7 mm. There were no significant differences between the intra- and inter-observer measurements. The bone bridge thickness was 2.1 mm ± 0.8 mm. In the sagittal plane, the centers of the tunnel apertures were located at 35.7% ± 6.7% and 53.7% ± 6.8% of the tibia diameter for the AMB and PLB, respectively. The surface areas of the tunnel apertures were 46.3 mm2 ± 4.4 mm2 and 36.3 mm2 ± 4.0 mm2 for the AM and PL tunnels, respectively. The total surface area occupied by both tunnels was 82.6 mm2 ± 7.0 mm2. In the coronal plane, tunnel orientation showed the AM tunnel was more vertical than the PL tunnel with a 10° divergence (14.8° vs. 24.1°). In the sagittal plane, both tunnels were almost parallel (29.9° and 25.4° for the AM and PL tunnels, respectively). When using anatomic aimers, the morphometric parameters of the reconstructed tibial footprint in terms of length and distances to the surrounding bony landmarks were similar to the native ACL tibial footprint. However, the native footprint width was not restored, and the surface area of the two tunnel apertures was in the lower range of the published values for the native footprint area.
This is a preview of subscription content, log in to check access.
Access options
Buy single article
Instant access to the full article PDF.
US$ 39.95
Price includes VAT for USA
Subscribe to journal
Immediate online access to all issues from 2019. Subscription will auto renew annually.
US$ 199
This is the net price. Taxes to be calculated in checkout.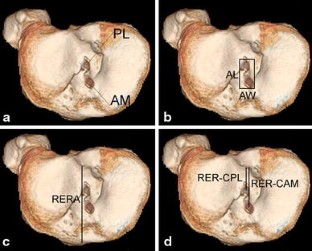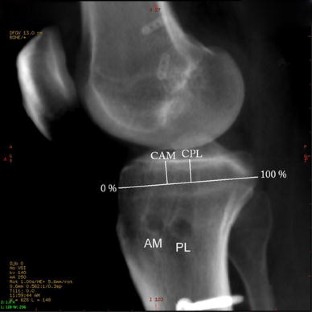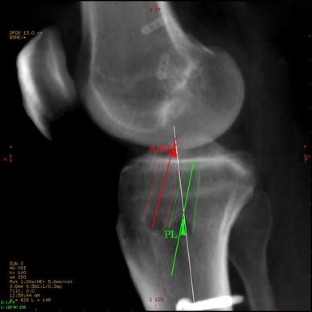 References
1.

Arnoczky SP (1983) Anatomy of the anterior cruciate ligament. Clin Orthop Relat Res 172:19–25

2.

Basdekis G, Pascal Christel P et al (2009) Validation of the position of the femoral tunnels in anatomic double-bundle ACL reconstruction with 3-D CT scan. Knee Surg Sports Traumatol Arthrosc 17:1089–1094

3.

Basdekis G, Abisafi C, Christel P (2009) Effect of knee flexion angle on the length and orientation of posterolateral femoral tunnel drilled through the anteromedial portal during anatomic double-bundle ACL reconstruction. Arthroscopy 25:1108–1114

4.

Chhabra A, Starman JS, Ferretti M et al (2006) Anatomic, radiographic, biomechanical, and kinematic evaluation of the anterior cruciate ligament and its two functional bundles. J Bone Joint Surg (Am) 88(S-4):2–10

5.

Christel P, Sahasrabudhe A, Basdekis G (2008) Anatomic double-bundle anterior cruciate ligament reconstruction with anatomic aimers. Arthroscopy 24:1146–1151

6.

Colombet P, Robinson J, Christel P et al (2006) Morphology of anterior cruciate ligament attachments for anatomic reconstruction: a cadaveric dissection and radiographic study. Arthroscopy 22:984–992

7.

Colombet P, Robinson J, Christel P et al (2007) Using navigation to measure rotation kinematics during ACL reconstruction. Clin Orthop Relat Res 454:59–65

8.

Dienst M, Burks RT, Greis PE (2002) Anatomy and biomechanics of the anterior cruciate ligament. Orthop Clin North Am 33:605–620

9.

Edwards A, Bull AMJ, Amis AA (2007) The attachments of the anteromedial and posterolateral fibre bundles of the anterior cruciate ligament. Part 1: tibial attachment. Knee Surg Sports Traumatol Arthrosc 15:1414–1421

10.

Georgoulis AD, Ristanis S, Moraiti C et al (2005) Three-dimensional kinematics of the tibiofemoral joint in ACL deficient and reconstructed patients shows increased tibial rotation. Oper Tech Orthop 15:49–56

11.

Girgis FG, Marshall JL, Monajem A et al (1975) The cruciate ligaments of the knee joint. Anatomical, functional and experimental analysis. Clin Orthop 106:216–231

12.

Giron F, Cuomo P, Edwards A et al (2007) Double-bundle "anatomic" anterior cruciate ligament reconstruction: a cadaveric study of tunnel positioning with a transtibial technique. Arthroscopy 23:7–13

13.

Hantes ME, Zachos VC, Liantsis A et al (2009) Differences in graft orientation using the transtibial and anteromedial portal technique in anterior cruciate ligament reconstruction: a magnetic resonance imaging study. Knee Surg Sports Traumatol Arthrosc 17:880–886

14.

Harner CD, Baek GH, Vogrin TM et al (1999) Quantitative analysis of human cruciate ligament insertions. Arthroscopy 15:741–749

15.

Hutchinson MR, Bae TS (2001) Reproducibility of anatomic tibial landmarks for anterior cruciate ligament reconstructions. Am J Sports Med 29:777–780

16.

Jackson DW, Gasser SI (1994) Tibial tunnel placement in ACL reconstruction. Arthroscopy 10:124–131

17.

Järvelä T (2007) Double-bundles versus single-bundle anterior cruciate ligament reconstruction: a prospective, randomized clinical study. Knee Surg Sports Traumatol Arthrosc 15:500–507

18.

Kasten P, Szczodry M, Irrgang J et al (2010) What is the role of intra-operative fluoroscopic measurements to determine tibial tunnel placement in anatomical anterior cruciate ligament reconstruction? Knee Surg Sports Traumatol. doi 10.1007/s00167-010-1082-8 (epub ahead of print)

19.

Kondo E, Yasuda K, Ichiyama H et al (2007) Radiologic evaluation of femoral and tibial tunnels created with the transtibial tunnel technique for anatomic double-bundle anterior cruciate ligament reconstruction. Arthroscopy 23:869–876

20.

Lewis PB, Parameswaran D, Rue JPH et al (2008) Systematic review of single-bundle anterior cruciate ligament reconstruction outcomes: a baseline assessment for consideration of double-bundle techniques. Am J Sports Med 36:2028–2036

21.

Lorenz S, Eklser F, Mitterer M et al (2009) Radiologic evaluation of the insertion sites of the 2 functional bundles of the anterior cruciate ligament using 3-dimensional computed tomography. Am J Sports Med 37:2368–2376

22.

Markolf KL, Park S, Jackson SR et al (2009) Anterior-posterior and rotatory stability of single and double-bundle anterior cruciate ligament reconstructions. J Bone Joint Surg (Am) 91:107–118

23.

McGuire DA, Hendricks SD, Sanders HM (1997) The relationship between anterior cruciate ligament reconstruction tibial tunnel location and the anterior aspect of the posterior cruciate ligament insertion. Arthroscopy 13:465–473

24.

Morgan CD, Kalman VR, Grawl DM (1995) Definitive landmarks for reproducible tibial tunnel placement in anterior cruciate ligament reconstruction. Arthroscopy 11:275–288

25.

Peterson W, Zantop T (2006) Anatomy of the anterior cruciate ligament with regard to its two bundles. Clin Orthop Relat Res 454:35–47

26.

Purnell ML, Larson AI, Clancy W (2008) Anterior cruciate ligament insertions on the tibia and femur and their relationships to critical bony landmarks using high-resolution volume-rendering computed tomography. Am J Sports Med 36:2083–2090

27.

Schwartzberg R, Burkhart B, Lariviere C (2008) Prediction of hamstring tendon autograft diameter and length for anterior cruciate ligament reconstruction. Am J Orthop 37:157–159

28.

Siebold R, Ellert T, Metz S et al (2008) Tibial insertions of the anteromedial and posterolateral bundles of the anterior cruciate ligament: morphometry, arthroscopic landmarks, and orientation model for bone tunnel placement. Arthroscopy 24:154–161

29.

Stäubli HU, Rauschning W (1994) Tibial attachment area of the anterior cruciate ligament in the extended knee position. Anatomy and cryosections in vitro complemented by magnetic resonance arthrography in vivo. Knee Surg Sports Traumatol Arthrosc 2:138–146

30.

Takahashi M, Doi M, Abe M et al (2006) Anatomical study of the femoral and tibial insertions of the anteromedial and posterolateral bundles of human anterior cruciate ligament. Am J Sports Med 34:787–792

31.

Tsukada H, Ishibashi Y, Tsuda E et al (2008) Anatomical analysis of the anterior cruciate ligament femoral and tibial footprints. J Orthop Sci 13:122–129

32.

Tuman JM, Diduch DR, Rubino LJ et al (2007) Predictors for hamstring graft diameter in anterior cruciate ligament reconstruction. Am J Sports Med 35:1945–1949

33.

Vidal AF, Brucker PU, Fu FH (2005) Anatomic double-bundle anterior cruciate ligament reconstruction using tibialis anterior tendon allografts. Oper Tech Orthop 15:140–145

34.

Yagi M, Wong EK, Kanamori A et al (2002) Biomechanical analysis of an anatomic anterior cruciate ligament reconstruction. Am J Sports Med 30(5):660–666

35.

Zantop T, Wellmann M, Fu FH et al (2008) Tunnel positioning of anteromedial and posterolateral bundles in anatomic anterior cruciate ligament reconstruction: anatomic and radiographic findings. Am J Sports Med 36:65–72

36.

Zelle BA, Brucker PU, Feng MT et al (2006) Anatomical double-bundle anterior cruciate ligament reconstruction. Sports Med 36:99–108
About this article
Cite this article
Sahasrabudhe, A., Christel, P., Anne, F. et al. Postoperative evaluation of tibial footprint and tunnels characteristics after anatomic double-bundle anterior cruciate ligament reconstruction with anatomic aimers. Knee Surg Sports Traumatol Arthrosc 18, 1599–1606 (2010). https://doi.org/10.1007/s00167-010-1189-y
Received:

Accepted:

Published:

Issue Date:
Keywords
Anterior cruciate ligament

Anatomic ACL reconstruction

Ancillary instruments

3D CT scan

Tibial tunnel position