Abstract
Mobile-bearing total knee arthroplasty (TKA) has several theoretical advantages over fixed-bearing TKA. We conducted a prospective randomized trial to compare the results of mobile-bearing and fixed-bearing posterior-stabilized TKA in the same patients using the same femoral component design of a mobile-bearing prosthesis in one knee and a fixed-bearing prosthesis in the other knee in 25 patients with osteoarthritis. The mean follow-up was 40 months. No significant differences were found in the mobile-bearing and fixed-bearing knees in terms of clinical and radiographic results. No osteolysis, loosening, or revision occurred. One knee with a mobile-bearing prosthesis had a dislocation of the rotating bearing; however, spontaneous reduction occurred and the dislocation did not recur. Satisfactory early results can be achieved in both mobile-bearing and fixed-bearing knees. We could not demonstrate an advantage of a mobile-bearing TKA.
This is a preview of subscription content, log in to check access.
Access options
Buy single article
Instant access to the full article PDF.
US$ 39.95
Price includes VAT for USA
Subscribe to journal
Immediate online access to all issues from 2019. Subscription will auto renew annually.
US$ 199
This is the net price. Taxes to be calculated in checkout.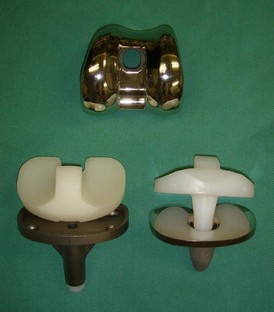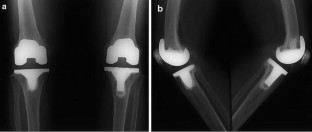 References
1.

Beard DJ, Pandit H, Price AJ, Butler-Manuel PA, Dodd CA, Murray DW et al (2007) Introduction of a new mobile-bearing total knee prosthesis—minimum three year follow-up of an RCT comparing it with a fixed-bearing device. Knee 14:448–451

2.

Bert JM (1990) Dislocation/subluxation of meniscal bearing elements after New Jersey low-contact stress total knee arthroplasty. Clin Orthop 254:211–215

3.

Beverland DE, Jordan LR (2002) LCS rotating platform dislocation and spinout—etiology, diagnosis and management. In: Hamelynck KJ, Stiehl JB (eds) LCS mobile bearing knee arthroplasty. A 25 years worldwide review. Springer, Berlin, pp 235–240

4.

Bhan S, Malhotra R, Kiran EK, Shukla S, Bijjawara M (2005) A comparison of fixed-bearing and mobile-bearing total knee arthroplasty at a minimum follow-up of 4.5 years. J Bone Joint Surg (Am) 87A:2290–2296

5.

Biau D, Mullins MM, Judet T, Piriou P (2006) Mobile versus fixed-bearing total knee arthroplasty: mid-term comparative clinical results of 216 prostheses. Knee Surg Sports Traumatol Arthrosc 4:927–933

6.

Buechel FF (2003) Mobile bearing knee replacement. In: Callaghan JJ, Rosenberg AG, Rubash HE, Simonian PT, Wickiewicz TL (eds) The adult knee. Lippincott Williams & Wilkins, Philadelphia, pp 1163–1176

7.

Callaghan JJ, O'Rourke MR, Iossi MF, Liu SS, Goetz DD, Vittetoe DA et al (2005) Cemented rotating-platform total knee replacement. A concise follow-up, at a minimum of fifteen years, of a previous report. J Bone Joint Surg (Am) 87A:1995–1998

8.

Ewald FC (1989) The Knee Society total knee arthroplasty roentgenographic evaluation and scoring system. Clin Orthop 248:9–12

9.

Hasegawa M, Sudo A, Fukuda A, Uchida A (2006) Dislocation of posterior-stabilized mobile-bearing knee prosthesis. A case report. Knee 13:478–482

10.

Ho FY, Ma HM, Liau JJ, Yeh CR, Huang CH (2007) Mobile-bearing knees reduce rotational asymmetric wear. Clin Orthop 462:143–149

11.

Huang CH, Ma HM, Liau JJ, Ho FY, Cheng CK (2002) Osteolysis in failed total knee arthroplasty: a comparison of mobile-bearing and fixed-bearing knees. J Bone Joint Surg (Am) 84A:2224–2229

12.

Huang CH, Ho FY, Ma HM, Yang CT, Liau JJ, Kao HC et al (2002) Particle size and morphology of UHMWPE wear debris in failed total knee arthroplasties—a comparison between mobile bearing and fixed bearing knees. J Orthop Res 20:1038–1041

13.

Insall JN, Dorr LD, Scott RD, Scott WN (1989) Rationale of the Knee Society clinical rating system. Clin Orthop 248:13–14

14.

Kim YH, Kook HK, Kim JS (2001) Comparison of fixed-bearing and mobile-bearing total knee arthroplasties. Clin Orthop 392:101–115

15.

Kim YH, Kim DY, Kim JS (2007) Simultaneous mobile- and fixed-bearing total knee replacement in the same patients. A prospective comparison of mid-term outcomes using a similar design of prosthesis. J Bone Joint Surg (Br) 89B:904–910

16.

Kim YH, Yoon SH, Kim JS (2007) The long-term results of simultaneous fixed-bearing and mobile-bearing total knee replacements performed in the same patient. J Bone Joint Surg (Br) 89B:1317–1323

17.

Lachiewicz PF, Soileau ES (2004) The rates of osteolysis and loosening associated with a modular posterior stabilized knee replacement. Results at five to fourteen years. J Bone Joint Surg (Am) 86A:525–530

18.

Lädermann A, Lübbeke A, Stern R, Riand N, Fritschy D (2008) Fixed-bearing versus mobile-bearing total knee arthroplasty: a prospective randomised, clinical and radiological study with mid-term results at 7 years. Knee 15:206–210

19.

McEwen HM, Barnett PI, Bell CJ, Farrar R, Auger DD, Stone MH et al (2005) The influence of design, materials and kinematics on the in vitro wear of total knee replacements. J Biomech 38:357–365

20.

Minoda Y, Kobayashi A, Iwaki H, Miyaguchi M, Kadoya Y, Ohashi H et al (2004) Characteristics of polyethylene wear particles isolated from synovial fluid after mobile-bearing and posterior-stabilized total knee arthroplasties. J Biomed Mater Res B Appl Biomater 71:1–6

21.

O'Rourke MR, Callaghan JJ, Goetz DD, Sullivan PM, Johnston RC (2002) Osteolysis associated with a cemented modular posterior-cruciate-substituting total knee design: five to eight-year follow-up. J Bone Joint Surg (Am) 84A:1362–1371

22.

Price AJ, Rees JL, Beard D, Juszczak E, Carter S, White S et al (2003) A mobile-bearing total knee prosthesis compared with a fixed-bearing prosthesis. A multicentre single-blind randomised controlled trial. J Bone Joint Surg (Br) 85:62–67

23.

Ranawat AS, Rossi R, Loreti I, Rasquinha VJ, Rodriguez JA, Ranawat CS (2004) Comparison of the PFC Sigma fixed-bearing and rotating-platform total knee arthroplasty in the same patient: short-term results. J Arthroplasty 19:35–39

24.

Rao V, Targett JP (2003) Instability after total knee replacement with a mobile-bearing prosthesis in a patient with multiple sclerosis. J Bone Joint Surg (Br) 85B:731–732

25.

Ridgeway S, Moskal JT (2004) Early instability with mobile-bearing total knee arthroplasty: a series of 25 cases. J Arthroplasty 19:686–693

26.

Thompson NW, Wilson DS, Cran GW, Beverland DE, Stiehl JB (2004) Dislocation of the rotating platform after low contact stress total knee arthroplasty. Clin Orthop 425:207–211

27.

Vertullo CJ, Easley ME, Scott WN, Insall JN (2001) Mobile bearings in primary knee arthroplasty. J Am Acad Orthop Surg 9:355–364

28.

Woolson ST, Northrop GD (2004) Mobile- vs. fixed-bearing total knee arthroplasty: a clinical and radiologic study. J Arthroplasty 19:135–140
About this article
Cite this article
Hasegawa, M., Sudo, A. & Uchida, A. Staged bilateral mobile-bearing and fixed-bearing total knee arthroplasty in the same patients: a prospective comparison of a posterior-stabilized prosthesis. Knee Surg Sports Traumatol Arthrosc 17, 237–243 (2009). https://doi.org/10.1007/s00167-008-0662-3
Received:

Accepted:

Published:

Issue Date:
Keywords
Total knee arthroplasty

Mobile bearing

Fixed bearing