Abstract
During the recent years, a few studies have shed new light on the innervation patterns of the human patellar tendon, but the area of the loose paratendinous connective tissue dorsal to the proximal tendon proper has yet not been investigated. That is a drawback, since this is the area targeted in promising treatment regimens of chronic painful patellar tendinosis, namely sclerosing Polidocanol injection therapy, and a new surgical method conforming to ultrasound and color Doppler guided arthroscopic shaving, directed at neovessels found in the region. The present study thus aimed at investigating the paratendinous area dorsal to the proximal patellar tendon proper in seven patients being operated for tendinosis. Biopsies were collected through the new arthroscopic technique, approaching the tendon from the dorsal side. Samples were investigated using immunohistochemistry with antibodies delineating general (PGP 9.5), sensory (SP/CGRP), and sympathetic (TH/NPY) nerve patterns, and also antibodies against α1- and α2A-adrenoreceptors. Both small and large blood vessels had a marked perivascular innervation (PGP 9.5). Surprisingly, this perivascular innervation was found only to a very limited extent to correspond to sensory nerves, while there were marked immunoreactions for sympathetic markers. Adrenoreceptor immunoreactions frequently occurred in blood vessel walls. In conclusion, this study demonstrates, for the first time, the innervation patterns of the area dorsal to the patellar tendon in man. It shows that the area investigated is under marked influence by the sympathetic nervous system. Thus, sympathetic effects are likely to occur for blood vessels of the area, which is interesting since color Doppler has revealed that vessels of this area ("neovessels") display a pathologically high blood flow in tendinosis. The findings are discussed in relation to aspects of vascular regulation, and to pain symptoms of tendinosis.
This is a preview of subscription content, log in to check access.
Access options
Buy single article
Instant access to the full article PDF.
US$ 39.95
Price includes VAT for USA
Subscribe to journal
Immediate online access to all issues from 2019. Subscription will auto renew annually.
US$ 199
This is the net price. Taxes to be calculated in checkout.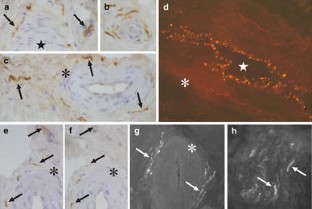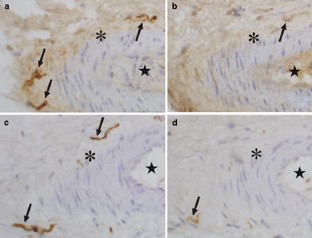 References
1.

Alfredson H (2005) The chronic painful Achilles and patellar tendon: research on basic biology and treatment. Scand J Med Sci Sports 15:252–259

2.

Alfredson H, Lorentzon R (2000) Chronic Achilles tendinosis. A review. Crit Rev Phys Rehabil Med 12:103–117

3.

Alfredson H, Ohberg L (2005) Neovascularisation in chronic painful patellar tendinosis-promising results after sclerosing neovessels outside the tendon challenge the need for surgery. Knee Surg Sports Traumatol Arthrosc 13:74–80

4.

Alfredson H, Ohberg L (2005) Sclerosing injections to areas of neo-vascularisation reduce pain in chronic Achilles tendinopathy: a double-blind randomised controlled trial. Knee Surg Sports Traumatol Arthrosc 13:338–344

5.

Andersson G, Danielson P, Alfredson H, Forsgren S (2007) Nerve-related characteristics of ventral paratendinous tissue in chronic Achilles tendinosis. Knee Surg Sports Traumatol Arthrosc 15:1272–1279

6.

Banes AJ, Donlon K, Link GW, Gillespie Y, Bevin AG, Peterson HD, Bynum D, Watts S, Dahners L (1988) Cell populations of tendon: a simplified method for isolation of synovial cells and internal fibroblasts: confirmation of origin and biologic properties. J Orthop Res 6:83–94

7.

Baron R (2000) Peripheral neuropathic pain: from mechanisms to symptoms. Clin J Pain 16:S12–S20

8.

Baron R, Levine JD, Fields HL (1999) Causalgia and reflex sympathetic dystrophy: does the sympathetic nervous system contribute to the generation of pain? Muscle Nerve 22:678–695

9.

Chotani MA, Mitra S, Su BY, Flavahan S, Eid AH, Clark KR, Montague CR, Paris H, Handy DE, Flavahan NA (2004) Regulation of alpha(2)-adrenoceptors in human vascular smooth muscle cells. Am J Physiol Heart Circ Physiol 286:H59–H67

10.

Coleman BD, Khan KM, Maffulli N, Cook JL, Wark JD (2000) Studies of surgical outcome after patellar tendinopathy: clinical significance of methodological deficiencies and guidelines for future studies. Victorian Institute of Sport Tendon Study Group. Scand J Med Sci Sports 10:2–11

11.

Coleman BD, Khan KM, Kiss ZS, Bartlett J, Young DA, Wark JD (2000) Open and arthroscopic patellar tenotomy for chronic patellar tendinopathy. A retrospective outcome study. Victorian Institute of Sport Tendon Study Group. Am J Sports Med 28:183–190

12.

Cook JL, Malliaras P, De Luca J, Ptasznik R, Morris M (2005) Vascularity and pain in the patellar tendon of adult jumping athletes: a 5 month longitudinal study. Br J Sports Med 39:458–461; discussion 458–461

13.

Cook JL, Malliaras P, De Luca J, Ptasznik R, Morris ME, Goldie P (2004) Neovascularization and pain in abnormal patellar tendons of active jumping athletes. Clin J Sports Med 14:296–299

14.

Curvin S, Stanish WD (1984) Tendinitis: it's etiology and treatment. Collamore Press, DC Heath & Co, Lexington

15.

Danielson P, Alfredson H, Forsgren S (2006) Distribution of general (PGP 9.5) and sensory (substance P/CGRP) innervations in the human patellar tendon. Knee Surg Sports Traumatol Arthrosc 14:125–132

16.

Danielson P, Alfredson H, Forsgren S (2007) Studies on the importance of sympathetic innervation, adrenergic receptors, and a possible local catecholamine production in the development of patellar tendinopathy (tendinosis) in man. Microsc Res Tech 70:310–324

17.

Forsgren S (1989) Neuropeptide Y-like immunoreactivity in relation to the distribution of sympathetic nerve fibers in the heart conduction system. J Mol Cell Cardiol 21:279–290

18.

Hrometz SL, Edelmann SE, McCune DF, Olges JR, Hadley RW, Perez DM, Piascik MT (1999) Expression of multiple alpha1-adrenoceptors on vascular smooth muscle: correlation with the regulation of contraction. J Pharmacol Exp Ther 290:452–463

19.

Johnson DP (1998) Arthroscopic surgery for patellar tendonitis. Arthroscopy 14(Suppl 1):44

20.

Jonsson P, Alfredson H (2005) Superior results with eccentric compared to concentric quadriceps training in patients with jumper's knee: a prospective randomised study. Br J Sports Med 39:847–850

21.

Józsa L, Kannus P (1997) Human tendons: anatomy, physiology, and pathology. Human Kinetics, Champaign

22.

Khan KM, Maffulli N, Coleman BD, Cook JL, Taunton JE (1998) Patellar tendinopathy: some aspects of basic science and clinical management. Br J Sports Med 32:346–355

23.

Khan KM, Cook JL, Bonar F, Harcourt P, Astrom M (1999) Histopathology of common tendinopathies. Update and implications for clinical management. Sports Med 27:393–408

24.

Leech CJ, Faber JE (1996) Different alpha-adrenoceptor subtypes mediate constriction of arterioles and venules. Am J Physiol 270:H710–H722

25.

Lian O, Dahl J, Ackermann PW, Frihagen F, Engebretsen L, Bahr R (2006) Pronociceptive and antinociceptive neuromediators in patellar tendinopathy. Am J Sports Med 34:1801–1808

26.

Lian OB, Engebretsen L, Bahr R (2005) Prevalence of jumper's knee among elite athletes from different sports: a cross-sectional study. Am J Sports Med 33:561–567

27.

Maffulli N, Khan KM, Puddu G (1998) Overuse tendon conditions: time to change a confusing terminology. Arthroscopy 14:840–843

28.

Movin T (1998) Aspects of aetiology, pathoanatomy and diagnostic methods in chronic mid-portion Achillodynia. Thesis, Karolinska Institute, Stockholm

29.

Peers KH, Lysens RJ (2005) Patellar tendinopathy in athletes: current diagnostic and therapeutic recommendations. Sports Med 35:71–87

30.

Riley GP (2005) Gene expression and matrix turnover in overused and damaged tendons. Scand J Med Sci Sports 15:241–251

31.

Romeo AA, Larson RV (1999) Arthroscopic treatment of infrapatellar tendonitis. Arthroscopy 15:341–345

32.

Schattschneider J, Binder A, Siebrecht D, Wasner G, Baron R (2006) Complex regional pain syndromes: the influence of cutaneous and deep somatic sympathetic innervation on pain. Clin J Pain 22:240–244

33.

Soldado F, Reina F, Yuguero M, Rodriguez-Baeza A (2002) Clinical anatomy of the arterial supply of the human patellar ligament. Surg Radiol Anat 24:177–182

34.

Teasell RW, Arnold JM (2004) Alpha-1 adrenoceptor hyperresponsiveness in three neuropathic pain states: complex regional pain syndrome 1, diabetic peripheral neuropathic pain and central pain states following spinal cord injury. Pain Res Manag 9:89–97

35.

Testa V, Capasso G, Maffulli N, Bifulco G (1999) Ultrasound-guided percutaneous longitudinal tenotomy for the management of patellar tendinopathy. Med Sci Sports Exerc 31:1509–1515

36.

Willberg L, Sunding K, Ohberg L, Forssblad M, Alfredson H (2007) Treatment of Jumper's knee: promising short-term results in a pilot study using a new arthroscopic approach based on imaging findings. Knee Surg Sports Traumatol Arthrosc 15:676–681

37.

Wong HY (1993) Neural mechanisms of joint pain. Ann Acad Med Singapore 22:646–650
Acknowledgments
The authors thank Ms. Ulla Hedlund for outstanding technical services. Financial support was obtained by the Faculty of Medicine at Umeå University, the Swedish National Centre for Research in Sports, the County Council of Västerbotten and the Arnerska Research Foundation.
About this article
Cite this article
Danielson, P., Andersson, G., Alfredson, H. et al. Marked sympathetic component in the perivascular innervation of the dorsal paratendinous tissue of the patellar tendon in arthroscopically treated tendinosis patients. Knee Surg Sports Traumatol Arthr 16, 621–626 (2008). https://doi.org/10.1007/s00167-008-0530-1
Received:

Accepted:

Published:

Issue Date:
Keywords
Tendinopathy

Jumper's knee

Sympathetic innervation

Adrenoreceptors