Abstract
Extension deficits of the knee can cause functional limitations in patients after knee surgery or injury. Most frequently, they are treated with manipulations, arthroscopic anterior compartment debridements, or open posterior capsular releases once nonoperative treatment fails. However, an arthroscopic posteromedial capsular release to manage flexion deficits has yet to be studied comprehensively. Arthroscopic posteromedial capsular releases of the knee can result in improved knee motion postoperatively. An arthroscopic posteromedial capsular release involves sectioning the posteromedial capsule at its meniscofemoral portion, midway between its femoral attachment and its posterior horn medial meniscus junction. A review of 15 patients who underwent this operation was performed. Passive knee extension and flexion was measured in patients in the supine position using a goniometer at preoperative evaluations, under anesthesia prior to and immediately after the posteromedial capsular release, and at postoperative follow-up evaluations. The average time from the arthroscopic posteromedial capsular release to the final postoperative follow-up was 24.1 months. Preoperative knee extension averaged 14.7° in 15 patients. The average immediate postoperative knee extension averaged −0.9°. At the final postoperative follow-up, knee extension averaged 0.7°. Overall knee motion improved from an average arc of motion of 101.6°–129.4°. Arthroscopic posteromedial capsular releases and the concurrent postoperative rehabilitation program were effective in the treatment of knee extension deficits. The encouraging results of this study compare well to data presented in open posterior capsular release studies. We believe that arthroscopic posteromedial capsular releases are an effective means to address symptomatic knee extension deficits.
This is a preview of subscription content, log in to check access.
Access options
Buy single article
Instant access to the full article PDF.
US$ 39.95
Price includes VAT for USA
Subscribe to journal
Immediate online access to all issues from 2019. Subscription will auto renew annually.
US$ 199
This is the net price. Taxes to be calculated in checkout.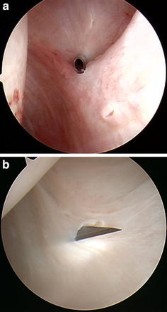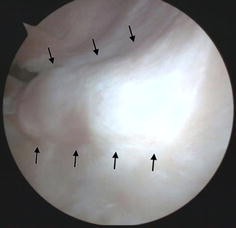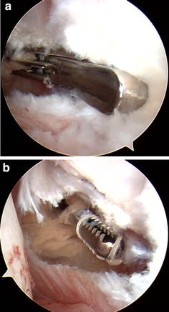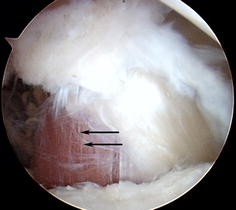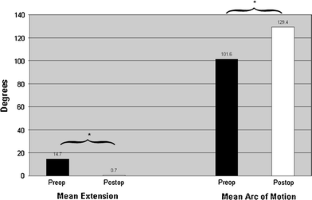 References
1.

Achalandabaso J, Albillos J (1993) Stiffness of the knee: mixed arthroscopic and subcutaneous technique. Arthroscopy 9:685–690

2.

Aglietti P, Buzzi R, De Felice R, Paolini G, Zaccherotti G (1995) Results of surgical treatment of arthrofibrosis after ACL reconstruction. Knee Surg Sports Traumatol Arthrosc 3:83–88

3.

Ahn JH, Wang JH, Lee SH et al (2007) Increasing the distance between the posterior cruciate ligament and the popliteal neurovascular bundle by a limited posterior capsular release during arthroscopic transtibial posterior cruciate ligament reconstruction: a cadaveric angiographic study. Am J Sports Med 35(5):787–792

4.

Cameron SE, Wilson W, St Pierre P (1995) A prospective, randomized comparison of open vs. arthroscopically assisted ACL reconstruction. Orthopaedics 18:249–252

5.

Cosgarea A, DeHaven K, Lovelock J (1994) The surgical treatment of arthrofibrosis of the knee. Am J Sports Med 22:184–191

6.

Crenshaw A (1998) Posterior capsulotomy. In: Canale ST, Terry S (eds) Campbell's operative orthopedics, 10th edn. Mosby, St. Louis, pp 2320–2322

7.

DeHaven K, Cosgarea A, Sebastianelli W (2003) Arthrofibrosis of the knee following ligament surgery. Instr Course Lect 52:369–381

8.

Hamberg P, Gillquist J, Lysholm J (1984) A comparison between arthroscopic meniscectomy and modified open meniscectomy: a prospective randomized study with emphasis on postoperative rehabilitation. J Bone Joint Surg Br 66:189–191

9.

Leon HO, Rodriguez Blanco CE, Guthrie TB (2001) Arthroscopic decompressive medial release of the varus arthritic knee: expanding the functional envelope. Arthroscopy 17(5):523–526

10.

Lindenfeld T, Wojtys E, Husain A (2000) Surgical treatment of arthrofibrosis of the knee. Instr Course Lect 49:211–221

11.

Lobenhoffer H, Bosch U, Gerich T (1996) Role of posterior capsulotomy for the treatment of extension deficits of the knee. Knee Surg Sports Traumatol Arthrosc 4:237–241

12.

Millett P, Williams R, Wickiewicz T (1999) Open debridement and soft tissue release as a salvage procedure for the severely arthrofibrotic knee. Am J Sports Med 27:552–561

13.

Moriya H, Sasho T, Sakae S et al (2004) Arthroscopic posteromedial release for osteoarthritic knees with flexion contracture. Arthroscopy 20(10):1030–1039

14.

Noyes F, Mangine R, Barber S (1992) The early treatment of motion complications after reconstruction of the anterior cruciate ligament. Clin Ortho Rel Res 277:217–228

15.

Paulos L, Rosenberg T, Drawbert J et al (1987) Infrapatellar contracture syndrome. Am J Sports Med 15:331–341

16.

Reider B, Belniak R, Preiskorn D (1996) Arthroscopic arthrolysis for flexion contracture following intraarticular reconstruction of the anterior cruciate ligament. Arthroscopy 12:165–173

17.

Richmond JC, al Assal M (1991) Arthroscopic management of arthrofibrosis of the knee, including infrapatellar contraction syndrome. Arthroscopy 7:144–147

18.

Sachs RA, Daniel DM, Stone ML, Garfein RF (1989) Patellofemoral problems after anterior cruciate ligament reconstruction. Am J Sports Med 17:760–765

19.

Saito T, Takeuchi R et al (2003) Unicompartmental knee arthroplasty for osteoarthritis of the knee. J Arthroplasty 18:612–618

20.

Shibata T, Shiraoka A, Takubo N (1986) Comparison between arthroscopic and open synovectomy for the knee in rheumatoid arthritis. Arch Orthop Trauma Surg 105:257–262
Acknowledgments
No author has received anything of benefit for the results in this work.
About this article
Cite this article
LaPrade, R.F., Pedtke, A.C. & Roethle, S.T. Arthroscopic posteromedial capsular release for knee flexion contractures. Knee Surg Sports Traumatol Arthr 16, 469–475 (2008). https://doi.org/10.1007/s00167-008-0496-z
Received:

Accepted:

Published:

Issue Date:
Keywords
Arthroscopic posteromedial capsular release

Flexion contracture

Arthrofibrosis