Abstract
Osteoid osteoma is a benign, osteoblastic and painful tumoral lesion. Apart from en-bloc resection, intralesional resection and percutaneous excision or destruction of the nidus, arthroscopic removal of the lesion in intraarticular locations have been reported. We present a patient with osteoid osteoma at distal femur which is accessible through knee joint, treated by arthroscopic complete excision.
This is a preview of subscription content, log in to check access.
Access options
Buy single article
Instant unlimited access to the full article PDF.
US$ 39.95
Price includes VAT for USA
Subscribe to journal
Immediate online access to all issues from 2019. Subscription will auto renew annually.
US$ 199
This is the net price. Taxes to be calculated in checkout.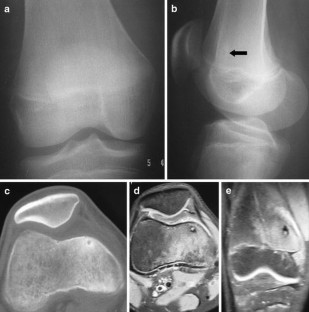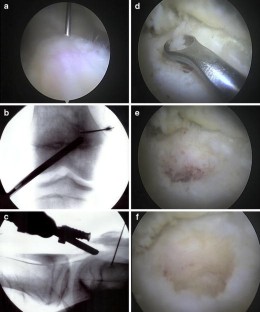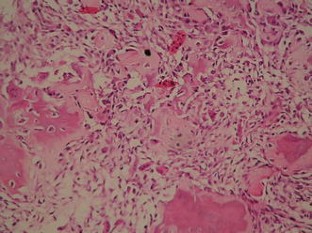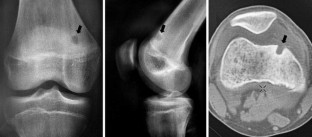 References
1.

Alvarez MS, Moneo PR, Palacios JA (2001) Arthroscopic extirpation of an osteoid osteoma of the acetabulum. Arthroscopy 17(7):768–771

2.

Banerjee D, Eriksson K, Morris H (2005) Arthroscopically treated intraarticular osteoid osteoma in the ankle—a report of 3 cases. Acta Orthop 76(5):721–724

3.

Bojanic I, Orlic D, Ivkovic A (2003) Arthroscopic removal of a juxtaarticular osteoid osteoma of the talar neck. J Foot Ankle Surg 42(6):359–362

4.

Campanacci M, Ruggieri P, Gasbarrini A, Ferraro A, Campanacci L (1999) Osteoid osteoma. Direct visual identification and intralesional excision of the nidus with minimal removal of bone. J Bone Joint Surg Br 81(5):814–820

5.

Cioni R, Armillotta N, Bargellini I, Zampa V, Cappelli C, Vagli P, Boni G, Marchetti S, Consoli V, Bartolozzi C (2004) CT-guided radiofrequency ablation of osteoid osteoma: long-term results. Eur Radiol 14(7):1203–1208

6.

Gitelis S, Wilkins R, Conrad EU 2nd (1996) Benign bone tumors. Instr Course Lect 45:425–446

7.

Gunes T, Erdem M, Sen C, Bilen E, Yeniel K (2007) Arthroscopic removal of a subperiosteal osteoid osteoma of the talus. J Am Podiatr Med Assoc 97(3):238–243

8.

Heuijerjans W, Dandy DJ, Harris D (1986) Arthroscopic excision of an intra-articular osteoid osteoma at the knee. Arthroscopy 2(4):215–216

9.

Kelly AM, Selby RM, Lumsden E, O'Brien SJ, Drakos MC (2002) Arthroscopic removal of an osteoid osteoma of the shoulder. Arthroscopy 18(7):801–806

10.

Khapchik V, O'Donnell RJ, Glick JM (2001) Arthroscopically assisted excision of osteoid osteoma involving the hip. Arthroscopy 17(1):56–61

11.

Kneisl JS, Simon MA (1992) Medical management compared with operative treatment for osteoid-osteoma. J Bone Joint Surg Am 74(2):179–185

12.

Lindner NJ, Ozaki T, Roedl R, Gosheger G, Winkelmann W, Wortler K (2001) Percutaneous radiofrequency ablation in osteoid osteoma. J Bone Joint Surg Br 83(3):391–396

13.

Resnick RB, Jarolem KL, Sheskier SC, Desai P, Cisa J (1995) Arthroscopic removal of an osteoid osteoma of the talus: a case report. Foot Ankle Int 16(4):212–215

14.

Sequeiros RB, Hyvonen P, Sequeiros AB, Jyrkinen L, Ojala R, Klemola R, Vaara T, Tervonen O (2003) MR imaging-guided laser ablation of osteoid osteomas with use of optical instrument guidance at 0.23 T. Eur Radiol 13(10):2309–2314

15.

Shereff MJ, Cullivan WT, Johnson KA (1983) Osteoid-osteoma of the foot. J Bone Joint Surg Am 65(5):638–641

16.

Sluga M, Windhager R, Pfeiffer M, Dominkus M, Kotz R (2002) Peripheral osteoid osteoma. Is there still a place for traditional surgery? J Bone Joint Surg Br 84(2):249–251

17.

Tuzuner S, Aydin AT (1998) Arthroscopic removal of an osteoid osteoma at the talar neck. Arthroscopy 14(4):405–409

18.

Yercan HS, Okcu G, Ozalp T, Osic U (2004) Arthroscopic removal of the osteoid osteoma on the neck of the talus. Knee Surg Sports Traumatol Arthrosc 12(3):246–249
Electronic supplementary material
Below is the link to the electronic supplementary material.
Supplementary material (WMV 2.77 Mb)
About this article
Cite this article
Gunes, T., Erdem, M., Bostan, B. et al. Arthroscopic excision of the osteoid osteoma at the distal femur. Knee Surg Sports Traumatol Arthr 16, 90–93 (2008) doi:10.1007/s00167-007-0380-2
Received:

Accepted:

Published:

Issue Date:
Keywords
Osteoid osteoma

Knee

Arthroscopy

Treatment

Surgery