Abstract
In PCL reconstruction many techniques have been described. Crucial item in pre-operative planning is graft choice and graft fixation. Compared to other grafts, hamstring is getting more popular because it is longer, has higher mechanical properties and doesn't harm extensor apparatus of the knee. Furthermore the absence of the bone block makes easier hamstring insertion in the femoral tunnel. Hamstring greater disadvantage is fixation. Many fixation devices, used in ACL reconstruction, have been described for PCL procedure. One of these, recently proposed, is a cross-pin femoral fixation technique, for hamstring PCL reconstruction [10]. The authors drilled the femoral tunnel in an inside-out manner [11] (width 8 mm and depth 35 mm) and fixed the hamstring with the Rigidfix (Mitek, Norwood, MA), passing the device via the anterolateral (AL) portal. The aim of this anatomical cadaver study is to evaluate the entrance points of cross-pins and the possible iatrogenic damages, during transverse fixation via anterolateral portal. The device we used is the Rigidfix (Mitek, Norwood, MA), designed to use two biodegradable pins for ACL femoral fixation. Femoral drilling and cross pins insertion were performed on 20 (10 × 2) fresh frozen cadaver knees. The risk of chondral damage, evaluated during the knees dissection, is high.
This is a preview of subscription content, log in to check access.
Access options
Buy single article
Instant access to the full article PDF.
US$ 39.95
Price includes VAT for USA
Subscribe to journal
Immediate online access to all issues from 2019. Subscription will auto renew annually.
US$ 199
This is the net price. Taxes to be calculated in checkout.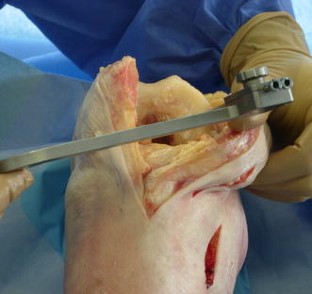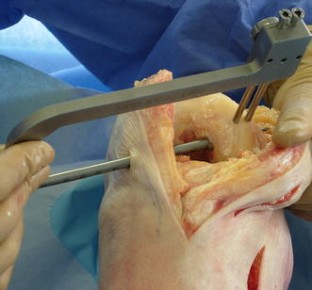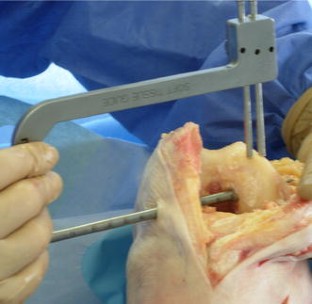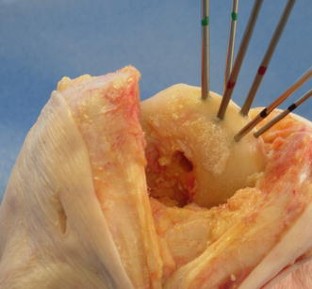 References
1.

Bullis DW, Fenton PJ, Paulos LE (1996) Arthroscopic reconstruction of the posterior cruciate ligament. In: McGinty JB (ed) Operative arthroscopy. Lippincott–Raven, Philadelphia, pp 531–549

2.

Cain EL, Clancy WG (2002) Posterior cruciate ligament reconstruction: two-bundle technique. J Knee Surg 15:108–113

3.

Christel P (2003) Basic principles for surgical reconstruction of PCL in cronic posterior knee instability. Knee Surg Sports Traumatol Arthrosc 11:289–296

4.

Fanelli GC, Giannotti BF, Edson CJ (1994) The posterior cruciate ligament arthroscopic evaluation and treatment (current concepts review). Arthroscopy 10:526–529

5.

Harner CD, Baek GHG, Vogrin TM, Carlin GJ, Kashiwagushi S, Woo SLY (1999) Quantitative analysis of human cruciate ligament insertions. Arthroscopy 15:741–749

6.

Harner CD, Hoeher J (1998) Evaluation and treatment of posterior cruciate ligament injuries. Am J Sports Med 26:471–482

7.

Harner CD, Höher J, Vogrin TM, Carlin GJ, Woo SLY (1998) The effects of a popliteus muscle load on in situ forces in the posterior cruciate ligament and on the knee kinematics. A human cadaveric study. Am J Sports Med 26:669–673

8.

Höher J, Harner CD, Vogrin TM, Baek GH, Carlin GJ, Woo SLY (1998) In situ forces in the posterolateral structures of the knee under posterior tibial loading in the intact and posterior cruciate ligament-deficient knee. J Orthop Res 16:675–681

9.

Höher J, Scheffler S, Weiler A (2003) Graft choice and graft fixation in PCL reconstruction. Knee Surg Sports Traumatol Arthrosc 11:297–306

10.

In Y, Bahk WJ, Kwon OS (2004) Cross-Pin femoral fixation for hamstring posterior cruciate ligament reconstruction. Arthroscopy 20:e29–33

11.

Kim SJ, Min BH (1994) Arthroscopic intraarticular interference screw technique of posterior cruciate ligament reconstruction: One incision technique. Arthroscopy 10:319–323

12.

Mariani PP, Becker R, Rihn J, Margheritini F (2003) Surgical treatment of posterior cruciate ligament and posterolateral corner injuries: an anatomical, biomechanical and clinical review. Knee 10:311–324

13.

Mologne TS, Friedman MJ (2001) Arthroscopic anterior cruciate reconstruction with hamstring tendons: Indications, surgical technique, complications and their treatment. In: Insall JN, Scott WN (eds) Surgery of the knee. Churchill Livingstone, Philadelphia, pp 681–692

14.

Niedzwietzki P, Zantop T, Raschke AMJ, Petersen W (2007) Femoral fixation of hamstring grafts in posterior cruciate ligament reconstruction: biomechanical evaluation of different fixation techniques. Is there an acute angle effect? Am J Sports Med 35(5):780–786

15.

Race A, Amis AA (1998) PCL reconstruction: in vitro biomechanical comparison of "isometric" versus single and double bundled "anatomic" grafts. J Bone Joint Surg Br 80:173–179

16.

Salini V, Colucci C, Palmieri D (2005) Artroscopia di ginocchio:principi generali della tecnica. In Pellacci F. Chirurgia artroscopica dell'arto inferiore, Mattioli 1885
About this article
Cite this article
Rossi, R., Bonasia, D.E., Assom, M. et al. Cross-pin femoral fixation in PCL reconstruction: a cadaver study. Knee Surg Sports Traumatol Arthr 15, 1194–1197 (2007). https://doi.org/10.1007/s00167-007-0358-0
Received:

Accepted:

Published:

Issue Date:
Keywords
PCL reconstruction

Cross-pin fixation

Hamstring autograft

Anterolateral portal

Cadaver study