Abstract
The mechanism of bone tunnel enlargement following anterior cruciate ligament (ACL) reconstruction is not yet clearly understood. Many authors hypothesized that aggressive rehabilitation protocols may be a potential factor for bone tunnel enlargement, especially in reconstructions performed with hamstrings autograft. The purpose of this study was to evaluate the effect of a brace free rehabilitation on the tunnel enlargement after ACL reconstruction using doubled semitendinosus and gracilis tendons (DGST): our hypothesis was that early post-operative knee motion increase the diameters of the tibial and femoral bone tunnels. Forty-five consecutive patients undergoing ACL reconstruction for chronic ACL deficiency were selected. All patients were operated by the same surgeon using autologous DGST and the same fixation devices. Patients with associated ligaments injuries and or severe chondral damage were excluded. The patients were randomly assigned to enter the control group (group A, standard post-operative rehabilitation) and the study group (group B, brace free accelerated rehabilitation). A CT scan was used to exactly determine the diameters of both femoral and tibial tunnels at various levels of lateral femoral condyle and proximal tibia, using a previously described method [17]. Measurements were done by an independent radiologist in a blinded fashion the day after the operation and at a mean follow-up of 10 months (range 9–11). Statistical analysis was performed using paired t-test. The mean femoral tunnel diameter increased significantly from 9.04 ± 0.05 (post-operative) to 9.30 ± 0.8 mm (follow-up) in group A and from 9.04 ± 0.03 to 9.94 ± 1.12 mm in group B. The mean tibial tunnel diameter increased significantly from 9.03 ± 0.04 to 10.01 ± 0.80 mm in group A and from 9.04 ± 0.03 to 10.60 ± 0.78 mm in group B. The increase in femoral and tunnel diameters observed in the study group was significantly higher than that observed in the control group. Our results suggest that bone tunnel enlargement after ACL reconstruction using hamstrings autograft can be increased by an accelerated, brace free, rehabilitation protocol.
This is a preview of subscription content, log in to check access.
Access options
Buy single article
Instant access to the full article PDF.
US$ 39.95
Price includes VAT for USA
Subscribe to journal
Immediate online access to all issues from 2019. Subscription will auto renew annually.
US$ 199
This is the net price. Taxes to be calculated in checkout.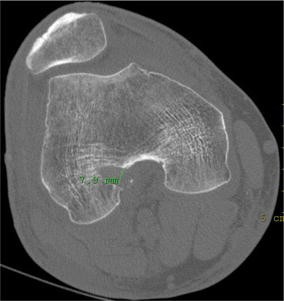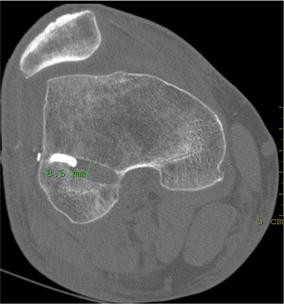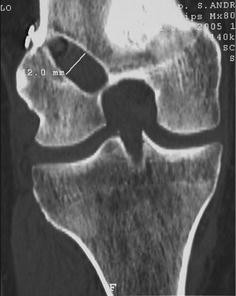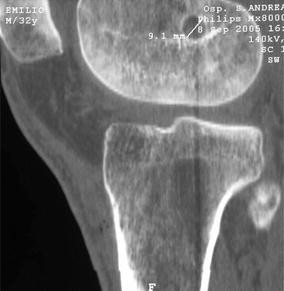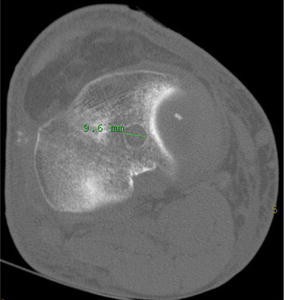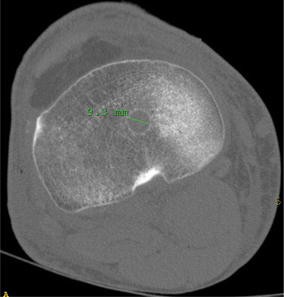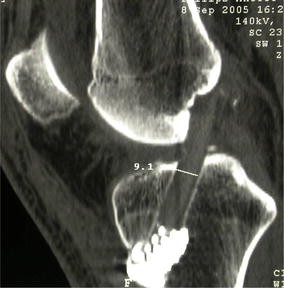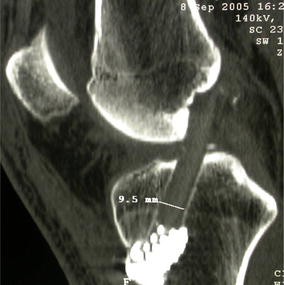 References
1.

Aglietti P, Zaccherotti G, Simeone AJ, Buzzi R (1998) Anatomic versus nonanatomic tibial fixation in anterior cruciate ligament reconstruction with bone-patellar tendon-bone graft. Knee Surg Sports Traumatol Arthrosc 6(Suppl1):S43–S48

2.

Brown CH, Ferretti A, Conteduca F, Morelli F, Hecker AT, Wilson DR (2001) Biomechanics of the Swing-Bridge technique for anterior cruciate ligament reconstruction. Eur J Sports Traumatol Relat Res 23(2):69–73

3.

Cameron M, Buchgraber A, Passler H (1997) The natural history of the anterior cruciate ligament-deficient knee: changes in synovial fluid cytokine and keratan sulfate concentrations. Am J Sports Med 25:751–754

4.

Cameron ML, Fu FH, Paessler HH, Schneider M, Evans CH (1994) Synovial fluid cytokine concentrations as possible prognostic indicators in the ACL-deficient knee. Knee Surg Sports Traumatol Arthrosc 2(1):38–44

5.

Clatworthy MG, Annear P, Bulow JU et al (1999) Tunnel widening in anterior cruciate ligament reconstruction: a prospective evaluation of Hamstring and Patella tendon grafts. Knee Surg Sports Traumatol Arthrosc 7(3):138–145

6.

Clatworthy MG, Bartelett J, Howell S et al (1999) The effect of graft fixation techniques on tunnel widening in hamstring ACL reconstruction. Arthroscopy 15(Suppl):5

7.

Fahey M, Indelicato PA (1994) Bone tunnel enlargement after anterior cruciate ligament replacement. Am J Sports Med 22(3):410–414

8.

Ferretti A, Conteduca F, Labianca L et al (2005) Evolgate fixation of doubled flexor graft in ACL reconstruction: biomechanical evaluation with cyclic loading. Am J Sports Med 33(4):574–582

9.

Ferretti A, Conteduca F, Morelli F et al (2003) The evolgate, a method to improve the pull-out strength of interference screw in tibial fixation of ACL reconstruction with DGST. Arthroscopy 19(9):936–940

10.

Fink C, Zapp M, Benedetto KP et al (2001) Tibial tunnel enlargement following anterior cruciate ligament reconstruction with patellar tendon autograft. Arthroscopy 17(2):138–143

11.

Fules PJ, Madhav RT, Goddard RK et al (2003) Evaluation of tibial bone tunnel enlargement using MRI scan cross-sectional area measurement after autologous hamstring tendon ACL. Knee 10(1):87–91

12.

Hantes ME, Mastrokalos DS, Yu J, Paessler HH (2004) The effect of early motion on tibial tunnel widening after anterior cruciate ligament replacement using hamstring tendon grafts. Artrhroscopy 20(6):572–580

13.

Harris NL, Indelicato PA, Bloomberg MS et al (2002) Radiographic and histologic analysis of the tibial tunnel after allograft anterior cruciate ligament reconstruction in goats. Am J Sports Med 30(3):368–373

14.

Hersekli MA, Akpinar S, Ozalay M et al (2004) Tunnel enlargement after arthroscopic anterior cruciate ligament reconstruction: comparison of bone-patellar tendon-bone and hamstring autografts. Adv Ther 21(2):123–131

15.

Hogervorst T, van der Hart CP, Pels Rijcken TH, Taconis WK (2000) Abnormal bone scans of the tibial tunnel 2 years after patella ligament anterior cruciate ligament reconstruction: correlation with tunnel enlargement and tibial graft length. Knee Surg Sports Traumatol Arthrosc 8(6):322–328

16.

Hoher J, Moller HD, Fu FH (1998) Bone tunnel enlargement after anterior cruciate ligament reconstruction: fact or fiction? Knee Surg Sports Traumatol Arthrosc 6(4):231–240 (Review)

17.

Iorio R, Vadalà A (2006) Bone tunnel enlargement after ACL reconstruction using autologous hamstring tendons: a CT study. Int Orthop (in press)

18.

Ito MM, Tanaka S (2006) Evaluation of tibial bone-tunnel changes with X-ray and computed tomography after ACL reconstruction using a bone-patella tendon-bone autograft. Int Orthop 30(2):99–103 (Epub February 28, 2006)

19.

Jo H, Jun DS, Lee DY, Lee SH et al (2004) Tibial tunnel area changes following arthroscopic anterior cruciate ligament reconstructions with autogenous patellar tendon graft. Knee Surg Sports Traumatol Arthrosc 12(4):311–316

20.

L'Insalata JC, Klatt B, Fu FH, Harner CD (1997) Tunnel expansion following anterior cruciate ligament reconstruction: a comparison of hamstring and patellar tendon autografts. Knee Surg Sports Traumatol Arthrosc 5(4):234–238

21.

Murty AN, Zebdeh MY, Ireland J (2001) Tibial tunnel enlargement following anterior cruciate reconstruction: does post-operative immobilisation make a difference? Knee 8(1):39–43

22.

Nebelung W, Becker R, Merkel M et al (1998) Bone tunnel enlargement after anterior cruciate ligament reconstruction with semitendinous tendon using Endobutton fixation on the femoral side. Arthroscopy 14(8):810–815

23.

Otsuka H, Ishibashi Y, Tsuda E, Sasaki K et al (2003) Comparison of three techniques of anterior cruciate ligament reconstruction with bone-patellar tendon-bone graft: differences in anterior tibial translation and tunnel enlargement with each technique. Am J Sports Med 31(2):282–288

24.

Peyrache MD, Dijan P, Christel P, Witvoet J (1996) Tibial tunnel enlargement after anterior cruciate ligament reconstruction by autogenous bone-patellar-tendon bone graft. Knee Surg Sports Traumatol Arthrosc 4(1):2–8

25.

Romano VM, Graf BK, Keene JS et al (1993) Anterior cruciate ligament reconstruction: the effect of tibial tunnel placement on range of motion. Am J Sports Med 21(3):415–418

26.

Schulte K, Majewski M, Irrgang JJ et al (1995) Radiographic tunnel changes following arthroscopical reconstruction: autograft versus allograft. Arthroscopy 11:372–373

27.

Shelbourne KD, Nitz P (1990) Accelerated rehabilitation after anterior cruciate ligament reconstruction. Am J Sports Med 18(3):292–299

28.

Simonian PT, Erickson MS, Larson RV et al (2000) Tunnel expansion after hamstring anterior cruciate ligament reconstruction with 1-incision endobutton femoral fixation. Arthroscopy 16(7):707–714

29.

Webster KE, Chiu JJ, Feller JA (2005) Impact of measurement error in the analysis of bone tunnel enlargement after anterior cruciate ligament reconstruction. Am J Sports Med 33(11):1680–1687 (Epub August 10, 2005)

30.

Webster KE, Feller JA, Hameister KA (2001) Bone tunnel enlargement following anterior cruciate ligament reconstruction: a randomised comparison of hamstring and patellar tendon grafts with 2-year follow-up. Knee Surg Sports Traumatol Arthrosc 9(2):86–91

31.

Yu JK, Paessler HH (2005) Relationship between tunnel widening and different rehabilitation procedure after cruciate ligament reconstruction with quadrupledd hamstring tendons. Chin Med J (Engl) 118(4):320–326

32.

Zijl JA, Kleipool AE, Willems WJ (2000) Comparison of tibial tunnel enlargement after anterior cruciate ligament reconstruction using patellar tendon autograft or allograft. Am J Sports Med 28(4):547–551

33.

Zysk SP, Fraunberger P, Veihelmann A (2004) Tunnel enlargement and changes in synovial fluid cytokine profile following anterior cruciate ligament reconstruction with patellar tendon and hamstring tendon autografts. Knee Surg Sports Traumatol Arthrosc 12(2):98–103 (Epub September 20, 2003)
About this article
Cite this article
Vadalà, A., Iorio, R., De Carli, A. et al. The effect of accelerated, brace free, rehabilitation on bone tunnel enlargement after ACL reconstruction using hamstring tendons: a CT study. Knee Surg Sports Traumatol Arthrosc 15, 365–371 (2007). https://doi.org/10.1007/s00167-006-0219-2
Received:

Accepted:

Published:

Issue Date:
Keywords
ACL reconstruction

Hamstring tendons

Bone tunnel enlargement

Brace-free rehabilitation

CT scan