Abstract
Ligament injuries are more common than fractures in adolescents. We operated on an adolescent soccer player, who had a lateral femoral epiphyseal injury using arthroscopic-assisted reduction and percutaneous internal fixation. During second-look arthroscopy 2 years after the first operation, there was articular cartilage congruity, without any visible step-off. The axial alignment did not reveal any residual valgus deformity.
This is a preview of subscription content, log in to check access.
Access options
Buy single article
Instant access to the full article PDF.
US$ 39.95
Price includes VAT for USA
Subscribe to journal
Immediate online access to all issues from 2019. Subscription will auto renew annually.
US$ 199
This is the net price. Taxes to be calculated in checkout.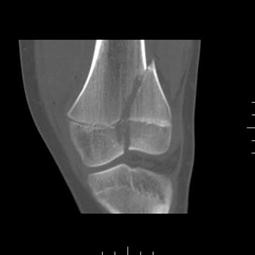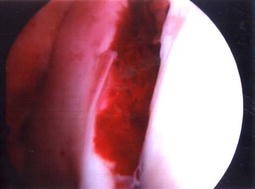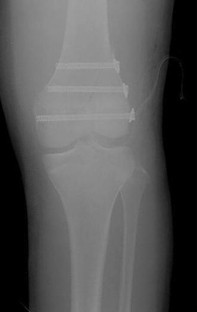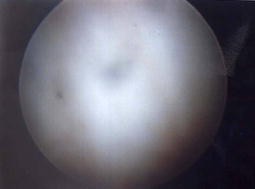 References
1.

Aufranc OE, Jones WN, Harris WH (1962) Distal femoral epiphyseal separation. JAMA 181:1126–1129

2.

Bassett FH 3rd, Goldner JL (1962) Fractures involving the distal femoral epiphyseal growth line. South Med J 55:545–557

3.

Beck A, Kinzl L, Ruter A, Strecker W (2001) [Fractures involving the distal femoral epiphysis. Long-term outcome after completion of growth in primary surgical management]. Unfallchirurg 104:611–616

4.

Boloczko S, Szulc J (1969) [Transarticular fixation of the femur in the surgical treatment of distal epiphyseal fractures. Detailed technic and early treatment]. Chir Narzadow Ruchu Ortop Pol 34:619–621

5.

Czitrom AA, Salter RB, Willis RB (1981) Fractures involving the distal epiphyseal plate of the femur. Int Orthop 4:269–277

6.

Demirel M, Dereboy F, Ozturk A, Turhan E (2006) Arthroscopically assisted intra-articular lateral femoral condyle fracture surgery. Arthroscopy 22:690 e691–e694

7.

Fowble CD, Zimmer JW, Schepsis AA (1993) The role of arthroscopy in the assessment and treatment of tibial plateau fractures. Arthroscopy 9:584–590

8.

James HB, James RK (2001) Fractures and dislocations about the knee, Chapter 23. Rockwood and Wilkins' fractures in children, 5th edn, p 1004

9.

McCarthy JJ, Parker RD (1996) Arthroscopic reduction and internal fixation of a displaced intraarticular lateral femoral condyle fracture of the knee. Arthroscopy 12:224–227

10.

Mize R (1994) Treatment options for fractures of the distal femur. Instr Course Lect 43:109–117

11.

Rettig H, Brudet J (1987) [Femoral fractures near the knee in the growth period]. Aktuelle Traumatol 17:60–64

12.

Robert M, Moulies D, Longis B, Laufenburger A, Coville M, Alain JL (1988) [Traumatic epiphyseal separation of the lower end of the femur]. Rev Chir Orthop Reparatrice Appar Mot 74:69–78

13.

Tandogan NR, Karaeminogullari O, Ozyurek A, Ersozlu S (2004) [Periarticular fractures of the knee in child and adolescent athletes]. Acta Orthop Traumatol Turc 38(Suppl 1):93–100

14.

Weinberg AM, Castellani C, Werner C, Mayr J (2002) [Growth prognosis after para-epiphyseal tangential epiphysial injuries of the lower extremity exemplified by the distal femur: outcome after injuries of epiphyses of the distal femur]. Kongressbd Dtsch Ges Chir Kongr 119:695–698
About this article
Cite this article
Lee, Y.S., Jung, Y.B., Ahn, J.H. et al. Arthroscopic assisted reduction and internal fixation of lateral femoral epiphyseal injury in adolescent soccer player: a report of one case. Knee Surg Sports Traumatol Arthrosc 15, 744–746 (2007). https://doi.org/10.1007/s00167-006-0214-7
Received:

Accepted:

Published:

Issue Date:
Keywords
Femur

Epiphyseal injury

Arthroscopy

Internal fixation