Abstract
The authors report about a case of traumatic separation of a horizontally bipartite patella in a young female soccer player. Unspecific anterior knee pain preceded the fracture, which had occurred after an inadequate trauma. Open reduction and osteosynthesis led to bony union with an excellent clinical outcome at follow-up.
This is a preview of subscription content, log in to check access.
Access options
Buy single article
Instant access to the full article PDF.
US$ 39.95
Price includes VAT for USA
Subscribe to journal
Immediate online access to all issues from 2019. Subscription will auto renew annually.
US$ 199
This is the net price. Taxes to be calculated in checkout.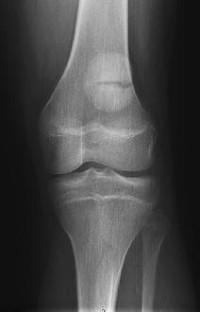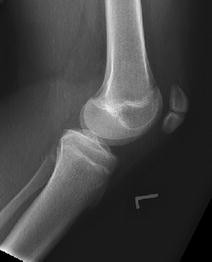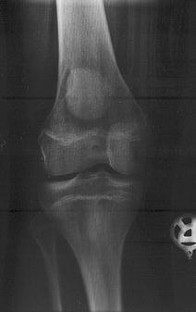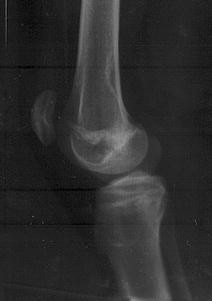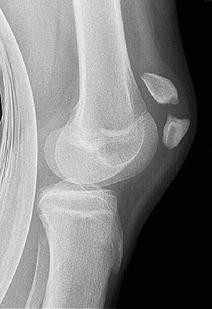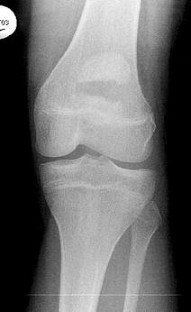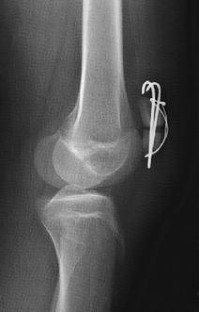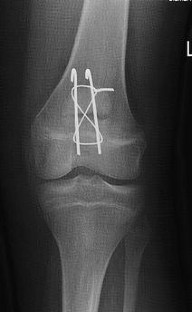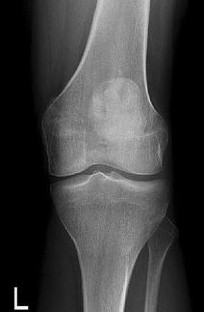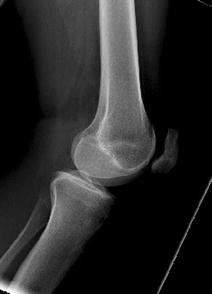 References
1.

Adams JD, Leonard RD (1925) A developmental anomaly of the patella frequently diagnosed as a fracture. Surg Gynecol Obstet 41:601

2.

Bourne MH, Bianco AJ Jr (1990) Bipartite patella in the adolescent: results of surgical excision. J Pediatr Orthop 10:69–73

3.

Canizares GH, Selesnick FH (2003) Bipartite patella fracture. Arthroscopy 19:215–217

4.

Carter SR (1989) Traumatic separation of a bipartite patella. Injury 20:244

5.

Gasco J, Del Pino JM, Gomar-Sancho F (1987) Double patella. A case of duplication in the coronal plane. J Bone Joint Surg Br 69:602–603

6.

Iossifidis A, Brueton RN (1995) Painful bipartite patella following injury. Injury 26:175–176

7.

Iossifidis A, Brueton RN, Nunan TO (1995) Bone-scintigraphy in painful bipartite patella. Eur J Nucl Med 22:1212–1213

8.

Ireland ML, Chang JL (1995) Acute fracture bipartite patella: case report and literature review. Med Sci Sports Exerc 27:299–302

9.

Ishikawa H, Sakurai A, Hirata S, Ohno O, Kita K, Sato T et al (1994) Painful bipartite patella in young athletes. The diagnostic value of skyline views taken in squatting position and the results of surgical excision. Clin Orthop Relat Res 223–238

10.

Ogata K (1994) Painful bipartite patella. A new approach to operative treatment. J Bone Joint Surg Am 76:573–578

11.

Ogden JA (1984) Radiology of postnatal skeletal development. X. Patella and tibial tuberosity. Skeletal Radiol 11:246–257

12.

Ogden JA, McCarthy SM, Jokl P (1982) The painful bipartite patella. J Pediatr Orthop 2:263–269

13.

Okuno H, Sugita T, Kawamata T, Ohnuma M, Yamada N, Yoshizumi Y (2004) Traumatic separation of a type I bipartite patella: a report of four knees. Clin Orthop Relat Res 257–260

14.

Petty MJ (1928) Brit J Surg 12:799

15.

Rask BP, Micheli LJ (1994) The Pediatric Knee. In: Scott WN (ed) The knee. Mosby Company, St. Louis, pp 229–275

16.

Saupe H (1943) Primäre Knochenmarkseiterung der Kniescheibe. Deutsch Z Chir 258:386–392

17.

Scapinelli R (1967) Blood supply of the human patella. Its relation to ischaemic necrosis after fracture. J Bone Joint Surg Br 49:563–570

18.

Weaver JK (1977) Bipartite patellae as a cause of disability in the athlete. Am J Sports Med 5:137–143

19.

Weinberg S (1981) Case report 177: duplication of the patella ("double" patella). Skeletal Radiol 7:223–224

20.

Wütschke J (1966) Fortschr Röntgenstr 104:260
About this article
Cite this article
Tauber, M., Matis, N. & Resch, H. Traumatic separation of an uncommon bipartite patella type: a case report. Knee Surg Sports Traumatol Arthr 15, 83–87 (2007). https://doi.org/10.1007/s00167-006-0107-9
Received:

Accepted:

Published:

Issue Date:
Keywords
Bipartite patella

Traumatic separation

Tension banding

Bony union