Abstract
Although an injured medial collateral ligament (MCL) will naturally heal, the quality of healing tissue is inferior to the uninjured MCL tissue. Previous studies have shown promising results of sodium orthovanadate (vanadate) in enhancing the quality of rat skin wounds. This study therefore investigated whether vanadate enhances the quality of the rat healing MCL in terms of the collagen fibril organization and diameter. Six mature male Sprague–Dawley rats, with weight ranges of 475–505 g and ages of 25 weeks, were used in this study. Three rats in the experimental group received vanadate (0.2 mg/ml) in their saline drinking water (150 mM NaCl), whereas three rats in the control group were only given saline water. Three weeks after transection, the rat MCLs were harvested for hematoxylin and eosin (H&E) staining and transmission electron microscopy. It was found that vanadate promoted organization of collagen fibrils and significantly increased the diameters of collagen fibrils by 14% in healing MCL (P<0.001). These results indicate that application of vanadate may be a promising tissue engineering approach to enhance the quality of healing tissues such as injured MCLs.
This is a preview of subscription content, log in to check access.
Access options
Buy single article
Instant access to the full article PDF.
US$ 39.95
Price includes VAT for USA
Subscribe to journal
Immediate online access to all issues from 2019. Subscription will auto renew annually.
US$ 199
This is the net price. Taxes to be calculated in checkout.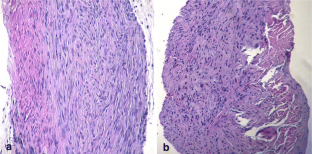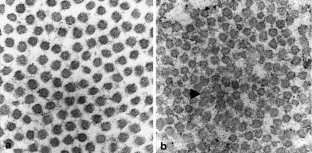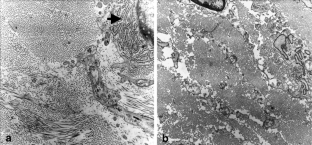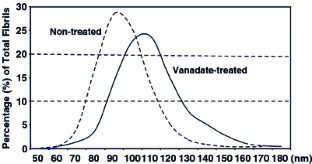 References
1.

Batten ML, Hansen JC, Dahners LE (1996) Influence of dosage and timing of application of platelet-derived growth factor on early healing of the rat medial collateral ligament. J Orthop Res 14:736–741

2.

Dahners LE, Gilbert JA, Lester GE, Taft TN, Payne LZ (1998) The effect of a nonsteroidal antiinflammatory drug on the healing of ligaments. Am J Sports Med 16:641–646

3.

Domingo JL (1996) Vanadium: a review of the reproductive and developmental toxicity. Reprod Toxicol 10:175–182

4.

Ehrlich HP, Keefer KA, Maish GO III, Myers RL, Mackay DR (2001) Vanadate ingestion increases the gain in wound breaking strength and leads to better organized collagen fibers in rats during healing. Plast Reconstr Surg 107:471–477

5.

Ehrlich HP, Keefer KA, Myers RL, Passaniti A (1999) Vanadate and the absence of myofibroblasts in wound contraction. Arch Surg 134:494–501

6.

Ehrlich HP, Rajaratnam JB (1990) Cell locomotion forces versus cell contraction forces for collagen lattice contraction: an in vitro model of wound contraction. Tissue Cell 22:407–417

7.

Frank C, McDonald D, Shrive N (1997) Collagen fibril diameters in the rabbit medial collateral ligament scar: a longer term assessment. Connect Tissue Res 36:261–269

8.

Frank C, Woo SL, Amiel D, Harwood F, Gomez M, Akeson W (1983) Medial collateral ligament healing. A multidisciplinary assessment in rabbits. Am J Sports Med 11:379–389

9.

Fu FH, Harner CD, Vince KG (eds) (1994) Knee surgery Williams & Wilkins, Baltimore

10.

Harner CD, Vince KG, Fu FH, Greis PE (2001) Techniques in knee surgery, pp xii, 317 Lippincott Williams & Wilkins, Philadelphia

11.

Harris AK, Stopak D, Wild P (1981) Fibroblast traction as a mechanism for collagen morphogenesis. Nature 290:249–251

12.

Hildebrand KA, Woo SL, Smith DW, Allen CR, Deie M, Taylor BJ, Schmidt CC (1998) The effects of platelet-derived growth factor-BB on healing of the rabbit medial collateral ligamentAn in vivo study. Am J Sports Med 26:549–554

13.

Kulkarni PS, Srinivasan BD (1985) Anti-inflammatory effects of ketoprofen in rabbit corneal epithelial wound model. Exp Eye Res 41:267–273

14.

Letson AK, Dahners LE (1994) The effect of combinations of growth factors on ligament healing. Clin Orthop 207–212

15.

Maher PA, Pasquale EB, Wang JY, Singer SJ (1985) Phosphotyrosine-containing proteins are concentrated in focal adhesions and intercellular junctions in normal cells. Proc Natl Acad Sci USA 82:6576–6580

16.

Miyasaka KC, Daniel DM, SM L, Hirshman P (1991) The incidence of knee ligament injuries in the general population. Am J Knee Surg 4:3–8

17.

Moorman CT III, Kukreti U, Fenton DC, Belkoff SM (1999) The early effect of ibuprofen on the mechanical properties of healing medial collateral ligament. Am J Sports Med 27:738–741

18.

Moyer KE, Saba AA, Hauck RM, Ehrlich HP (2003) Systemic vanadate ingestion modulates rat tendon repair. Exp Mol Pathol 75:80–88

19.

Mukherjee B, Patra B, Mahapatra S, Banerjee P, Tiwari A, Chatterjee M (2004) Vanadium—an element of atypical biological significance. Toxicol Lett 150:135–143

20.

Nakamura N, Timmermann SA, Hart DA, Kaneda Y, Shrive NG, Shino K, Ochi T, Frank CB (1998) A comparison of in vivo gene delivery methods for antisense therapy in ligament healing. Gene Ther 5:1455–1461

21.

Petroll WM, Cavanagh HD, Barry P, Andrews P, Jester JV (1993) Quantitative analysis of stress fiber orientation during corneal wound contraction. J Cell Sci 104(Pt 2):353–363

22.

Reider B, Sathy MR, Talkington J, Blyznak N, Kollias S (1994) Treatment of isolated medial collateral ligament injuries in athletes with early functional rehabilitation A five-year follow-up study. Am J Sports Med 22:470–477

23.

Sabbioni E, Pozzi G, Devos S, Pintar A, Casella L, Fischbach M (1993) The intensity of vanadium(V)-induced cytotoxicity and morphological transformation in BALB/3T3 cells is dependent on glutathione-mediated bioreduction to vanadium(IV). Carcinogenesis 14:2565–2568

24.

Watanabe N, Woo SL, Papageorgiou C, Celechovsky C, Takai S (2002) Fate of donor bone marrow cells in medial collateral ligament after simulated autologous transplantation. Microsc Res Technol 58:39–44

25.

Weiss JA, Woo SL, Ohland KJ, Horibe S, Newton PO (1991): Evaluation of a new injury model to study medial collateral ligament healing: primary repair versus nonoperative treatment. J Orthop Res 9:516–528

26.

Woo SL, Hildebrand K, Watanabe N, Fenwick JA, Papageorgiou CD, Wang JH: Tissue engineering of ligament and tendon healing. Clin Orthop Relat Res S312–S323, 1999

27.

Woo SLA, An K-N Arnoczky SP, Wayne JS, Fithian DC, Myers BS (1994) Anatomy, biology, and biomechanics of tendon, ligament, and meniscus, in SR Simonmont, OB Science (ed). The American Academy of Orthopaedic Surgeons, pp 45–87
Acknowledgements
This study was supported in part by NIH grant AR049921, Arthritis Investigator Award, and Whitaker Biomedical Engineering Grant (JHW). We also thank Ms. Kimberly Furher and Ms. Ardith Ries for technical assistance in histology and electron microscopy.
About this article
Cite this article
Chen, J., Iosifidis, M., Zhu, J. et al. Vanadate ingestion enhances the organization and collagen fibril diameters of rat healing medical collateral ligaments. Knee Surg Sports Traumatol Arthr 14, 750 (2006). https://doi.org/10.1007/s00167-006-0043-8
Received:

Accepted:

Published:
Keywords
Orthovanadate

MCL

Organization

Collagen fibrils