Abstract
The aim of this paper is to report on three cases of symptomatic osteochondritis dissecans of the humeral capitellum in adolescent gymnasts, two females and one male. In all the cases arthroscopic surgery was performed. During arthroscopy, loose osteochondral fragments were removed, the defect was debrided and microfractures were performed. All the three patients regained the full range of motion of the affected elbow, and returned to the high-level gymnastics within a period of 5 months. At 12 months follow-up, all the three patients remained symptomless and were participating in high-level gymnastics. A combination of arthroscopy and the microfracture technique is a reliable method with excellent short-term results in the treatment of the osteochondritis dissecans of the elbow.
This is a preview of subscription content, log in to check access.
Access options
Buy single article
Instant access to the full article PDF.
US$ 39.95
Price includes VAT for USA
Subscribe to journal
Immediate online access to all issues from 2019. Subscription will auto renew annually.
US$ 199
This is the net price. Taxes to be calculated in checkout.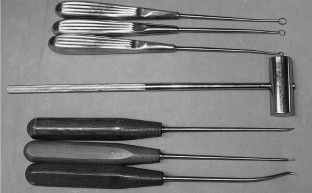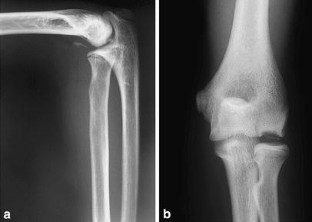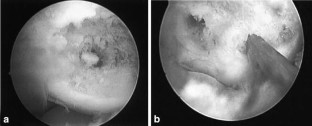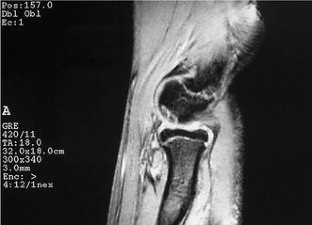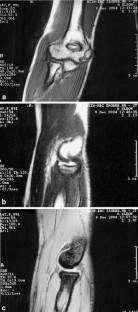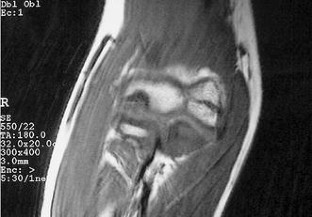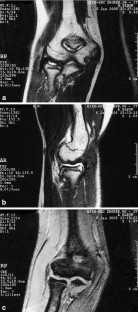 References
1.

Baker CL, Jones GL (1999) Arthroscopy of the elbow. Am J Sports Med 27:251–264

2.

Barrie HJ (1980) Hypertrophy and laminar calcification of cartilage in loose bodies as probable evidence of an ossification abnormality. J Pathol 132:161–168

3.

Bauer M, Jonsson K, Josefsson PO, Linden B (1992) Osteochondritis dissecans of the elbow: a long-term follow-up study. Clin Orthop 284:156–160

4.

Baumgarten TE, Andrews JR, Satterwhite YE (1998) The arthroscopic classification and treatment of osteochondritis dissecans of the capitellum. Am J Sports Med 26:520–523

5.

Blevins FT, Steadman JR, Rodrigo JJ, Silliman J (1998) Treatment of articular cartilage defects in athletes: an analysis of functional outcome and lesion appereance. Orthopaedics 21:761–768

6.

Brittberg M, Lindahl A, Nilsson A, Ohlsson C, Isaksson O, Peterson L (1994) Treatment of deep cartilage defects in knee with autologous chondrocyte transplantation. N Engl J Med 331:889–895

7.

Brown R, Blazina ME, Kerlan RK, Carter VS, Jobe FW, Carlson GJ (1974) Osteochondritis dissecans of the capitellum. J Sports Med 2:27–46

8.

Byrd JWT, Jones KS (2002) Arthroscopic surgery for isolated capitellar osteochondritis dissecans in adolescent baseball players. Minimum three-year follow-up. Am J Sports Med 30:474–478

9.

Cain EL, Dugas JR, Wolf RS, Andrews JR (2003) Elbow injuries in throwing athletes: a current concepts review. Am J Sports Med 31:621–635

10.

Green WT, Banks HH (1990) Osteochondritis dissecans. Clin Orthop 255:3–12

11.

Hangody L, Kish G, Karapti Z, Szerb I, Udvarhelyi I (1997) Arthroscopic autogenous osteochondral mosaicplasty for the treatment of femoral condyle articular defects: a preliminary report. Knee Surg Sports Traumatol Arthrosc 5:262–267

12.

Haraldsson S (1959) Osteochondrosis deformans juvenilis capituli humeri including invsetigation of intra-osseous vasculature in distal humerus. Acta Orthop Scand Suppl 38:1–232

13.

Homminga GN, Bulstra SK, Bouwmeester PS, van der Linden AJ (1990) Perichondral grafting for cartilage lesions of the knee. J Bone Joint Surg Br 72:1003–1007

14.

Jackson DW, Silvino N, Reiman P (1989) Osteochondritis dissecans in the female gymnast's elbow. Arthroscopy 5:129–136

15.

Jobe FW, Nuber G (1986) Throwing injuries of the elbow. Clin Sports Med 5:621–636

16.

Krijnen MR, Lim L, Willems WJ (2003) Arthroscopic treatment of osteochondritis dissecans of the capitellum: report of 5 female athletes. Arthroscopy 19:210–214

17.

McManama GB Jr, Micheli LJ, Berry MV, Sohn RS (1985) The surgical treatment of osteochondritis dissecans of the capitellum. Am J Sports Med 13:11–21

18.

Panner HJ (1929) A peculiar affection of the capitellum humeri resembling Calve-Perthes disease of the hip. Acta Radiol 10:234–242

19.

Pappas AM (1981) Osteochondritis dissecans. Clin Orthop 158:59–69

20.

Pecina MM, Bojanic I, Ivkovic A (2003) Overuse injuries in young athletes. In: Pecina MM, Bojanic I (eds) Overuse injuries of the musculoskeletal system, 2nd edn. CRC Press, Boca Raton, pp 373–392

21.

Pill SG, Ganley TJ, Flynn JM, Gregg JR (2003) Osteochondritis dissecans of the capitellum: arthroscopic-assisted treatment of large, full thickness defects in young patients. Arthroscopy 19:222–225

22.

Reddy AS, Kvitne RS, Yocum LA, Elattrache NS, Glousman RE, Jobe FW (2000) Arthroscopy of the elbow: a long-term clinical review. Arthroscopy 16:588–594

23.

Rodrigo JJ, Steadman JR, Silliman JF, Fulstone HA (1994) Improvement of full-thickness chondral defect healing in the human knee after debridement and microfracture using continuous passive motion. Am J Knee Surg 7:109–116

24.

Ruch DS, Cory JW, Poehling GG (1998) The arthroscopic management of osteochondritis dissecans of the adolsecent elbow. Arthroscopy 14:797–803

25.

Schenck VRC Jr, Goodnight JM (1996) Current concept review: osteochondritis dissecans. J Bone Joint Surg Am 78A:439–456

26.

Steadman JR, Rodkey WG, Singleton SB, Briggs KK (1997) Microfracture technique for full-thickness chondral defects: technique and clinical results. Oper Tech Orthop 7:300–304

27.

Steadman JR, Rodkey WG, Rodrigo JJ (2001) Microfracture: surgical technique and rehabilitation to treat chondral defects. Clin Orthop 391:362–369

28.

Stougaard J (1964) Familial occurrence of osteochondritis dissecans. J Bone Joint Surg Br 46:542–543

29.

Takahara M, Shundo M, Kondo M, Suzuki K, Nambu T, Ogino T (1998) Early detection of osteochondritis dissecans of the capitellum in young baseball players: report of three cases. J Bone Joint Surg Am 80:892–897

30.

Tivnon MC, Anzel SH, Waugh TR (1976) Surgical management of osteochondritis dissecans of the capitellum. Am J Sports Med 4:121–128
About this article
Cite this article
Bojanić, I., Ivković, A. & Borić, I. Arthroscopy and microfracture technique in the treatment of osteochondritis dissecans of the humeral capitellum: report of three adolescent gymnasts. Knee Surg Sports Traumatol Arthrosc 14, 491–496 (2006). https://doi.org/10.1007/s00167-005-0693-y
Received:

Accepted:

Published:

Issue Date:
Keywords
Osteochondritis dissecans

Elbow

Arthroscopy

Microfractures

Gymnastics