Abstract
Ruptures of the posterior cruciate ligament (PCL) and especially proximal bony avulsion fractures in children are very rare. This in combination with a rupture of the popliteal artery is extremely rare. Thus, an exact incidence is not available from the literature. Overall, these injuries are severe and often lead to chronic knee instability. We report a case of a 9-year-old boy who suffered a traumatic displacement of the left knee with a rupture of the popliteal artery. Prior to transfer to our department, he was treated by a saphenous vein bypass graft and by a transfixation of the knee using two oblique percutaneous pins. We performed magnetic resonance imaging (MRI) scan of the knee which revealed a femoral avulsion fracture of the PCL. Other ligaments and menisci were intact. A transosseous femoral fixation using non-absorbable stitches was carried out. A 1-year follow-up after surgery demonstrates intact peripheral perfusion and sensation, straight axes of both legs and a physiological gait. Minimal differences of the length and circumference of both legs could be measured. The posterior laxity (Lachman-test) was about 5/8 mm (right/left knee) and 2/5 mm (right/left knee) in 90° flexion. The range of motion (extension/flexion) was 5/0/140°–/5/100° (right–left knee). Intact cruciate ligaments were confirmed by MRI. Minimal experience exists in treatment of combined injuries to the PCL and the popliteal artery in children.
This is a preview of subscription content, log in to check access.
Access options
Buy single article
Instant access to the full article PDF.
US$ 39.95
Price includes VAT for USA
Subscribe to journal
Immediate online access to all issues from 2019. Subscription will auto renew annually.
US$ 199
This is the net price. Taxes to be calculated in checkout.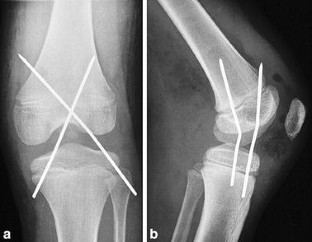 References
1.

Janousek AT, Jones DG, Clatworthy M, Higgins LD, Fu FH (1999) Posterior cruciate ligament injuries of the knee joint. Sports Med 28(6):429–441

2.

Harner CD, Hoher J (1998) Evaluation and treatment of posterior cruciate ligament injuries. Am J Sports Med 26(3):471–482

3.

Covey CD, Sapega AA (1993) Injuries of the posterior cruciate ligament. J Bone Joint Surg Am 75(9):1376–1386

4.

Fanelli GC, Giannotti BF, Edson CJ (1994) The posterior cruciate ligament arthroscopic evaluation and treatment. Arthroscopy 10(6):673–688

5.

Goodrich A, Ballard A (1988) Posterior cruciate ligament avulsion associated with ipsilateral femur fracture in a 10-year-old child. J Trauma 28(9):1393–1396

6.

Eady JL, Cardenas CD, Sopa D (1982) Avulsion of the femoral attachment of the anterior cruciate ligament in a seven-year-old child. A case report. J Bone Joint Surg Am 64(9):1376–1378

7.

Clanton TO, DeLee JC, Sanders B, Neidre A (1979) Knee ligament injuries in children. J Bone Joint Surg Am 61(8):1195–1201

8.

Margheritini F, Mariani PP (2003) Diagnostic evaluation of posterior cruciate ligament injuries. Knee Surg Sports Traumatol Arthrosc 11(5):282–288

9.

Harrell DJ, Spain DA, Bergamini TM, Miller FB, Richardson JD (1997) Blunt popliteal artery trauma: a challenging injury. Am Surg 63(3):228–231, discussion 231–222

10.

Martinez D, Sweatman K, Thompson EC (2001) Popliteal artery injury associated with knee dislocations. Am Surg 67(2):165–167

11.

Loos WC, Fox JM, Blazina ME, Del Pizzo W, Friedman MJ (1981) Acute posterior cruciate ligament injuries. Am J Sports Med 9(2):86–92

12.

Sonin AH, Fitzgerald SW, Hoff FL, Friedman H, Bresler ME (1995) MR imaging of the posterior cruciate ligament: normal, abnormal, and associated injury patterns. Radiographics 15(3):551–561

13.

Miranda FE, Dennis JW, Veldenz HC, Dovgan PS, Frykberg ER (2002) Confirmation of the safety and accuracy of physical examination in the evaluation of knee dislocation for injury of the popliteal artery: a prospective study. J Trauma 52(2):247–251, discussion 251–242

14.

Moore HA, Larson RL (1980) Posterior cruciate ligament injuries. Results of early surgical repair. Am J Sports Med 8(2):68–78

15.

Hughston JC, Bowden JA, Andrews JR, Norwood LA (1980) Acute tears of the posterior cruciate ligament. Results of operative treatment. J Bone Joint Surg Am 62(3):438–450

16.

Allen CR, Kaplan LD, Fluhme DJ, Harner CD (2002) Posterior cruciate ligament injuries. Curr Opin Rheumatol 14(2):142–149

17.

Cosgarea AJ, Jay PR (2001) Posterior cruciate ligament injuries: evaluation and management. J Am Acad Orthop Surg 9(5):297–307

18.

Twaddle BC, Bidwell TA, Chapman JR (2003) Knee dislocations: where are the lesions? A prospective evaluation of surgical findings in 63 cases. J Orthop Trauma 17(3):198–202

19.

Torisu T (1979) Avulsion fracture of the tibial attachment of the posterior cruciate ligament. Indications and results of delayed repair. Clin Orthop 143:107–114

20.

Mayer PJ, Micheli LJ (1979) Avulsion of the femoral attachment of the posterior cruciate ligament in an eleven-year-old boy. Case report. J Bone Joint Surg Am 61(3):431–432

21.

Sanders WE, Wilkins KE, Neidre A (1980) Acute insufficiency of the posterior cruciate ligament in children. Two case reports. J Bone Joint Surg Am 62(1):129–131

22.

MacDonald PB, Black B, Old J, Dyck M, Davidson M (2003) Posterior cruciate ligament injury and posterolateral instability in a 6-year-old child. A case report. Am J Sports Med 31(1):135–136

23.

Itokazu M, Yamane T, Shoen S (1990) Incomplete avulsion of the femoral attachment of the posterior cruciate ligament with an osteochondral fragment in a twelve-year-old boy. Arch Orthop Trauma Surg 110(1):55–57

24.

Trickey EL (1980) Injuries to the posterior cruciate ligament: diagnosis and treatment of early injuries and reconstruction of late instability. Clin Orthop 147:76–81

25.

Richter M, Kiefer H, Hehl G, Kinzl L (1996) Primary repair for posterior cruciate ligament injuries. An eight-year followup of fifty-three patients. Am J Sports Med 24(3):298–305
Additional information
U. Bosch and C. Krettek contributed equally to this work
About this article
Cite this article
Hesse, E., Bastian, L., Zeichen, J. et al. Femoral avulsion fracture of the posterior cruciate ligament in association with a rupture of the popliteal artery in a 9-year-old boy: a case report. Knee Surg Sports Traumatol Arthrosc 14, 335–339 (2006). https://doi.org/10.1007/s00167-005-0677-y
Received:

Accepted:

Published:

Issue Date:
Keywords
Posterior cruciate ligament

Avulsion fracture

Popliteal artery

Ligament rupture

Knee injuries