Abstract
Infection after total knee arthroplasty (TKA) can be a challenging and difficult problem to treat. In selected patients, knee arthrodesis is a well-recognized salvage procedure after infected TKA. The authors retrospectively reviewed their experience with this treatment option, presenting 20 patients (8 women, 12 men), performed between 1990 and 2002. The average age was 67 years (range: 47–81 years) and the mean number of previous surgical procedures was 6 (range: 4–11 procedures). There were multiple indications for knee arthrodesis, including extensive bone or soft tissue loss, poor bone stock, and recurring infections. One-stage fusion was done in 7 knees while, on the other 13, arthrodesis was performed as two-stage fusions. The average clinical follow-up was 4.5 years (range: 2–11 years). 18 of the 20 patients were interviewed and graded using the Visual Analogue Scale (VAS) for pain, the Short Form-36 Health Survey (SF-36), and the Knee injury and Osteoarthritis Outcome Score (KOOS) questionnaire that has knee-related quality of life items. According to the VAS, the mean intensity was 3.4 points. 6 (33%) of the patients had no difficulty with the knee and 9 (50%) of them had mild or moderate difficulty. The SF-36 scores were similar to those for normative data for patients after TKA, with only the social functioning, role emotional, and physical functioning scores being lower and the role physical and social functioning scores being higher. Three of 20 fusions failed, whereas two knees became non-infected non-unions. In one, the knee infection persisted and required above-knee amputation. The two-stage arthrodesis gave the most predictable rate of fusion. Persistent infection and extensive bone stock losses led to failure even under the best circumstances. In our opinion, arthrodesis of the knee is a satisfactory salvage procedure following a failed TKA, and can provide reliable expectation for a stable, painless extremity for high-functioning patients who are able to walk.
This is a preview of subscription content, log in to check access.
Access options
Buy single article
Instant access to the full article PDF.
US$ 39.95
Price includes VAT for USA
Subscribe to journal
Immediate online access to all issues from 2019. Subscription will auto renew annually.
US$ 199
This is the net price. Taxes to be calculated in checkout.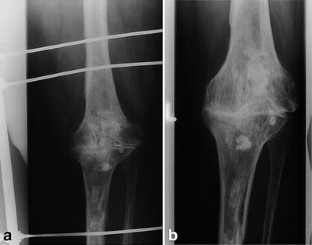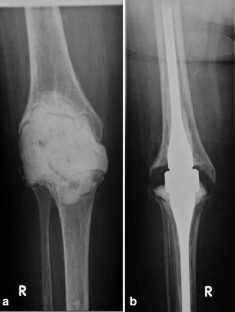 References
1.

Behr JT, Chemell SJ, Schwartz CM (1985) Knee arthrodesis for failed total knee arthroplasty. Arch Surg 120:350–354

2.

Benson ER, Resine ST, Lewis CG (1998) Functional outcome of arthrodesis for failed total knee arthroplasty. Orthopedics 21:875–879

3.

Browne EZ Jr, Stulberg BN, Sood R (1995) The use of muscle flaps for salvage of failed total knee arthroplasty. Br J Plast Surg 47:43–45

4.

Bullinger M (1995) German translation and psycometric testing of the SF-36 Healthy Survey: preliminary results from the IQOLA Project. International quality of life assessment. Soc Sci Med 41:1359–1366

5.

Charnley J (1960) Arthodesis of the knee. Clin Orthop 18:37–42

6.

Christie MJ, DeBoer DK, McQueen DA, Cooke FW, Hahn DL (2003) Salvage procedures for failed total knee arthroplasty. J Bone Joint Surg 85-A(Suppl. 1):S58–S62

7.

Conway JD, Mont MA, Bezwada HP (2004) Current concepts review: Arthrodesis of the knee. J Bone Joint Surg 86-A:835–848

8.

Damron TA, McBeath AA (1995) Arthrodesis following failed total knee arthroplasty: comprehensive review and meta-analysis of recent literature. Orthopedics 18:361–368

9.

Elligsen DE, Rand JA (1994) Intramedullary arthrodesis of the knee after failed total knee arthroplasty. J Bone Joint Surg 76-A:870–877

10.

Figgie HE, Brody GA, Inglis AE, Sculco TP, Goldberg VM, Figgie MP (1987) Knee arthrodesis following total knee arthroplasty in rheumatoid arthritis. Clin Orthop 224:237–243

11.

Fuchs S, Mersmann A (2000) Life quality after arthrodesis of the knee joint in case of infected arthroplasty (in German). Unfallchirurg 103:626–631

12.

Gerwin M, Rothaus KO, Windsor RE, Brause BD, Insall JN (1993) Gastrocnemius muscle flap coverage of exposed or infected knee prostheses. Clin Orthop 286:64–67

13.

Hagemann WF, Woods GW, Tullos HS (1978) Arthrodesis of the knee. J Bone Joint Surg 60-A:790–794

14.

Hak DJ, Liebermann JR, Finerman GA (1995) Single plane and biplane external fixators for knee arthrodesis. Clin Orthop 316:134–144

15.

Hanssen AD, Trousdale RT, Osmon DR (1995) Patient outcome with reinfection following reimplantation for the infected total knee athroplasty. Clin Orthop 321:55–67

16.

Incavo SJ, Lilly JW, Bartlett CS, Churchill DL (2000) Arthrodesis of the knee: experience with intramedullary nailing. J Arthroplasty 15:871–876

17.

Insall N, Dorr LD, Scott RD, Scott WN (1989) Rationale of the Knee Society clinical rating system. Clin Orthop 248:13–14

18.

Knutson K, Hovelius L, Lindstrand A, Lidgren L (1984) Arthrodesis after failed knee arthroplasty. Clin Orthop 191:202–211

19.

Lai KA, Shen WJ, Yang CY (1998) Arthrodesis with a short Huckstep nail as a salvalge procedure for failed total knee arthroplasty. J Bone Joint Surg 80-A:380–388

20.

Manzotti A, Pullen C, Deromedis B, Catagni MA (2001) Knee arthrodesis after infected total knee arthroplasty using the Ilizarov method. Clin Orthop 389:143–149

21.

Nelson CL, Evarts CM (1971) Arthroplasty and arthrodesis at the knee. Orthop Clin N Am 2:245–264

22.

Oostenbroek HJ, Van Roermund PM (2001) Arthrodesis of the knee after an infected arthroplasty using the Ilizarov method. J Bone Joint Surg 83-B:50–54

23.

Puranen J, Kortelainen P, Jalovaara P (1990) Arthrodesis of the knee with intramedullary nail fixation. J Bone Joint Surg 72-A:433–442

24.

Rand JA (1993) Alternatives to reimplantation for salvage of the total knee arthroplasty complicated by infection. J Bone Joint Surg 75-A:282–289

25.

Roos IM, Roos HP, Lohmander LS, Ekdahl C, Beynnon BD (1998) Knee injury and Osteoarthritis Outcome Score (KOOS)—development of a self-administered outcome measures. J Orthop Sports Phys Ther 28:88–96

26.

Stiehl JB, Hanel DP (1993) Knee arthrodesis using combined intramedullary rod and plate fixation. Clin Orthop 294:238–241

27.

Vlasak R, Gearen PF, Petty W (1995) Knee arthrodesis in the treatment of failed total knee replacement. Clin Orthop 321:138–144

28.

Wiedel JD (2002) Salvage of infected total knee fusion: the last option. Clin Orthop 404:139–142
About this article
Cite this article
Klinger, H., Spahn, G., Schultz, W. et al. Arthrodesis of the knee after failed infected total knee arthroplasty. Knee Surg Sports Traumatol Arthrosc 14, 447–453 (2006). https://doi.org/10.1007/s00167-005-0664-3
Received:

Accepted:

Published:

Issue Date:
Keywords
Total knee arthroplasty

Infection

Revision surgery

Arthrodesis