Abstract
We evaluated the outcome in 10 young patients, ages ranging from 15 to 26, with types III and IV osteochondritis dissecans of the knee, treated with Herbert screws fixation and reverse guided drillings. The disease involved the medial femoral condyle in eight patients and the lateral in two. Diagnosis and preoperative planning based on plain radiographs (AP, lateral and tunnel view) and MRI (in seven patients). Fixation of the fragment with Herbert screws using a mini-arthrotomy technique and additional reverse drillings behind the crater of the lesion using the ACL aiming devise were performed in all patients. Post-operatively, no weight bearing was recommended for at least three months. The follow-up ranged from 15 months to 38 months (mean 27 months). According to the subjective questionnaire of the International Cartilage Repair Society (ICRS) scale, seven patients had normal knees, two had nearly normal knees and one abnormal. The Lysholm Knee score ranged 65–96 points (mean 88 points). All patients except one returned to their previous activities and they were satisfied with the result. Radiological union of the fragment was found in 9/10 patients (six grade III, three grade IV). Progressive flattening of the injured femoral condyle was noticed in two patients (grade III). Securing the lesion using Herbert screws in combination with reverse guided drillings seems to be an effective treatment choice for detached or displaced osteochondral fragments.
This is a preview of subscription content, log in to check access.
Access options
Buy single article
Instant access to the full article PDF.
US$ 39.95
Price includes VAT for USA
Subscribe to journal
Immediate online access to all issues from 2019. Subscription will auto renew annually.
US$ 199
This is the net price. Taxes to be calculated in checkout.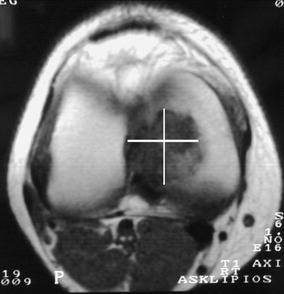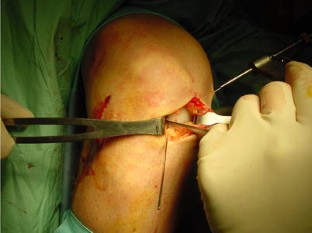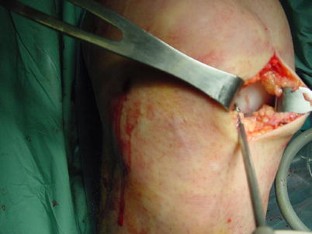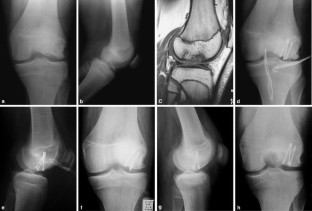 References
1.

Aglietti P, Buzzi R, Bass PB, Frioriti M (1994) Arthroscopic drilling in juvenile osteochondritis dissecans of the medial femoral condyle. Arthroscopy 10:286–291

2.

Aglietti P, Ciardullo A, Giron F, Ponteggia F (2001) Results of arthroscopic excision of the fragment in the treatment of osteochondritis dissecans of the knee. J Arthrosc Rel Surg 7:741–746

3.

Anderson AF, Lipscomb AB, Coulam C (1990) Antegrade curettement, bone grafting and pinning of osteochondritis dissecans in the skeletally mature knee. Am J Sports Med 18:254–261

4.

Cahill BR (1995) Osteochondritis dissecans of the knee: treatment of juvenile and adult forms. J Am Acad Orthop Surg 3:237–247

5.

Cahill BR, Berg BC (1983) 99m-Technetium phosphate compound joint scintigraphy in the management of juvenile osteochondritis dissecans of the femoral condyles. Am J Sports Med 11:329–335

6.

Clanton TO, DeLee JC (1982) Osteochondritis dissecans: history, pathophysiology and current treatment concepts. Clin Orthop 167:50–64

7.

Dervin G, Keene G, Chissell H (1998) Biodegradable rods in adult osteochondritis dissecans of the knee. Clin Orthop 356:213–221

8.

Greville NR (1964) Osteochondritis dissecans: treatment by bone grafting. Southern Med J 57:886–893

9.

Jaberi FM (2002) Osteochondritis dissecans of the weight-bearing surface of the medial femoral condyle in adults. Knee 9(3):201–207

10.

Jakob R, Miniaci A (1989) A compression pinning system for osteochondritis dissecans of the knee. Acta Orthop Scand 60(3):319–321

11.

Jonson LL, Uitvlugt G, Austin MD, Detrisac DA, Johnson (1990) Osteochondritis dissecans of the knee: arthroscopic compression screw fixation. Arthroscopy 6:179–189

12.

Jurgensen I, Bachmann G, Schleicher I, Haas H (2002) Arthroscopic versus conservative treatment of osteochondritis dissecans of the knee: value of magnetic resonance imaging in therapy planning and follow-up. Arthroscopy 18(4):378–386

13.

Kivisto R, Pasanen L, Leppilahti, Jalovaara P (2002) Arthroscopic repair of osteochondritis dissecans of the femoral condyles with metal staple fixation: a report of 28 cases. Knee Surg Sports Traumatol Arthrosc 10:305–309

14.

Lindholm TS, Osterman K (1980) Long term results after transfixation of an osteochondritis dissecans fragment to the femoral condyle using autologous bone transplants in adolescent and adult patients. Arch Orthop Trauma Surg 97:225–230

15.

Lipscomb PR Jr, Lipscomb PR Sr, Bryan RS (1978) Osteochondritis dissecans of the knee with loose fragments. Treatment by replacement and fixation with readily removed pins. J Bone Joint Surg 60:235–240

16.

Louisia S, Beaufils P, Katabi M, Robert H (2003) Transchondral drilling for osteochondritis dissecans of the medial condyle of the knee. Knee Surg Sports Traumatol Arthrosc 11(1):33–39

17.

Mackie IG, Pemberton DJ, Maheson M (1990) Arthroscopic use of the Herbert screw in osteochondritis dissecans. J Bone Joint Surg 72(6):1076

18.

Rey Zuniga JJ, Sagastibelza J, Lopez Blasco JJ, Martinez Grande M (1993) Arthroscopic use of the Herbert screw in osteochondritis dissecans of the knee. Arthroscopy 9(6):668–670

19.

Slough J, Noto A, Schmidt T (1989) Tibial cortical bone peg fixation in osteochondritis dissecans of the knee. Clin Orthop 267:122–127

20.

Smillie IS (1957) Treatment of osteochondritis dissecans. J Bone Joint Surg 39(2):248–260

21.

Thomson NL (1987) Osteochondritis dissecans and osteochondral fragments managed by Herbert compression screw fixation. Clin Orthop 224:71–78

22.

Wombwell JH, Nunley JA (1987) Compressive fixation of osteochondritis dissecans fragments with Herbert screws. J Orthop Trauma 1:74–77
About this article
Cite this article
Kouzelis, A., Plessas, S., Papadopoulos, A.X. et al. Herbert screw fixation and reverse guided drillings, for treatment of types III and IV osteochondritis dissecans. Knee Surg Sports Traumatol Arthrosc 14, 70–75 (2006). https://doi.org/10.1007/s00167-005-0634-9
Received:

Accepted:

Published:

Issue Date:
Keywords
Osteochondritis dissecans

Herbert screws

Drillings