Abstract
The radiological methods to determine patellar height described in the literature are variable, not reliable and depend on the chosen ratio. The purpose of this paper is to describe another method of measuring patellar height on sagittal MRI using the true articular cartilage patellotrochlear relationship. An analysis of magnetic resonance (MR) examinations of 66 consecutive patients was performed. The most common diagnoses were meniscal or anterior cruciate ligament pathologies. No patient suffered from patellofemoral complaints. Measurements on sagittal MR images included different parameters using the articular cartilage of the patella and the trochlea. The ratio patella : trochlea of the cartilage baselines was measured in percentages and described as patellotrochlear index. The measurements were assessed at two different times by three raters under blinded conditions. The mean patellotrochlear index was 31.7% (CI: 12.5–50.0; range −5.0 to 61.1%; SD ±11.6). The intraobserver variability showed only in the "second observer" a difference of the mean values of the two different measurements (t=2.189; P=0.032). The interobserver correlation was high and significant (0.663–0.893; P=0.000). Our results indicate that the patellotrochlear index is a reliable and precise method to determine the exact articular correlation of the patellofemoral joint and the patellar height. The results represent the average patellotrochlear index in the normal population without patellofemoral complaints. Measurements of the articular cartilage congruence can be helpful to define an underlying pathology of patellar height, such as patella alta or infera.
This is a preview of subscription content, log in to check access.
Access options
Buy single article
Instant access to the full article PDF.
US$ 39.95
Price includes VAT for USA
Subscribe to journal
Immediate online access to all issues from 2019. Subscription will auto renew annually.
US$ 199
This is the net price. Taxes to be calculated in checkout.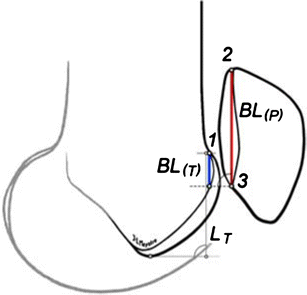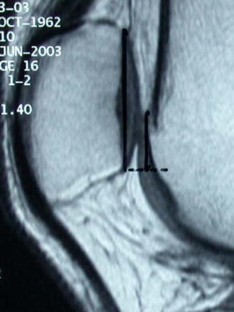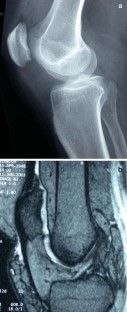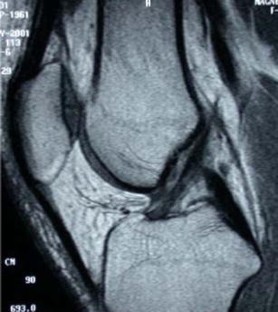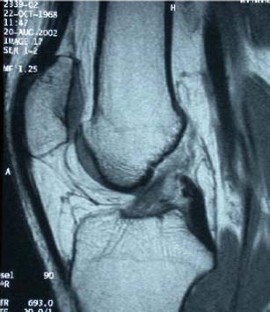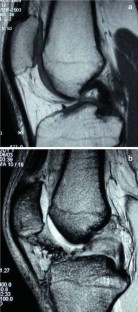 References
1.

Ahlback S, Mattsson S (1978) Patella alta and gonarthrosis. Acta Radiol 19:578–584

2.

AL-Sayyad MJ, Cameron JC (2002) Functional outcome after tibial tubercle transfer for the painful patella alta. Clin Orthop 396:152–162

3.

Bernageau J, Goutallier D, Debeyre J, Ferrrane J (1969) Nouvelle technique d'exploration de l'articulation fémoro-patellaire. Incidences axiales quadriceps contracté et décontracté. Rev Chir Orthop 61(Suppl II):286–290

4.

Biedert RM, Albrecht S (2003) The patellotrochlear index: another method of measuring patellar height on sagittal MRI. In: Proceedings of the international patellofemoral study group, Naples FL, USA

5.

Blackburne JS, Peel TE (1977) A new method of measuring patellar height. J Bone Joint Surg Br 59:241–242

6.

Bosshard C, Stäubli HU, Rauschning W (1997) Konturinkongruenz von Gelenkoberflächen und subchondralem Knochen des Femoropatellargelenks in der sagittalen Ebene. Arthroskopie 10:72–76

7.

Brattstrom H (1970) Patella alta in non-dislocating knee joints. Acta Orthop Scand 41:578–588

8.

Bruijn JD, Sanders RJ, Jansen BR (1993) Ossification in the patellar tendon and patella alta following sports injury in children. Complications of sleeve fractures after conservative treatment. Arch Orthop Trauma Surg 112:157–158

9.

Caton J, Deschamps G, Chambat P, Lerat JL, Dejour H (1982) Patella infera. A propos of 128 cases. Rev Chir Orthop Reparatrice Appar Mot 68:317

10.

Dejour H, Walch G, Nove-Josserand L, Guier C (1994) Factors of patellar instability: an anatomic radiographic study. Knee Surg Sports Traumatol Arhrosc 2:19–26

11.

Dupont JY (1998) Patellofemoral pain. Rev Prat 48:1781–1786

12.

Geenen E, Molenaers G, Martens M (1989) Patella alta in patellofemoral instability. Acta Orthop Belg 55:387–393

13.

Grelsamer RP, Meadows S (1992) The modified Insall-Salvati ratio for assessment of patellar height. Clin Orthop 282:170–176

14.

Grelsamer RP, Proctor CS, Bazos AN (1994) Evaluation of patellar shape in the sagittal plane: a clinical analysis. Am J Sports Med 22:61–66

15.

Hirano A, Fukubayashi T, Ishii T, Ochiai N (2001) Relationship between the patellar height and the disorder of the knee extensor mechanism in immature athletes. J Pediatr Orthop 21:541–544

16.

Insall J, Salvati E (1971) Patella position in the normal knee joint. Radiology 101:101–104

17.

Kannus PA (1992) Long patellar tendon: radiographic sign of patellofemoral pain syndrome - a prospective study. Radiology 185:859–863

18.

Karadimas JE, Piscopakis N, Syrmalis L (1981) Patella alta and chondromalacia. Int Orthop 5:247–249

19.

Kujala UM, Osterman K, Kvist M, Aalto T, Friberg O (1986) Factors predisposing to patellar chondropathy and patellar apicitis in athletes. Int Orthop 10:195–200

20.

Lancourt JE, Cristini JA (1975) Patella alta and patella infera. Their etiological role in patellar dislocation, chondromalacia, and apophysitis of the tibial tubercle. J Bone Joint Surg Am 57:1112–1115

21.

Leung YF, Wai YL, Leung YC (1996) Patella alta in southern China. A new method of measurement. Int Orthop 20:305–310

22.

Marks KE, Bentley G (1978) Patella alta and chondromalacia. J Bone Joint Surg Br 60:71–73

23.

Micheli LJ, Slater JA, Woods E, Gerbino PG (1986) Patella alta and the adolescent growth spurt. Clin Orthop 213:159–162

24.

McWilliams TG, Binns MS (2000) A locked knee in extension: a complication of a degenerate knee with patella alta. J Bone Joint Surg B 82:890

25.

Miller TT, Staron RB, Feldman F (1996) Patellar height on sagittal MR imaging of the knee. Am J Roentgenol 167:339–341

26.

Neyret P, Robinson AH, Le Coultre B, Lapra C, Chambat P (2002) Patellar tendon length—the factor in patellar instability? Knee 9:3–6

27.

Rillmann P, Dutly A, Kieser C, Berbig R (1998) Modified Elmslie-Trillat procedure for instability of the patella. Knee Surg Sports Traumatol Arthrosc 6:31–35

28.

Seil R, Muller B, Georg T, Kohn D, Rupp S (2000) Reliability and interobserver variability in radiological patellar height ratios. Knee Surg Sports Traumatol Arthrosc 8:231–236

29.

Simmons E Jr, Cameron JC (1992) Patella alta and recurrent dislocation of the patella. Clin Orthop 274:265–269

30.

Stäubli HU, Bosshard C, Porcellini B, Rauschning W (2002) Magnetic resonance imaging for articular cartilage: cartilage-bone mismatch. Clin Sports Med 21:1–17

31.

Topoleski TA, Kurtz CA, Grogan DP(2000) Radiographic abnormalities and clinical symptoms associated with patella alta in ambulatory children with cerebral palsy. J Pediatr Orthop 20:636–639

32.

Walker P, Harris I, Leicester A (1998) Patellar tendon-to-patella ratio in children. J Pediatr Orthop 18:129–131
About this article
Cite this article
Biedert, R.M., Albrecht, S. The patellotrochlear index: a new index for assessing patellar height. Knee Surg Sports Traumatol Arthr 14, 707–712 (2006). https://doi.org/10.1007/s00167-005-0015-4
Received:

Accepted:

Published:

Issue Date:
Keywords
Patellar height

Measurement

MRI

Articular cartilage

Patellofemoral