Abstract
Acute locking of the joint in a replaced knee joint is very rare. This report describes an acute locking episode of a revised modular total knee replacement, occurring more than 2 years after surgery. A disengaged screw from the modular femoral component had lodged in the joint at the inferior pole of the patella and required urgent arthroscopic removal. There was no subsequent failure of the stem–condylar junction, nor loosening of the femoral component.
This is a preview of subscription content, log in to check access.
Access options
Buy single article
Instant access to the full article PDF.
US$ 39.95
Price includes VAT for USA
Subscribe to journal
Immediate online access to all issues from 2019. Subscription will auto renew annually.
US$ 199
This is the net price. Taxes to be calculated in checkout.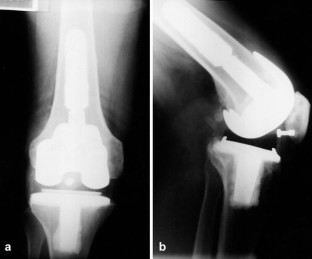 References
1.

Bobyn JD, Tanzer M, Krygier JJ, Dujovne AR, Brooks CE (1994) Concerns with modularity in total hip arthroplasty. Clin Orthop 298:27–36

2.

Vince KG, Long W (1995) Revision knee arthroplasty. The limits of press fit medullary fixation. Clin Orthop 317:172–177

3.

Westrich GH, Kidaka C, Windsor RE (1997) Disengagement of a locking screw from a modular stem in revision total knee arthroplasty. J Bone Joint Surg Am 79:254

4.

Lim L, Trousdale RT, Berry DJ, Hansen AD (2001) Failure of stem-condyle junction of a modular femoral stem in revision total knee arthroplasty. J Arthroplasty 16(1):129–132

5.

Johnson DR, Friedman RJ, McGinty JB, Mason JL, St Mary EW (1990) The role of arthroscopy in the problem total knee replacement. Arthroscopy 6:30–32
About this article
Cite this article
Nadkarni, J.B., Carden, D.G. Acute locking in revision total knee arthroplasty due to disengagement of the locking screw. Knee Surg Sports Traumatol Arthrosc 13, 190–192 (2005). https://doi.org/10.1007/s00167-004-0552-2
Received:

Accepted:

Published:

Issue Date:
Keywords
Component failure

Modular total knee arthroplasty

Revision total knee arthroplasty

Locked knee