Abstract
The results of a new method for arthroscopic all-inside meniscus repair using a biodegradable cannulated screw (Clearfix meniscal screw) were assessed in a medium-term follow-up prospective study. The Clearfix meniscal screw system consists of delivery cannulae, screw driver, and screw implants. After tear debridement, a screw is located on the driver and passed through the cannula to the insertion site, holding the two sides of the tear together under linear compression. Forty-eight patients (48 repairs) with a mean age of 32.7 years were included in the study. Ligament stabilizing procedures were done in 39 patients (81%) who had anterior cruciate ligament deficient knees. Only longitudinal lesions in the red/red or red/white zone were repaired. Follow-up averaged 19 months, with a range from 12 to 48 months. Patients were evaluated using clinical examination, the "Orthopaedische Arbeitsgemeinschaft Knie (OAK)" knee evaluation scheme and magnetic resonance imaging (MRI). Criteria for clinical success included absence of joint-line tenderness, absence of swelling and a negative McMurray test. Postoperatively, there were no complications directly associated with the device. Twelve of 48 repaired menisci (25%) were considered failures according to the above-mentioned criteria. According to the OAK knee evaluation scheme, 38 patients (79%) had an excellent or good result. MRI, however, showed persisting grade III or IV lesions in 35 patients (73%). Analysis showed that age, length of tear, and simultaneous anterior cruciate ligament reconstruction did not affect the clinical outcome. In contrast, risk factors for failure of meniscus repair are chronicity of injury, location of tear more than 3 mm from the meniscosynovial junction and meniscus side (medial).
This is a preview of subscription content, log in to check access.
Access options
Buy single article
Instant access to the full article PDF.
US$ 39.95
Price includes VAT for USA
Subscribe to journal
Immediate online access to all issues from 2019. Subscription will auto renew annually.
US$ 199
This is the net price. Taxes to be calculated in checkout.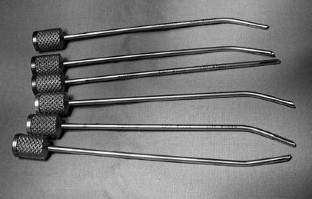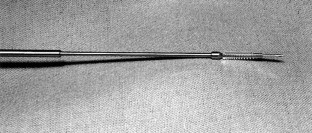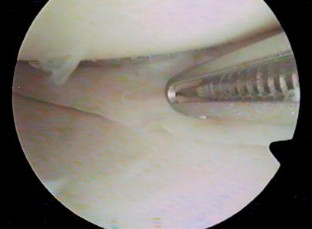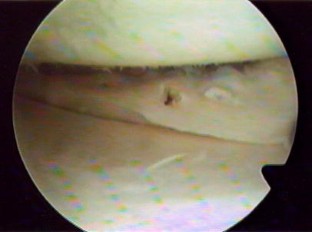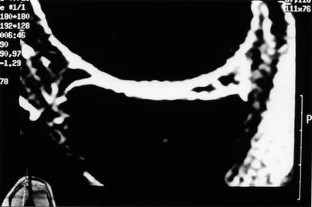 References
1.

Albrecht-Olsen P, Kristensen G, Törmälä P (1993) Meniscus bucket-handle fixation with an absorbable Biofix tack: development of a new technique. Knee Surg Sports Traumatol Arthrosc 1:104–106

2.

Albrecht-Olsen P, Kristensen G, Burgaard P, Joengersen U, Toerholm C (1999) The arrow versus horizontal suture in arthroscopic meniscus repair. Knee Surg Sports Traumatol Arthrosc 7:268–273

3.

Arnoczky SP, Lavagnino M (2001) Tensile fixation strengths of absorbable meniscal repairs as a function of hydrolysis time. Am J Sports Med 29:118–123

4.

Arnoczky SP, Warren RF (1982) Microvasculature of the human meniscus. Am J Sports Med 10:90–95

5.

Arnoczky SP, Cooper TG, Stadelmaier DM, Hannafin JA (1994) Magnetic resonance signals in healing menisci: an experimental study in dogs. Arthroscopy 10:552–557

6.

Asik M, Sener N (2002) Failure strength of repair devices versus meniscus suturing techniques. Knee Surg Sports Traumatol Arthrosc 10:25–29

7.

Asik M, Sen C, Erginsu M (2002) Arthroscopic meniscal repair using T-fix. Knee Surg Sports Traumatol Arthrosc 10:284–288

8.

Austin KS, Sherman OH (1993) Complications of arthroscopic meniscal repair. Am J Sports Med 21:864–868

9.

Barber FA (1987) Meniscus repair: results of an arthroscopic technique. Arthroscopy 3:25–29

10.

Barber FA, Click SD (1997) Meniscus repair rehabilitation with concurrent anterior cruciate reconstruction. Arthroscopy 13:433–437

11.

Barrett GR, Field MH, Treacy SH, Ruff CG (1998) Clinical results of meniscus repair in patients 40 years and older. Arthroscopy 14:824–829

12.

Buseck MS, Noyes FR (1991) Arthroscopic evaluation of meniscal repairs after anterior cruciate ligament reconstruction and immediate motion. Am J Sports Med 19:489–494

13.

Calder SJ, Myers PT (1999) Broken arrow: a complication of meniscal repair. Arthroscopy 15:651–652

14.

Clark CR, Odgen JA (1983) Development of the menisci of the human knee joint. Morphological changes and their potential role in childhood meniscal injury. J Bone Joint Surg Am 65:538–547

15.

De Haven KE, Arnoczky SP (1994) Meniscal repair. Part I: Basic science, indications for repair, and open repair. J Bone Joint Surg Am 76:140–152

16.

De Haven KE, Black KP, Griffiths HJ (1989) Open meniscus repair. Technique and two to nine year results. Am J Sports Med 17:788–795

17.

Deutsch AL, Mink JH, Fox JM, Arnoczky SP, Rothman BJ, Stoller DW, Cannon WD (1990) Peripheral meniscal tears: MR findings after conservative treatment or arthroscopic repair. Radiology 176:485–488

18.

Eggli S, Wegmüller H, Kosina J, Huckell C, Jakob RP (1995) Long term results of arthroscopic meniscal repair. Am J Sports Med 23:715–720

19.

Gill SS, Diduch DR (2002) Outcomes after meniscal repair using the meniscus arrow in knees undergoing concurrent anterior cruciate ligament reconstruction. Arthroscopy 18:569–577

20.

Hechtmann KS, Uribe JW (1999) Cystic hematoma formation following use of a biodegradable arrow for meniscal repair. Arthroscopy 15:207–210

21.

Horibe S, Shino K, Nakata K, Maeda A, Nakamura N, Matsumoto N (1995) Second-look arthroscopy after meniscal repair. J Bone Joint Surg Br 77:245–249

22.

Horibe S, Shino K, Maeda A, Nakamura N, Matsumoto N, Ochi T (1996) Results of isolated meniscal repair evaluated by second-look arthroscopy. Arthroscopy 12:150–155

23.

Jones HP, Lemos MJ, Wilk RM, Smiley PM, Gutierrez R, Schepsis AA (2002) Two-year follow-up of meniscal repair using a bioabsorbable arrow. Arthroscopy 18:64–69

24.

Kurosawa H, Fukubayasi T, Nakajima H (1980) Load bearing model of the knee joint. Clin Orthop 149:283–290

25.

Levy IM, Torzilli PA, Warren RF (1982) The effects of medial meniscectomy on anterior–posterior motion of the knee. J Bone Joint Surg Am 64:883–888

26.

Miller DB (1988) Arthroscopic meniscus repair. Am J Sports Med 16:315–319

27.

Morgan CD, Casscells SW (1986) Arthroscopic meniscus repair: a safe approach to the posterior horn. Arthroscopy 2:3–12

28.

Morgan CD, Wojtys EM, Casscells CD, Casscells SW (1991) Arthroscopic meniscal repair evaluated by second look arthroscopy. Am J Sports Med 19:632–638

29.

Muellner T, Egkher A, Nikolic A, Funovics M, Metz V (1999) Open meniscal repair: clinical and magnetic resonance imaging findings after 12 years. Am J Sports Med 27:16–20

30.

Müller W, Biedert R, Hefti F, Jacob RP, Munzinger U, Stäubli HU (1988) OAK knee evaluation: a new way to assess knee ligament injuries. Clin Orthop 232:37–50

31.

Newman AP, Daniels AU, Burks RT (1993) Principles and decision making in meniscal surgery. Arthroscopy 9:33–51

32.

Perdue PS, Hummer CD, Colosimo AJ, Heidt RS, Dormer SG (1996) Meniscal repair: outcomes and clinical follow up. Arthroscopy 12:694–698

33.

Petsche TS, Selesnick H, Rochman A (2002) Arthroscopic meniscal repair with bioabsorbable arrows. Arthroscopy 18:246–253

34.

Reicher MA, Hartman S, Duckwiler GR, Bassett LW, Anderson LJ, Gold RH (1986) Meniscal injuries: detection using MR imaging. Radiology 199:753–757

35.

Rosenberg TD, Scott SM, Coward DB, Dunbar WH, Ewing WJ, Johnson CL, Paulos LE (1986) Arthroscopic meniscal repair with two-year follow-up: a clinical review. Arthroscopy 2:14–20

36.

Rubman MH, Noyes FR, Barber-Westin SD (1998) Arthroscopic repair of meniscal tears that extend into the avascular zone. Am J Sports Med 26:87–95

37.

Shoemaker SC, Markolf KL (1986) The role of meniscus in the anterior posterior stability of the loaded anterior cruciate-deficient knee. J Bone Joint Surg Am 68:71–79

38.

Shrive NG, O'Connor JJ, Goodfellow JW (1978) Load-bearing in the knee joint. Clin Orthop 131:278–279

39.

Stone RG, Frewin PR, Gonzales S (1990) Long term assessment of arthroscopic meniscus repair: a two- to six-year follow-up study. Arthroscopy 6:73–78

40.

van Trommel MF, Potter HG, Ernberg LA, Simonian PT, Wickiewicz TL (1998) The use of noncontrast magnetic resonance imaging in evaluating meniscal repair: comparison with conventional arthrography. Arthroscopy 14:2–8

41.

Walker PS, Erkman MJ (1975) The role of menisci in force transmission across the knee. Clin Orthop 109:184–192

42.

Whitman TL, Diduch DR (1998) Transient posterior knee pain with the meniscal arrow. Arthroscopy 14:762–763
About this article
Cite this article
Hantes, M.E., Kotsovolos, E.S., Mastrokalos, D.S. et al. Arthroscopic meniscal repair with an absorbable screw: results and surgical technique. Knee Surg Sports Traumatol Arthrosc 13, 273–279 (2005). https://doi.org/10.1007/s00167-004-0527-3
Received:

Accepted:

Published:

Issue Date:
Keywords
Meniscus repair

Absorbable screw

Clearfix