Abstract
Pregnancy is often successful after liver transplantation, despite the potentially toxic effects of immunosuppressive drug therapy. Liver transplant recipients with recurrent hepatitis C or hepatitis B nonetheless appear to be at risk of a worse graft function in the event of pregnancy, and antiviral drugs are generally contraindicated in pregnancy because of their teratogenic effects. A 33-year-old woman had undergone liver transplantation for Caroli's disease 6 years previously. Two years later the patient experienced de novo HBV hepatitis. Lamivudine treatment (100 mg/day) was started and clearance of HBsAg was documented 1 year later. Four years after starting antiviral treatment the patient became pregnant, despite of the risk of teratogenic effects; lamivudine, cyclosporine and azathioprine were not discontinued for risk of break-through hepatitis and acute or chronic rejection. The course of gestation was uneventful and caesarean section was performed after 36 weeks. The newborn infant was a healthy male weighing 3,080 g and measuring 50 cm.
This is a preview of subscription content, log in to check access.
Access options
Buy single article
Instant access to the full article PDF.
US$ 39.95
Price includes VAT for USA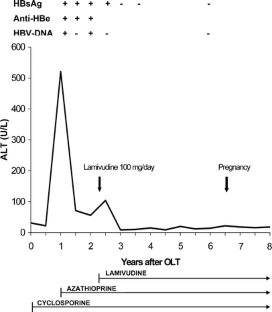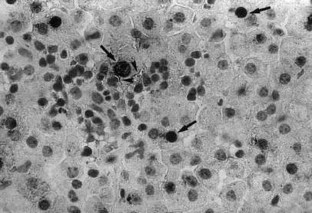 References
1.

Cundy TF, O'Grady JG, Williams R. Recovery of menstruation and pregnancy after liver transplantation. Gut 1990; 31:337.

2.

Mass K, Quint EH, Punch MR, Merion RM. Gynecological and reproductive function after liver transplantation. Transplantation 1996; 52:476.

3.

Armenti WT, Radomsky JS, Moritz MJ, Philips LZ, McGrory CH, Coscia LA. Report from the National Transplantation Pregnancy Registry (NTPR): outcomes of pregnancy after transplantation. Clin Transplantation 2000; 14:121.

4.

Rayes N, Neuhaus N, David M, Steinmüller T, Bechstein WO, Neuhaus P. Pregnancies following liver transplantation—how safe are they? A report of 19 cases under cyclosporine and tacrolimus. Clin Transplantation 1998; 12:396.

5.

Wu A, Nashan B, Messner U, et al. Outcome of 22 successful pregnancies after liver transplantation. Clin Transplantation 1998; 12:454.

6.

Miller JC, Mastrobattista JM, Katz AR. Obstetrical and neonatal outcome in pregnancies after liver transplantation. Am J Perinatol 2000;17:299.

7.

Armenti VT, Herrine SK, Radomski JS, Moritz MJ. Pregnancy after liver transplantation. Liver Transpl 2000; 6:671.

8.

Carr DB, Larson AM, Schmucker BC, Brateng DA, Carithers RL Jr, Easterling TR. Maternal hemodynamics and pregnancy outcome in women with prior orthotopic liver transplantation. Liver Transpl 2000; 6:213.

9.

Chazouilléres O, Mamish D, Kim M, Carey K, Ferrell L, Roberts JP. "Occult" hepatitis B virus as source of infection in liver transplant recipients. Lancet 1994; 343:142.

10.

Lowell JO, Howard TK, White HM, et al. Serological evidence of past hepatitis B in liver donor and hepatitis B infection in liver allograft. Lancet 1995; 345:1084.

11.

Perrillo R, Rakela J, Dienstag J, et al. Multicenter study of lamivudine therapy for hepatitis B after liver transplantation. Hepatology 1999; 29:1581.

12.

Naoumov NV, Lopes AR, Burra P, et al. Randomized trial of lamivudine versus hepatitis B immunoglobulin for long-term prophylaxis of hepatitis B recurrence after liver transplantation. J Hepatol 2001; 34:888.

13.

Ormonde DG, de Boer WB, Kierath A, et al. Banff schema for grading liver allograft rejection: utility in clinical practice. Liver Transpl Surg 1999; 5:261.

14.

Wright TL, Donegan E, Hsu HH, et al. Recurrent and acquired hepatitis C viral infection in liver transplant recipients. Gastroenterology 1992; 103:317.

15.

Roche B, Samuel D, Gigou M, et al. De novo and apparent de novo hepatitis B virus infection after liver transplantation. J Hepatol 1997; 26:517.

16.

Uemoto S, Sugiyama K, Marusawa H, et al. Transmission of hepatitis B virus from hepatitis B core antibody-positive donors in living related liver transplants. Transplantation 1998; 4:494.

17.

Douglas DD, Rakela J, Wright TL, Krom RA, Wiesner RH. The clinical course of transplantation-associated de novo hepatitis B infections in liver transplant recipients. Liver Transpl Surg 1997; 3:105.

18.

Wachs ME, Amend WJ, Ascher NL, et al. The risk of transmission of hepatitis B from HBsAg(−), HbcAb(+), HbcIgM(−) organ donors. Transplantation 1995; 59:230.

19.

Dodson SF, Issa F, Araya V, et al. Infectivity of hepatic allografts with antibodies to hepatitis B virus. Transplantation 1997; 64:1582.

20.

Dickson RC, Everhart JE, Lake JR, et al. Transmission of hepatitis B by transplantation of livers from donor positive for antibodies to hepatitis B core antigen. The National Institute of Diabetes and Digestive and Kidney Diseases Liver Transplantation Database. Gastroenterology 1997; 113:1668.

21.

Crespo J, Fabrega E, Casafont F, et al. Severe clinical course of hepatitis B infection after liver transplantation. Liver Transpl Surg 1999; 5:175.

22.

Honkoop P, de Man RA, Niesters HG, Zondervan PE, Schalm SW. Acute exacerbation of chronic hepatitis B virus infection after withdrawal of lamivudine therapy. Hepatology 2000; 32:635.

23.

Petry W, Adams O, Haussinger D. Fatal hepatitis B reinfection after orthotopic liver transplantation in an HBsAg negative patient following withdrawal of lamivudine. J Hepatol 2000; 33:514.

24.

Van Nunen AB, de Man RA, Heijtink RA, Niesters HG, Schalm SW. Lamivudine in the last 4 weeks of pregnancy to prevent perinatal transmission in highly viremic chronic hepatitis B patients. J Hepatol 2000; 32:1040.

25.

Johnson MA, Moore KH, Yuen GJ, Bye A, Pakes GE. Clinical pharmacokinetics of lamivudine. Clin Pharmacokinet 1999; 36:41.

26.

Moodley J, Moodley D, Pillay K, et al. Pharmacokinetics and retroviral activity of lamivudine alone or when coadministered with zidovudine in human immunodeficiency virus type 1-infected pregnant women and their offspring. J Infect Dis 1998; 178:1327.

27.

Bavoux F, Loubeyre-Unique C, Blanche S. Antiretroviral drugs and pregnancy: a proposal of an alert regarding mitochondrial pathology and nucleoside analogs. Arch Pediatr 2000; 7 [Suppl 2]:407s.

28.

Friedman JM, Polifka JE. The effects of drugs on the fetus and nursing infant: a handbook for health care professionals. Baltimore: Johns Hopkins University Press; 1996.

29.

Davison JM. Dialysis, transplantation, and pregnancy. Kidney Dis 1991; 17:127.

30.

Ahlswede KM, Armenti VT, Moritz MJ, et al. Premature births in female renal transplant recipients: degree and effect of immunosuppressive regimen. Surg Forum 1992; 43:524.

31.

Flechner SM, Katz AR, Rogers AJ, et al. The presence of cyclosporine in body tissues and fluids during pregnancy. J Kidney Dis 1985; 5:60.

32.

Nyberg G, Haljamae U, Frisenette, Fich C, Wennergre M, Kjellmer I. Breast-feeding during treatment with cyclosporine. Transplantation 1998; 65:253.

33.

Thiru Y, Bateman DN, Coulthard MG. Successful breast feeding while mother was taking cyclosporin. BMJ 1997; 315:463.
About this article
Cite this article
Loreno, M., Bo, P., Senzolo, M. et al. Successful pregnancy in a liver transplant recipient treated with lamivudine for de novo hepatitis B in the graft. Transpl Int 17, 730–734 (2005). https://doi.org/10.1007/s00147-004-0785-5
Received:

Revised:

Accepted:

Published:

Issue Date:
Keywords
Pregnancy

Liver transplantation

HBV hepatitis

Lamivudine

Immunosuppressant drugs