This is a preview of subscription content, log in to check access.
Access options
Buy single article
Instant access to the full article PDF.
US$ 39.95
Price includes VAT for USA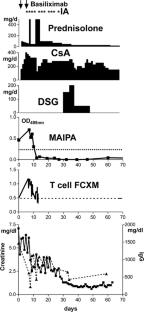 References
1.

Eurotransplant Foundation. Kidney transplantation in 1999. Eurotransplant Annual Report 2000.

2.

Braun N, Faul C, Wernet D, Schnaidt M, Stuhler G, Kanz L, Risler T, Einsele H. Successful transplantation of highly selected CD34+ peripheral blood stem cells in a HLA-sensitised patient treated with immunoadsorption onto protein A. Transplantation 2000; 69:1742.

3.

Higgins RM, Bevan DJ, Carey BS, Lea CK, Fallon M, Bühler R, Vaughan RW, O'Donnell PJ, Snowden SA, Bewick M, Hendry BM. Prevention of hyperacute rejection by removal of antibodies to HLA immediate before renal transplantation. Lancet 1996; 348:1208.

4.

Kiefel V, Santoso S, Weisheit M, Mueller-Eckhardt C. Monoclonal antibody-specific immobilization of platelet antigens (MAIPA): a new tool for the identification of platelet-reactive antibodies. Blood 1987; 65:108.

5.

Böhmig GA, Regele H, Saemann MD, Exner M, Druml W, Kovarik J, Horl WH, Zlabinger GJ, Watschinger B. Role of humoral immune reactions as target for antirejection therapy in recipients of a spousal-donor kidney graft. Am J Kidney Dis 2000; 35:667.

6.

Hickstein H, Korten G, Bast R, Barz D, Templin R, Schneidewind JM, Kittner CH, Nizze H, Schmidt R. Protein A immunoadsorption (IA) in renal transplantation patients with vascular rejection. Transfus Sci 1998; 19 Suppl. S:53.

7.

Pretagostini R, Berloco P, Poli L, Cinti P, Di-Nicuolo A, De-Simone P, Colonnello M, Salerno A, Alfani D, Cortesini R. Immunoadsorption with protein A in humoral rejection of kidney transplants. ASAIO J 1996; 42:M645.

8.

Gores PF. Deoxyspergualin: clinical experience. Transplant Proc 1996; 28:871.

9.

Gannedahl G, Ohlman S, Persson U, Gudmundsson S, Larsson E, Tyden G, Totterman TH, Wikstrom B, Weiss L, Groth CG et al. Rejection associated with early appearance of donor-reactive antibodies after kidney transplantation treated with plasmapheresis and administration of 15-deoxyspergualin. A report of two cases. Transpl Int 1992; 5:189.
About this article
Cite this article
Braun, N., Wernet, D., Schnaidt, M. et al. Successful treatment of accelerated vascular rejection in a highly immunised renal transplant recipient with immunoadsorption and 15-deoxyspergualin. Transpl Int 17, 384–386 (2004). https://doi.org/10.1007/s00147-004-0725-4
Received:

Revised:

Accepted:

Published:

Issue Date:
Keywords
Basiliximab

Renal Allograft Rejection

Chronic Pyelonephritis

Panel Reactive Antibody

Vascular Rejection