Abstract
We report the case of a 21-year-old man with antineutrophil cytoplasmic antibody (ANCA)--associated vasculitis who experienced spontaneous renal allograft rupture 21 months after engraftment. Because of chronic allograft nephropathy, the patient's immunosuppressive regimen had been discontinued approximately 3 weeks prior to his presentation with abdominal pain and evidence of internal hemorrhage. He was emergently taken to the operating room, where a ruptured allograft was found and transplant nephrectomy was performed. Postoperatively, the cause of rupture was determined to have been acute cellular rejection. This case may be the longest interval reported between renal transplant and spontaneous allograft rupture.
This is a preview of subscription content, log in to check access.
Access options
Buy single article
Instant access to the full article PDF.
US$ 39.95
Price includes VAT for USA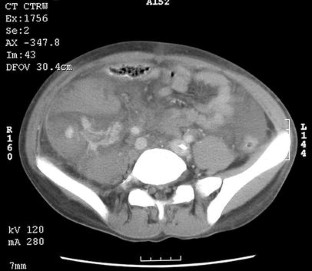 References
1.

Zhang QJ, Fielding JR, Zou KH. Etiology of spontaneous perirenal hemorrhage: a meta--analysis. J Urol 2002; 167:1593.

2.

Azar GJ, Zarifian AA, Frentz GD, Tesi RJ, Etheredge EE. Renal allograft rupture: a clinical review. Clin Transplant 1996; 10:635.

3.

Hochleitner BW, Kafka R, Spechtenhauser B, et al. Renal allograft rupture is associated with rejection or acute tubular necrosis, but not renal vein thrombosis. Nephrol Dial Transplant 2001; 16:124.

4.

Murray JE, Wilson RE, Tilney NL, et al. Five years experience in renal transplantation with immunosuppressive drugs: survival, function, complications, and the role of lymphocyte depletion by thoracic duct fistula. Ann Surg 1968; 168:416.

5.

Ramos M, Martins DL, Soares HJ, et al. Renal allograft rupture: a clinicopathologic review. Transplant Proc 2000; 32:2597.

6.

Szenohradszky P, Smehák E, Szederkényi F, et al. Renal allograft rupture: a clinicopathologic study of 37 nephrectomy cases in a series of 628 consecutive renal transplants. Transplant Proc 1999; 31:2107.

7.

Ajao OG, Callender CO, Stevens J, Sampson C. Spontaneous renal allograft rupture 4 years after transplantation. Urol Int 1984; 39:49.

8.

Lord RS, Belzer FO, Kountz SL. Delayed spontaneous rupture of the allografted kidney. Arch Surg 1970; 100:607.

9.

Haberal MA, Picache RS, Husberg BS, Bakshandeh K, Starzl TE. Late spontaneous rupture in a homograft kidney. A case report. Arch Surg 1974; 109:824.

10.

Dux S, Pitlik S, Boner G, Ben-Bassat M, Rosenfeld JB. Spontaneous rupture of the kidney in a patient with acute autoimmune disease. Urol Int 1982; 37:130.

11.

Salaman JR, Griffin PJA. Fine-needle intrarenal manometry: a new test for rejection in cyclosporin-treated recipients of kidney transplants. Lancet 1983; 2:709.

12.

Akabane S-I, Ushiyama T, Hirano Y, Ishikawa A, Suzuki K, Fujita K. A case of traumatic renal graft rupture with salvage of renal function. Clin Transplant 2001; 15:289.

13.

Coulshed SJ, Caterson RJ, Mahony JF. Traumatic infarct at the lower pole of a renal transplant secondary to seat belt compression. Nephrol Dial Transplant 1995; 10:1464.

14.

Richardson AJ, Higgins RM, Jaskowski AJ, et al. Spontaneous rupture of renal allografts: the importance of renal vein thrombosis in the cyclosporine era. Br J Surg 1991; 77:558.

15.

Sarramon JP, Durand D, Lazorthes F, That HT, Suc JM. An accident related to a seat belt: lymphocele and extrinsic stenosis of the ureter in a transplant patient. Reparative surgery (in French). J Urol Nephrol (Paris) 1976; 82:601.

16.

Welch TR. Climbing harness fit in kidney transplant recipients. Wilderness Environ Med 1999; 10:3.

17.

Falk RJ, Nachman PH, Hogan SL, Jennette CJ. ANCA glomerulonephritis and vasculitis: a Chapel Hill perspective. Semin Nephrol 2000; 20:233.

18.

Masterson R, Sheerin N, Abbs I, Goldsmith D. Late allograft loss due to recurrence of p--ANCA-associated systemic vasculitis in a patient with relapsing polychondritis. Nephrol Dial Transplant 2001; 16:1705.

19.

Nachman PH, Segelmark M, Westman K, et al. Recurrent ANCA-associated small vessel vasculitis after transplantation: a pooled analysis. Kidney Int 1999; 56:1544.

20.

Westman KWA, Bygren PG, Olsson H, Ranstam J, Wieslander J. Relapse rate, renal survival and cancer morbidity in patients with Wegener's granulomatosis or microscopic polyangiitis with renal involvement. J Am Soc Nephrol 1998; 9:842.
About this article
Cite this article
Zakir, A.H., Woodside, K.J., Feliberti, E.C. et al. Late renal allograft rupture in a patient with small vessel vasculitis following discontinuation of immunosuppression. Transpl Int 16, 761–764 (2003). https://doi.org/10.1007/s00147-003-0632-0
Received:

Revised:

Accepted:

Published:

Issue Date:
Keywords
Renal transplant

Complications

Delayed renal allograft rupture

Antineutrophil cytoplasmic antibody (ANCA)-associated vasculitis

Small vessel vasculitis

Kidney rupture