Abstract
Post-transplantation bone disease is a frequent problem after successful cardiac transplantation. We performed a cross-sectional analysis of male heart transplant recipients in the late post-transplantation period. Nine patients (group A) had received immunosuppressive therapy with cyclosporin A and mycophenolate mofetil (steroid-free treatment), and 12 patients (group B) remained on triple-drug therapy, which included glucocorticosteroids. Bone mineral density status was analyzed by osteodensitometry and by markers of bone turnover. Osteopenia was common in both groups (44.4% in group A and 50% in group B) as was osteoporosis (30% and 33.3% in groups A and B, respectively). β-CrossLaps were significantly lower in sera of cardiac transplant recipients on double immunosuppressive (i.e., glucocorticosteroid-free) regimen than in sera of patients on triple-drug therapy (428.3±109.4 vs 661.7±337.0 pg/ml, P<0.05). Lower serum β-CrossLaps levels in patients undergoing glucocorticosteroid-free treatment may indicate a lower risk of bone deterioration in the long term.
This is a preview of subscription content, log in to check access.
Access options
Buy single article
Instant access to the full article PDF.
US$ 39.95
Price includes VAT for USA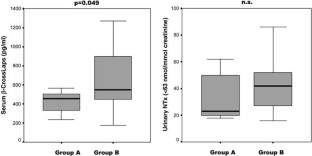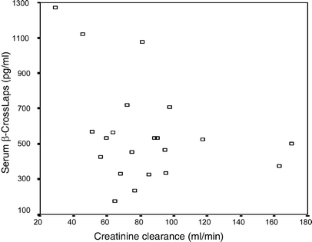 References
1.

Billingham ME, Cary NR, Hammond ME, Kemnitz J, Marboe C, McCallister HA, Snovar DC, Winters GL, Zerbe A (1990) A working formulation for the standardization of nomenclature in the diagnosis of heart and lung rejection: Heart Rejection Study Group. J Heart Lung Transplant 9:587–593

2.

Christ E, Linka A, Junga G, Odermatt M, Steinert H, Kiowski W, Schmid C (1996) Bone density and laboratory parameters of bone metabolism in patients with terminal heart disease (in German). Schweiz Med Wochenschr 126:1553–1559

3.

Cummings SR, Black DM, Nevitt MC, Browner W, Cauley J, Ensrud K, Genant HK, Palermo L, Scott J, Vogt TM (1993) Bone density at various sites for prediction of hip fractures. The Study of Osteoporotic Fractures Research Group. Lancet 341:72–75

4.

Cvetkovic M, Mann GN, Romero DF, Liang XG, Ma Y, Jee WS, Epstein S (1994) The deleterious effects of long-term cyclosporin A, cyclosporin G, and FK 506 on bone mineral metabolism in vivo. Transplantation 57:1231–1237

5.

De Maria R, Minoli L, Parolini M, Gavazzeni G, Gentile M, Grossi P, Livi U, Parisi F, Utili R (1996) Prognostic determinants of six-month morbidity and mortality in heart transplant recipients. J Heart Lung Transplant 15:124–135

6.

Fledelius C, Johnsen AH, Closs PC, Bonde M, Qvist P (1997) Characterization of urinary degradation products derived from type I collagen. Identification of a β-isomerized Asp–Gly sequence within the C-terminal telopeptide (α1) region. J Biol Chem 272:9755–9763

7.

Garnero P, Hausherr E, Chapuy M-C, Marcelli C, Grandjean H, Muller C, Cormier C, Bréart G, Meunier PJ, Delmas PD (1996) Markers of bone resorption predict hip fracture risk in elderly women: the EPIDOS prospective study. J Bone Miner Res 11:1531–1538

8.

Garnero P, Gineyts E, Schaffer AV, Seaman J, Delmas PD (1998) Measurement of urinary excretion of nonisomerized and β-isomerized forms of type I collagen breakdown products to monitor the effects of the bisphosphonate zoledronate in Paget's disease. Arthritis Rheum 41:354–360

9.

Garnero P, Sornay-Rendu E, Claustrat B, Delmas PD (2000) Biochemical markers of bone turnover, endogenous hormones, and the risk of fractures in postmenopausal women: the OFELY study. J Bone Miner Res 15:1526–1536

10.

Genant HK, Wu CY, Van Kuijk C, Nevitt MC (1993) Vertebral fracture assessment using a semiquantitative technique. J Bone Miner Res 8:1137–1148

11.

Gineyts E, Cloos PAC, Borel O, Grimaud L, Delmas PD (2000) Racemization and isomerization of type I collagen C-telopeptides in human bone and soft tissues: assessment of tissue turnover. Biochem J 345:481–485

12.

Glendenning P, Kent GN, Adler BD, Matz L, Watson I, O'Driscoll GJ, Hurley DM (1999) High prevalence of osteoporosis in cardiac transplant recipients and discordance between biochemical turnover markers and bone histomorphometry. Clin Endocrinol 50:347–355

13.

Guo CY, Johnson A, Locke TJ, Eastell R (1998) Mechanisms of bone loss after cardiac transplantation. Bone 22:267–271

14.

Henderson NK, Sambrook PN, Kelly PJ, Macdonald P, Keogh AM, Spratt P, Eisman JA (1995) Bone mineral loss and recovery after cardiac transplantation. Lancet 346:905

15.

Holzmüller H, Benzer W, Glöcklhofer A, Metzler W, Drexel H (1996) Dezentrale umfassende Nachsorge nach Herztransplantation, 2 Jahre Erfahrung im Pilotprojekt Vorarlberg (abstract). Z Kardiol 85:363

16.

Kanis JA, Melton LJ, Christiansen C, Johnston CC, Khaltaev N (1994) Perspective: the diagnosis of osteoporosis. J Bone Miner Res 9:1137–1141

17.

Krieg MA, Seydoux C, Sandini L, Goy JJ, Gillard Berguer D, Thiébaud D, Burckhardt P (2001) Intravenous pamidronate as treatment for osteoporosis after heart transplantation: a prospective study. Osteoporos Int 12:112–116

18.

Lee AH, Mull RL, Keenan GF, Callegari PE, Dalinka MK, Eisen HJ, Mancini DM, DiSiesa VJ, Attie MF (1994) Osteoporosis and bone morbidity in cardiac transplant recipients. Am J Med 96:35–41

19.

Legrand E, Chappard D, Pascaretti C, Duquenne M, Rondeau C, Simon Y, Rohmer V, Basle MF, Audran M (1999) Bone mineral density and vertebral fractures in men. Osteoporos Int 10:265–270

20.

Leidig-Bruckner G, Hosch S, Dodidou P, Ritschel D, Conradt C, Klose C, Otto G, Lange R, Theilmann L, Zimmermann R, Pritsch M, Ziegler R (2001) Frequency and predictors of osteoporotic fractures after cardiac or liver transplantation: a follow-up study. Lancet 357:342–347

21.

Meys E, Terreaux-Duvert F, Beaume-Six T, Dureau G, Meunier PJ (1993) Bone loss after cardiac transplantation: effects of calcium, calcidiol, and monofluorophosphate. Osteoporos Int 3:322–329

22.

Movsowitz C, Epstein S, Fallon M, Ismail F, Thomas S (1988) Cyclosporin A in vivo produces severe osteopenia in the rat: effect of dose and duration of administration. Endocrinology 123:2571–2577

23.

National Osteoporosis Foundation Working Group on Vertebral Fractures (1995) Report: assessing vertebral fractures. J Bone Miner Res 10:518–523

24.

Oaks TE, Wannenberg T, Close SA, Tuttle LE, Kon ND (2001) Steroid-free maintenance immunosuppression after heart transplantation. Ann Thorac Surg 72:102–106

25.

Pagani F, Bonetti G, Stefini F, Panteghini M (2000) Evaluation of a fully automated assay to measure C-telopeptide of type I collagen in serum. Clin Chem Lab Med 38:1111–1113

26.

Rodino MA, Shane E (1998) Osteoporosis after organ transplantation. Am J Med 104:459–469

27.

Shane E, Rivas MC, Silverberg SJ, Kim TS, Staron RB, Bilezikian JP (1993) Osteoporosis after cardiac transplantation. Am J Med 94:257–264

28.

Shane E, Rivas M, Staron RB, Silverberg SJ, Seibel MJ, Kuiper J, Mancini D, Adesso V, Michler RE, Factor-Litvak P (1996) Fracture after cardiac transplantation: a prospective longitudinal study. J Clin Endocrinol Metab 81:1740–1746

29.

Shane E, Rivas M, McMahon DJ, Staron RB, Silverberg SJ, Seibel MJ, Mancini D, Michler RE, Aaronson K, Addesso V, Hwa Lo S (1997) Bone loss and turnover after cardiac transplantation. J Clin Endocrinol Metab 82:1497–1506

30.

Thiébaud D, Krieg MA, Gillard-Berguer D, Jacquet AF, Goy JJ, Burckhardt P (1996) Cyclosporine induces high bone turnover and may contribute to bone loss after heart transplantation. Eur J Clin Invest 26:549–555

31.

Van Staa TP, Leufkens HG, Abenhaim L, Zhang B, Cooper C (2000) Oral corticosteroids and fracture risk: relationship to daily and cumulative doses. Rheumatology (Oxford) 39:1383–1389
About this article
Cite this article
Höfle, G., Holzmüller, H., Gouya, G. et al. Lower serum β-CrossLaps in male cardiac transplant recipients treated without prednisolone. Transpl Int 16, 523–528 (2003). https://doi.org/10.1007/s00147-003-0577-3
Received:

Revised:

Accepted:

Published:

Issue Date:
Keywords
Corticosteroids

Bone metabolism

Osteoporosis

Vertebral fracture

Immunosuppression